There's less than one week to go before Election Day 2015.
Who's vulnerable?
Sam Fiocchi
To date, Democratic affiliated PACs and Democrats have spent $3.2 million in the market (including $1.4 million by the GN3-affiliated General Majority PAC) on broadcast and cable while Fiocchi-Jim Sauro have clocked in with $210k. The Republican has the additional burden of going up against opposition branded by campaign-tested state Senator Jeff Van Drew (D-1), who's blanketed the district in "Van Drew Team" paraphernalia, even though the veteran senator is not on the ballot. For all that, Fiocchi is still on his feet. According to last week's Stockton Poll, only three percentage points separate the candidates. Incumbent Democratic Assemblyman Bob Andrzejczak holds a slight lead with 25 percent support, while his running mate Bruce Land garners 23 percent. Fiocchi and Sauro are both at 22 percent.

Vince Mazzeo
Sub-par debate performances in the million dollar Atlantic City district have marred the incumbent LD2 Democratic assemblyman's reelection campaign. But like Andrzejczak in LD1, he's seen as the future for South Jersey Democrats hoping to hold onto their upper chamber advantages. Dems want to demolish incumbent Republican Assemblyman Chris Brown and to that end the General Majority PAC has dumped $1.5 million in here to boost the dollars spent by the Democratic Assembly Campaign Committee (DACC) and other Democratic Party spending for the Mazzeo ticket (over $2 million, according to ELEC). The money isn't preventing this from being competitive and keeping all eyes on Mazzeo's political future. Stockton's latest poll shows the incumbents maintaining a slender lead over their respective running mates. Mazzeo leads with 26 percent. Brown polls second-highest with 24 percent, with Democratic challenger Colin Bell at 21 percent and Republican labor leader Will Pauls at 17 percent.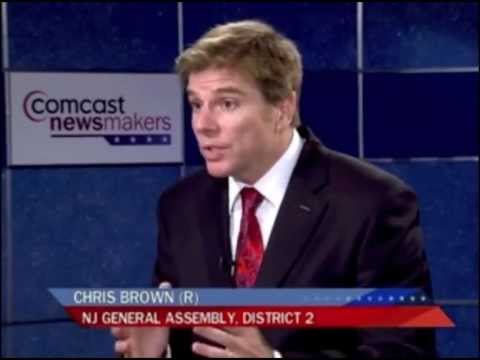 Chris Brown
Internal Republican a couple of weeks ago polling put the LD2 Assemblyman ahead of the pack. The man being groomed as the future senator from Atlantic County faces a barrage of negative mail – a barrage of $3.5 million between Democrats and their PACs. If he survives on Tuesday night, a star could be born – but that kind of targeting puts him on shaky footing and, consequently, number three on this list.
Bob Andrzejczak
The Iraq War hero Democrat is trying to win reelection in a Republican district without the presence of Van Drew at the top of the ticket. He has considerable money (see above) coming in to support his effort and appears poised to run for Van Drew's senate seat if and and when the latter retires. But he's first got to make it through Tuesday…
Sleepers:
Caroline Casagrande
The General Majority PAC affiliated with GN3 is going hard with attack television ads in LD11 to reinforce the ads already running and paid for by DACC. Surprisingly, the latest ad targets Assemblywoman Mary Pat Angelini (R-11), Casagrande's running mate, whom sources identify as the stronger incumbent. A Democratic source told PolitickerNJ that the challengers here a couple of weeks ago were within five points of Casagrande. But a Republican insists an upset won't happen. "They didn't start the campaign very strong," the GOP source acknowledged of Angelini and Casagrande. "They gave their opponents an issue to hit them over the head with." Then the Republicans relaunched the race to the swing voter targets. "The ship is righted," the source said. "They are gonna be fine." Spending in LD11 to date represents the fourth most in this cycle among New Jersey's 40 legislative districts at almost $1 million, according to ELEC.
Donna Simon
Democrats in LD16 responded gleefully to mailers calling out the Democratic challengers by name and juxtaposing them with haggard shots of President Bill Clinton and former Secretary of State Hillary Clinton. There is a little bit of a backroom war going on in the party between those Dems in Somerset who see LD16 – with the 2011 addition of Princeton and South Brunswick – as more of an opportunity than LD11, where Speaker Vincent Prieto and Majority Leader Lou Greenwald  decidided to concentrate fun money resources. Dems insist incumbent Republican Assemblywoman Simon – not her running mate assemblyman Jack Ciattarelli – is the target; and are using the resources they have to try to brand her a Gov. Chris Chris Christie drone. "It's not working," insisted a Republican source, who told PolitickerNJ that internal polling puts her out of striking distance.
Tim Eustace and Joe Lagana
The wheels obviously came off the Republican effort in LD38 this year when GOP challenger Anthony Cappola dissolved in embarrassing headlines, backed out of the race, then came back swinging – against his former running mate. But the district is still shaped competitively, and, and even with everything going their way, incumbent Democrats Eustace and Lagana can't take reelection for granted in an unpredictable low-turnout election year. Moreover, the incumbents' relative "safe" status didn't occur by accident. Democrats saturated the 38th with cash to march them into extremely good position heading into Tuesday.