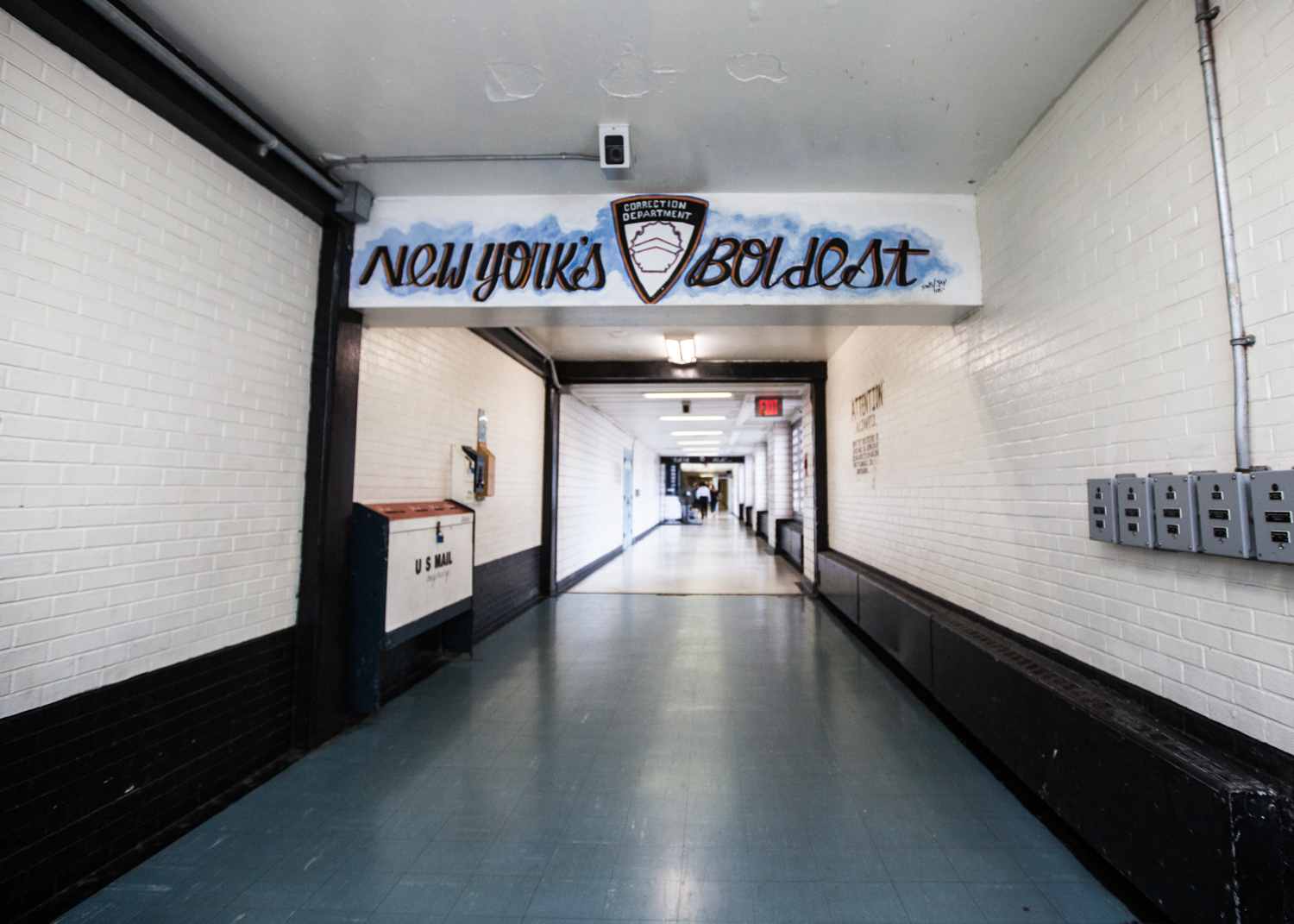 Mayor Bill de Blasio has promised progressive reforms at the city's notorious Rikers Island jail complex—but advocates and former inmates testifying to the Board of Correction today said today the mayor's proposals to restrict visits to inmates are anything but.
"My question is, as a New Yorker and in general what is our essence? Are we progressive, or are we just progressive when we want to be? When it's convenient for the department?" Alex Abell of the Urban Justice Center asked the Board of Correction today.
At issue are several proposed changes to the visiting process at Rikers Island, which Commissioner Joseph Ponte and Mr. de Blasio have said are necessary to stem the rising tide of violence at Rikers Island by reducing the influx of contraband. Visitors will be allowed only a "brief embrace" with the inmate they are visiting; afterward they will have to sit across a table with a low glass partition that will make it more obvious if they try to pass something across. Inmates will be able to hold children, but only if they are nine years old or younger.
The people who testified today roundly panned the proposed visiting changes, as well as a proposal to allow the Department of Correction to extend an inmate's time in punitive segregation, or solitary confinement, beyond recently limits of 30 days at a time, with a 7 day break before any next stint, and to no more than 60 days in a year. (The department has ended the use of punitive segregation for inmates 18 and under, and has pledged to end it for inmates 21 and under.)
"If a person doesn't get that human contact, then they become an animal," and then are more likely to act out violently, said Barry Campbell, who works at the Fortune Society and said he spent much of his adult life incarcerated, including at Rikers. "It's because you've created them—you've made them that way."
Several people argued that the visiting process at Rikers Island was already needlessly cumbersome—and offered various scenarios in which the new laws would make it difficult for grandmothers to bring children to Rikers Island jails to visit their mothers. They also railed against the idea of policing hugs and physical contact at any age.
"No child should ever have to see their parent behind glass. It's completely traumatic," said Tanya Krupat, director of the New York Initiative for Children of Incarcerated Parents at the Osborne Association.
Mr. de Blasio's administration defended the mayor's proposed changes to visiting rules and on punitive segregation—arguing that the waivers allowing people to be held longer than the recently adopted limits would impact few inmates. (Inmate advocates, meanwhile, argue the criteria is vague enough to impact many if the department sees fit.)
"Commissioner Ponte's plan to remove all inmates age 21 and under from punitive segregation puts this department at the forefront of national jail reform efforts. Each of DOC's rule changes is aimed at reducing violence associated with contraband coming into the jails and providing the necessary flexibility to manage a small population of very violent offenders," de Blasio spokeswoman Monica Klein said. "The goals of the visitation policy is to provide a common-sense approach that reduces drugs, weapons and other contraband from entering the jails while respecting our inmates' legitimate needs to maintain ties with family members and the community."
But representatives for groups like the New York Civil Liberties Union, the Legal Aid Society, and the Osborne Association all testified against both the new visitor policies and the changes to punitive segregation limitations, arguing that in addition to being damaging for inmates, the department's proposed rule changes were vague and would be hard to monitor. They pointed out perceived ironies in the mayor's policies: the city outlawed the practice of employer's asking someone's criminal background in the hiring process, but will conduct criminal background checks on people who want to visit family members at Rikers Island. They argued that correction officers or other jail staffers, not family members, were the most likely source of contraband. And several testified that the changes to visiting rules and to punitive segregation restrictions would not accomplish what the department wanted—a reduction in violence—and wondered why new Enhanced Security Housing Units meant for frequently violent inmates were not stemming the department's need to repeatedly send people back to solitary.
"There just is no evidence that greater time in solitary will lead to a greater deterrent effect," NYCLU staff attorney Phil Desgranges testified. 
The Department of Correction did not testify at the hearing and Mr. Ponte, the commissioner, did not attend. That frustrated board member Robert Cohen—who said he was "disappointed" in the commissioner's absence and said the information provided by the department had been deficient. That opened up tension with the chair of the board, Stanley Brezenoff, who was recently appointed by Mr. de Blasio and promptly defended the department and said the forum wasn't meant for Mr. Ponte to speak.
"This is the forum to hear from the public and it's gratuitous to comment like that at this meeting—that's not what this hearing is about," Mr. Brezenoff said.
Elizabeth Gaynes, president of the Obsorne Association, expressed a fondness for Mr. Ponte—but still urged the board to be independent.
"He's the seventh one I've worked with," Ms. Gaynes said of the commissioner, "and the standards can't rest on the progressive values of one commissioner, or even one mayor. That's why we have you."