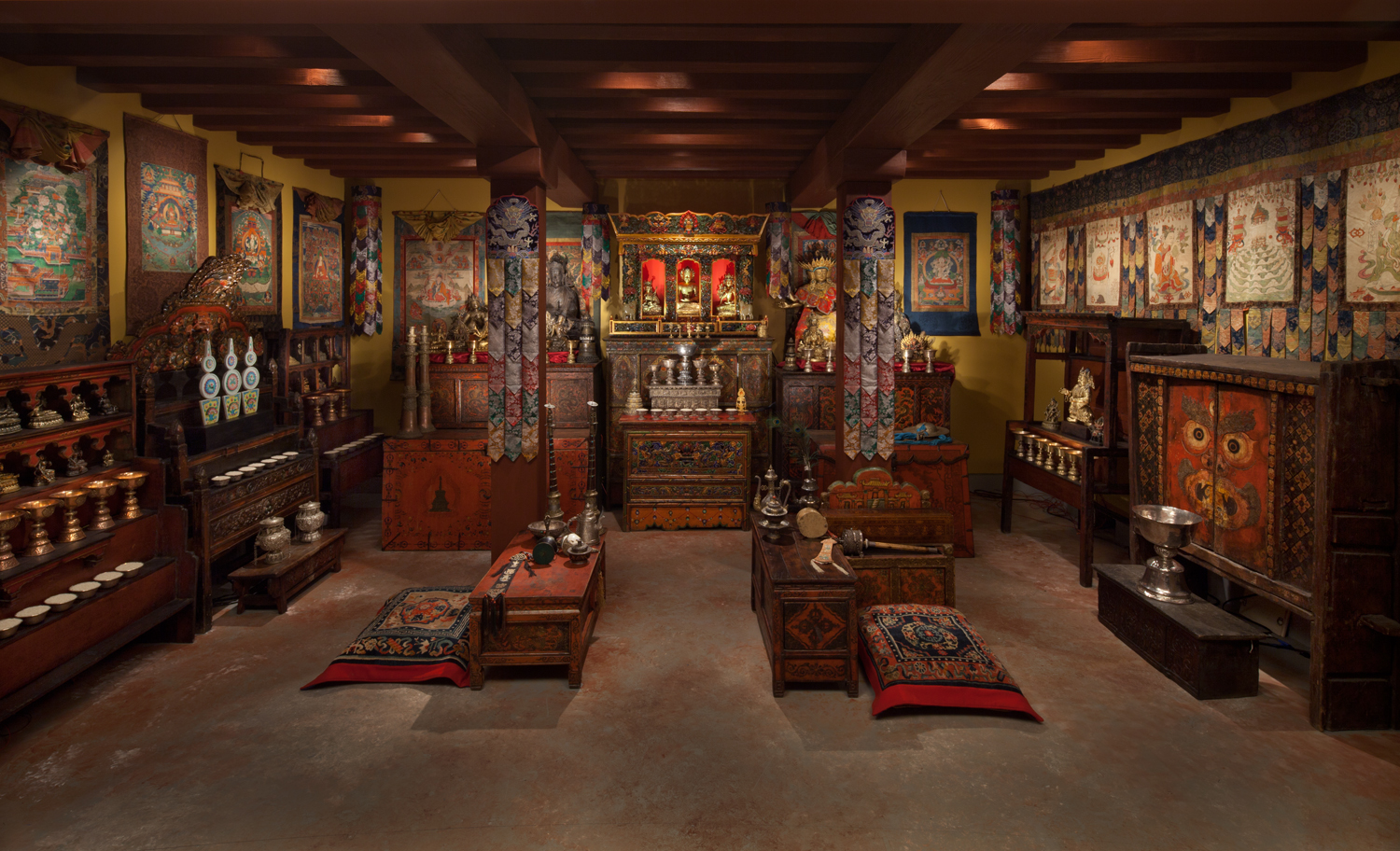 Spaces that promise to ease contemplation, provide an escape, or offer inner peace have taken on different forms in different cultures and across the centuries. This fall, the Rubin Museum of Art in Chelsea, an institution devoted to collecting, displaying and preserving art of the Himalayas, India and nearby regions, will present three cultures' takes (Tibetan, Nepalese and Indian) on such "Sacred Spaces." The unusual exhibition—the first in the museum's history to be crowd-funded—opens this Saturday, October 23 and runs through March of 2017.
The show principally features an expansion of the museum's well-loved Shrine room, where art, furniture and other ritual objects are presented as they would be in a private home—albeit one with an elaborate personal shrine.  It's meant to encourage visitors to think about similar spaces where they've experienced the transcendent, the divine, the sacred and the sublime.
In the space, the light from an 18th century Tibetan butter lamp flickers near a 14th-century copper Buddha cross-legged in traditional pose. A 19th century silken fabric depicts the monk Subhut sitting by a river in vivid orange, green and blue crushed mineral pigments. Mongolian cymbals that date from the 18th century abut a wooden offering table that is 500 years older. There's nearby seating for those who wish to zone out.
While there were some large gifts, the average amount donated online to fund the exhibition was $18.
"The space itself feels transporting," said Dominique Townsend, the head of interpretation and innovation at the Rubin. "It feels like an atmosphere in which you can reflect, a contemplative, quiet experience—regardless of what the art means to you."
Earlier this summer, the Rubin went on fund-raising website Razoo.com to raise $45,000 towards the expansion of it's Shrine Room and the funding of this exhibition. (Donors were invited to give at various levels ranging from "Generosity" up to "Wisdom.")  It instead raised $52,433, from a total of 130 donors. And while there were some very large gifts, the average amount was  $18.
The Shrine Room was "a good opportunity for crowd-funding because people keep giving us this indication that they'd like to be more personally involved or to support it," Ms. Townsend said. "This way, someone who wouldn't normally be able to donate [a large sum] could contribute and feel involved in it."
Paired with the Shrine Room in the "Sacred Spaces" show is renowned Czech landscape photographer Jaroslav Poncar's panoramic photograph of Northern Nepal's Himalayan plateau, evoking the region's iconic grandeur.
The Rubin hopes that "Sacred Spaces" is not just educational and informative, but experiential.
Himalayan traditions consider the relationship between people and landscape one of high spiritual communion. The landscape itself is considered a being, full of animated life force. Rocks, rivers, streams, trees, and mountains are alive, and these forces require people to actively relate to them.
The exhibit's third component is a continuously playing video. Noted German architectural photographer Deidi von Schaewen has filmed rituals at a holy statue in Karnataka, India, the tallest monolithic structure in the world. In the video, the statue is anointed with blessed substances by followers of the Jain religion.
The video was important to include, noted Ms. Townsend, because, in a museum, "you can't touch the objects and can't engage with them…So, to see a work of art that is similar to the work that we show, being really physically engaged with—it's a nice experience." She added it "gives a vicarious sense of being able to really engage with the objects in some way."
By encouraging visitors to reflect about their own sacred spaces, the Rubin hopes that "Sacred Spaces" is not just educational and informative, but experiential. "You're actually seeing the works of art combined in such a way that gives you insight into how they were used and how people relate to them," Ms. Townsend said.