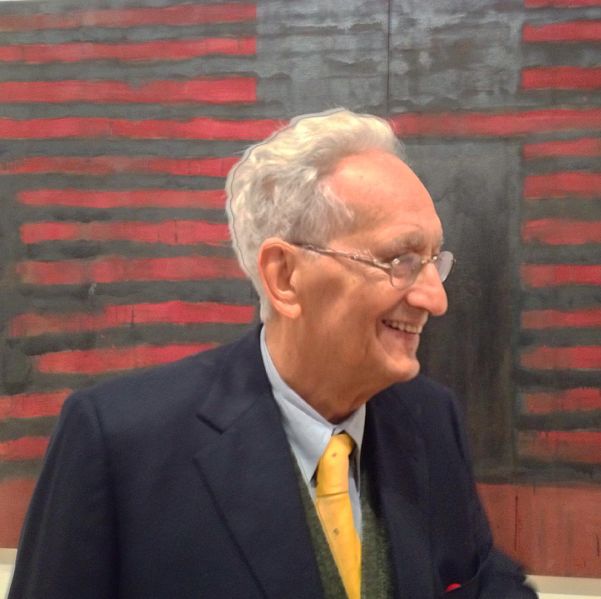 This week, the Whitney is rolling out American artist Frank Stella's career retrospective in style. There's been an opening every nearly night, long lines of VIPs that wrap around the block, and a new trending hashtag on social media: #FrankStella.
It's fair to say that the legendary artist is winning Instagram this week—and blowing up our feed—as more than 800 photos of the charming almost-octogenarian and his geometric, minimal, and at times abrasively fluorescent paintings and sculptures have been posted in the last 48 hours alone. The exhibition, which runs through February 7, 2016, opens to the public today.
Artists like Hank Willis Thomas and Lee Quinones have posted pics, actor Christian Slater was caught striking a pose in front a pair of the artist's copper-colored canvases and California minimalist Larry Bell was snapped getting up close and personal with one of the sculptures. A newly slim art advisor Todd Levin posed in front of Stella geometrics for effect; gallerist Paul Judelson posted a particularly good looking Stella portrait. Collector Leonard Lauder was caught lounging on a sofa in the gallery. Jewelry designer and curator Renee Riccardo put together a whole album of pix and Alice and Olivia designer Stacey Bendet proved to be a fan of the artist, too.
We joined in, of course.
The Observer asked Mr. Stella if he liked being an art star on Instagram. "I know nothing about social media," the painter lamented, but added that, despite a slight cold, he was enjoying himself at his Whitney Museum of American Art retrospective. Looking around, and smiling, he said, "People seem to be having a good time."
What's the downside of Instagramming such a high-profile opening? While this reporter happened to be lucky enough to attend the VIP party Wednesday night, it's pretty easy to figure out who had to wait until later in the week to see the show. Whoops!
Below, a few highlights of the opening week of "Frank Stella: A Retrospective" via Instagram.
Richard Edwards, founder of Aspen's Baldwin Gallery, cozying up to architect and leather enthusiast Peter Marino at the opening dinner Tuesday night.
Actor Christian Slater takes a break from being Mr. Robot to pose in front of a pair of Mr. Stella's shaped canvases.
Artist Lee Quinones talks to the man of the hour.
Larry Bell, you're a little close for comfort. How did the museum guards not catch you?
Hank Willis Thomas, whose The Truth Is I See You project is installed at the plaza at MetroTech Commons in Downtown Brooklyn currently, snapped this gorgeous shot.
Mr. Stella with philanthropist and Whitney Museum board co-chair Laurie M. Tisch.
Art collector and Estée Lauder chairman emeritus Leonard Lauder takes a break from the festivities with Katy Paycheck.
Look! It's Whitney director Adam Weinberg and chief curator Donna DeSalvo.
https://instagram.com/p/9Zpzhjg8wP/?taken-by=alannalorrainemartinez
And from our own personal 'Gram, the author's father color-coordinating with Mr. Stella's handiwork.