Despite having won a string of honors, including a Cooper Hewitt National Design Award and an Emmy, architect and interiors expert extraordinaire David Rockwell exudes a warm and disarming demeanor more befitting of a master than a diva. Not just a creator of living spaces and hotels—The New York EDITION and Grand Central among them—Mr. Rockwell also designed sets for the Oscars and the Broadway show Kinky Boots. Due to receive a coveted AIA President's Award this month and with two new Broadway shows debuting, the designer met up with the Observer at his Union Square West studio.
How did you come to design? I think design found me, just because I liked making things. To me, it was a form of self- expression offering an interesting way to communicate with people. I was always making contraptions, playgrounds, carnivals and spook houses. My mother worked in the theater which inspired me, I started very early on to get fascinated with the magic of making things and that led to design.
When did you decide to formalize this interest into a career? I began to consider architecture during the early '70s after spending time in Mexico. We became familiar with Luis Barragán's work and spent a lot of time in Guadalajara, a city where the incredible public space is defined by the architecture around it.
What brought you to New York? The chance to create something new led me here. We work in a city where there's an endless amount of opportunity for invention and demand for it.
How has the way we use spaces, and consequently the way you design spaces, changed since you started your business in 1984? I have noticed a few big differences:  One of the most amazing things about working today is the ability to manufacture things that are precisely identical. The information technology that makes this possible, so that people know about it instantly globally, has in some ways collapsed the world. I also think there has been a paradoxical push for live experience (handcrafted, artist-made and locally sourced)—a pushback. Yes, we can get something identically produced around the world, but a piece that's more imperfect, more local and reveals the artist or the person who makes it, takes on even more significance.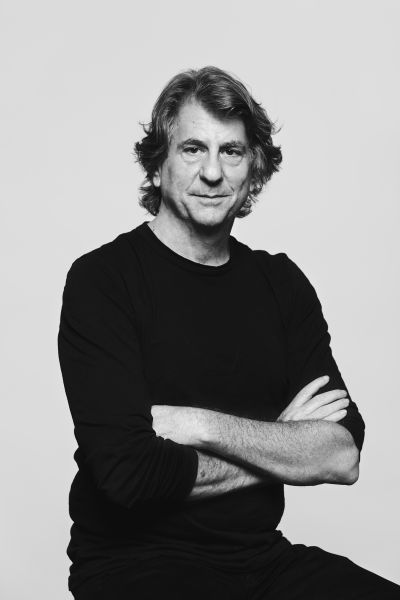 What advice would you have for people who want to decorate their homes with the same flair as a celebrated designer such as yourself? Start with your individual passions. The best homes tell a story.  And a story is not perfect. In my office, I've got a piece of felt that Julie Taymor gave me 15 years ago, some of my kids' artwork, some of my own weaving, posters, a "D" from an old Broadway theater. Each piece has a backstory. Having a sense of what you love or like to collect, versus some idea of what it should look like helps. Another tip: don't be afraid of color. Everything bleached out and minimal is right for some environments but there's nothing like a pop of really personal color; you can always re-paint. Finally, play with lighting, use candles or clip-on lights. People are intimidated by lighting, but it's such a wonderful, personal thing that can reflect your individual style.
What are some places to go for interesting, handcrafted or bespoke pieces? New York is the most amazing hunting ground for unusual things. When new people start working here, one of the things we ask them to do is to go everywhere and photograph things that they're interested in. One of the places I always recommend is Secondhand Rose they have amazing vintage wallpaper. The Future Perfect is also a great store. Then there is Breuckelen Berber; they do handwoven, vintage Berber carpets, cushions made from repurposed, handwoven, vintage Moroccan textiles and lamps by French-Moroccan industrial designer Henri Dejeant. Also, in Brooklyn there is Uhuru Design Showroom for custom, handcrafted furniture.
Tell us about the exciting Broadway shows you're working on. Sylvia is told from the point of view of a dog. Two of the things that make New York the most livable are Central Park and dogs and it's a beautiful, simple, very handcrafted set. On Your Feet! is the music and story of Gloria and Emilio Estefan. It is very big and bold, but the set is very minimal. The world is made of these big walls of beautifully crafted shutters inspired by Cuba. For us, it's the set design with the most amount of projection. 
How has technology changed design? Technology certainly has given us a way to reach out and get information quickly. Technology has also allowed us to create forms that just couldn't be done otherwise. Sylvia has a representation of Central Park that would never have been possible without laser cutting.
Of course technology is a big part of Rockwell Group offshoot the LAB. Can you tell us about some interesting projects they're working on? We're doing an installation in the Winter Garden at Brookfield Place involving 700 beautiful glowing cubes that fill the space with three crayon wishing wells. As you approach and touch it, the color you pick will be played out on these cubes. It's like a magic carpet.