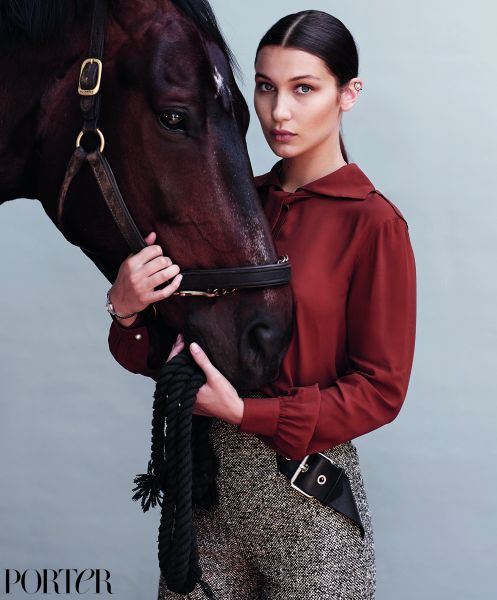 Model Bella Hadid has another trick up her sleeve that isn't at all related to the runway. In the upcoming issue of PORTER magazine, on sale October 2, the rising icon admits her surprising dedication to horseback riding. The brunette Ms. Hadid—not to be confused with her older, blonder sister Gigi—is a 2016 Olympic hopeful who has been riding horses since the age of three.
So will the party girl, who has been making her way into the spotlight lately, choose to follow in her sister's footsteps to take the fashion world by storm? Or will she fill her life with luxe saddles and riding crops?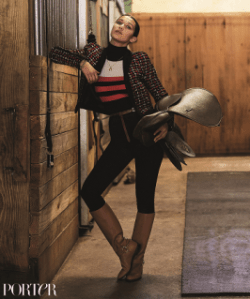 Well, that has yet to be determined, but as Ms. Hadid sets her sights on the games in Rio de Janeiro, she has got quite a bit of work cut out for her. According to Vanity Fair, she will be competing in eventing, dressage and jumping.
Where does this adoration of all things equine come from? "My devotion stemmed from my mom's love of horses," she told PORTER. "I have been riding since I could walk and the fact that my mom knew everything about horses really helped my passion grow… You know how every model is like, 'I do yoga.' Well, I find horses have the same effect. You have to put your ego aside and concentrate on making the horse do the things you want it to do, and move in the way you want it to move."
Get ready for plenty of equestrian-themed shots by photographer Sebastian Faena, who has worked with Cindy Crawford, Lady Gaga, and Celine Dion—not to mention big sister Gigi.
When it comes to Ms. Hadid's look—styled by fashion editor Julia von Boehm—look out for pieces from the latest fall/winter collections by Isabel Marant, Givenchy, Michael Kors and Mulberry. Also making appearances are Emilio Pucci, Stuart Weitzman, Turner & Tatler, Philosophy di Lorenzo Serafini, Balenciaga, Ralph Lauren, Manhattan Saddlery, Arait and Dior Haute Couture.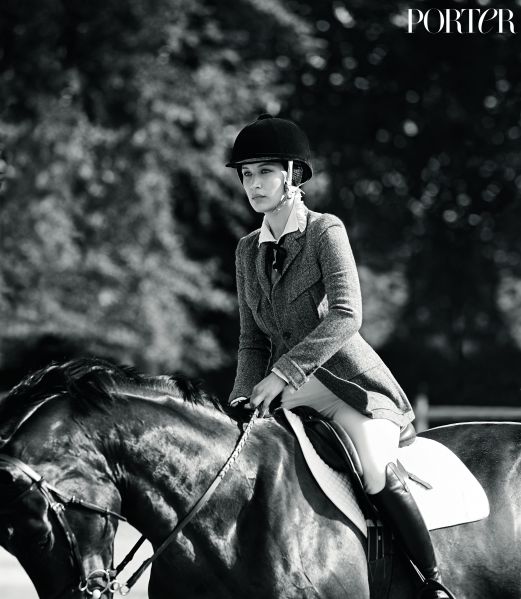 A love of horses runs in the Hadid family—Gigi is an avid equestrian, too. Who knows? Perhaps the Hadid sisters will dominate equestrian in the same way the Williams sisters own tennis. Given their fast rise to modeling fame, we would hardly be surprised.
To see the full Bella Hadid shoot buy the latest issue of PORTER, on sale globally on Friday October 2. Also available as a digital edition or go to https://portersubscription.net-a-porter.com/?prom=PTRFN