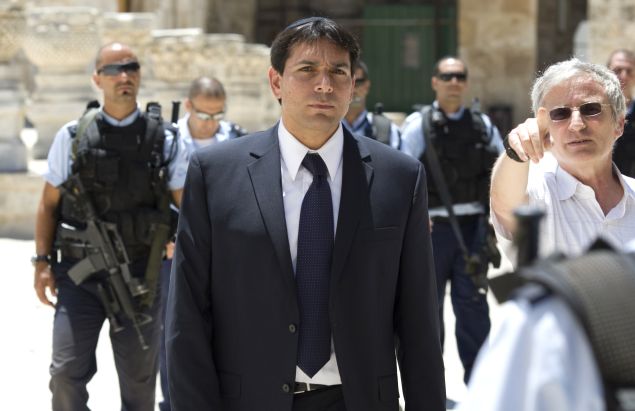 Israel's new ambassador to the United Nations vowed to introduce a policy of "zero tolerance for the bias and lies" faced by the Jewish state at the international body, as he assumed office this week in New York.
"This means that when someone presents a lie, I will stand up and expose it," said Danny Danon. "We have answers for those allegations, and we shouldn't say, 'Let's leave it; it's useless; they will not support us anyway…' We should be at every committee and fight every resolution."
Mr. Danon gave his first interview on the job to The Algemeiner, in a bare office just blocks from the U.N. He laid forth goals, strategies and a philosophical approach to handling his new responsibilities.
Broadly, Mr. Danon has three agendas. The first is to use the U.N. as a vehicle through which to share Israel's technological, medical, agricultural, scientific and other gifts with the world — especially developing nations. The second is to vociferously fight — in the spirit of his ideological mentor, revisionist-Zionist leader Ze'ev Jabotinsky — the systemic prejudice against Israel that plagues the U.N. Mr. Danon's third objective is to "go on the attack" to combat attempts to promote the boycott of Israel and incitement against the Jewish state.
The changing of the guards at the U.N. comes at a challenging time for Israel, as daily stabbings and Palestinian and Israeli-Arab terror attacks plague the country. Some fear the weeks-long wave of violence will spawn a third intifada.
Such acts of pitiless slaughter do not occur in a vacuum.
According to Mr. Danon, the current round of attacks can be sourced to the United Nations podium, from which Palestinian Authority President Mahmoud Abbas delivered a pointedly incendiary speech late last month, accusing Israel of a litany of crimes.
"You heard the speech of Abu Mazen [Abbas] at the U.N., and you see the outcome now in the streets of Israel," he said. "It shows you the meaning of incitement."
On Wednesday, true to his word, Mr. Danon was out of the gate with a direct and evocative message–his first as Ambassador–to the U.N. Security Council and Secretary General Ban Ki-moon. "Such acts of pitiless slaughter do not occur in a vacuum," he said. "They are a direct result of Palestinian incitement, deliberately directed to inflame Palestinian children's minds with hate."
His next task, he said, is to defend the measures Israel has taken to stem the tide of violence — some enacted on Wednesday by Prime Minister Netanyahu after an emergency Security Cabinet meeting — against criticism at the U.N.
He vowed to oppose the language of moral equivalency used by U.N. bureaucrats when describing conflict in Israel.
"When someone says that he calls on all sides to stop the violence, I will fight that," Danon said. "It's not all sides. It's one side who is the aggressor — who's sending kids to murder other kids. And the other side is protecting itself."
A fighting spirit and combative approach are hallmarks of his ideological upbringing–a follower of Jabotinsky and later a leader of the Betar youth movement founded by the controversial Zionist leader.
Mr. Danon's appointment was widely criticized in Israel as being wholly inappropriate for the delicate role of representing Israel to the nations of the world, many hostile to the Jewish state, and none sharing his oft-stated view that a Palestinian state should never be established. Critics said the bullishness of Israeli political life, where Danon cut his teeth, had no place at the china shop that is Israel's standing at the U.N.
Mr. Danon brings a brawler's spirit to a wayward institution that could benefit from a good shaking-up.
Pundits and political opponents invariably describe Netanyahu's choice of Mr. Danon as "odd," "short-sighted, shameful and damaging," "curious," "cynical," "a strategic mistake," and "driven by petty politics." Israeli daily Haaretz listed the "six reasons to worry" about his appointment.
Mr. Danon insists there is nothing to fear.
"When I accepted this position, I understood that I would be representing the position of the Israeli government," he said. "Not my personal beliefs."
He is quick to point out that the government he represents is made up of parties with ideologies not so different to his own.
"Lets not forget, the government of Israel is a nationalist government led by a prime minister from the Likud party, and the coalition… [is made up of] people who[se views] are not so different from the Likud platform."
Mr. Danon is mild-mannered and soft-spoken, and expects this temperament to work to his advantage. "I can tell you that in Israel I was criticized on other issues, by other organizations or the media, but when they actually met me they realized that I am not so scary," he said.
Some critics are pillars of the U.S. Jewish community, who told Haaretz that his appointment would further damage U.S.-Israel ties. Nevertheless, Mr. Danon has met with a number of American-Jewish leaders, to express hope that he will "have the support not only of the people here in New York, but the support of the people in Israel and of the Jewish people."
Mr. Danon has had a testy relationship with Netanyahu, challenging him from the right flank within his own party and eventually inviting his own dismissal from the post of deputy defense minister during Israel's Operation Protective Edge last summer in Gaza. Mr. Danon sees precisely this dynamic with Netanyahu as an advantage in working for his former rival.
"When he saw my conviction in the past when I fought on other issues, he knew I was not afraid and I fought back," he said of the prime minister. "He knows that when I come into the U.N…. I [will] have the strength and conviction to stand up wherever needed."
Acknowledging the somewhat herculean task before him, Mr. Danon is upbeat and expects results.
"Next month we will have a ceremony for the 40th anniversary of the ["Zionism is Racism"] resolution. After that resolution was passed, people said, 'What can you do? Can you change that? It's here to stay.' Others said, 'No, let's fight it…' and eventually 'Zionism is Racism' was erased, and I think also other [anti-Israel] decisions will be erased," he said. "So I think we should fight it, I think we should expose it. I  cannot assure you that it will happen in a year or two, but eventually it will."
Where his predecessor–the smooth and suave Ron Prosor–was a master of the rhetorical sweet science, Mr. Danon brings a brawler's spirit to a wayward institution that could benefit from a good shaking-up.
"I don't believe that I will come and in a week the U.N. will love Israel," he concluded bluntly. "But I can assure you, they will know that we will not be silent and sit idly by when someone is bashing us in the U.N. No. We will stand up; we will fight. And before they speak again, they will know that the Israelis are here to talk, and will not sit quietly when bashed."
The result, for Israel, yet remains to be seen.