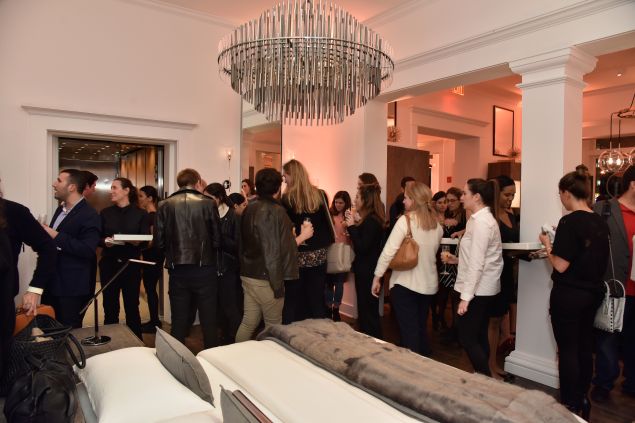 "It sort of feels like a nightclub in Courchevel," said one reveller last night, as tealights twinkled on very low coffee tables at RHModern's flagship on Broadway and 22nd Street. Pushed back sofas and ambient sounds coming from the slightly-overdoing-it DJ added to the vibe, amped up with Cipriani Bellinis and Nobu nibbles. Non-RH regulars were puzzled at first by the event. "What have we come to look at?" said one to another, while those in the know quickly got to admiring the subtle new look of the store. In fact, closer inspection revealed a genius move by RH. The brand has more or less thrown out their signature steampunk, kind-of-clunky aesthetic for an equally grand but beautifully realized modern re-do. Instead of reworked classics or antique imitations, the new pieces—from lighting to low-level seating—are, well, modern and comfortably luxurious.
Many of RH Modern's collections were developed in collaboration with some of the world's most talented and internationally-renowned designers—including Barlas Baylar, Anthony Cox, Thomas Bina and Rudy Sr. and Rudy Jr. Van Thiel; lighting from Jonathan Browning and Mariano Fortuny; modern rugs by Ben Soleimani; outdoor offerings from Leo Marmol and Ron Radziner, Ann Marie Vering, and José Gandía-Blasco, and reissues of iconic originals from the master of mid-century design, Milo Baughman.
Hosted by Gary Friedman (RH Chairman & CEO) and co-hosts Erin Beatty, Jen Brill, Max Osterweis, Jason Weinberg, Gucci Westman, Elettra Wiedemann ) and Kate Young, approval was the general consensus of opinion among the taste-documenters present. The event benefited RxArt and also in attendance were Maggie Gyllenhaal, Kate Foley, Charlotte Ronson, Chris Benz, Eddie Borgo, Douglas Friedman, David Neville, Minnie Mortimer, Elizabeth Cutler, Carly Cushnie, Diane Brown (founder of RxArt) and more.