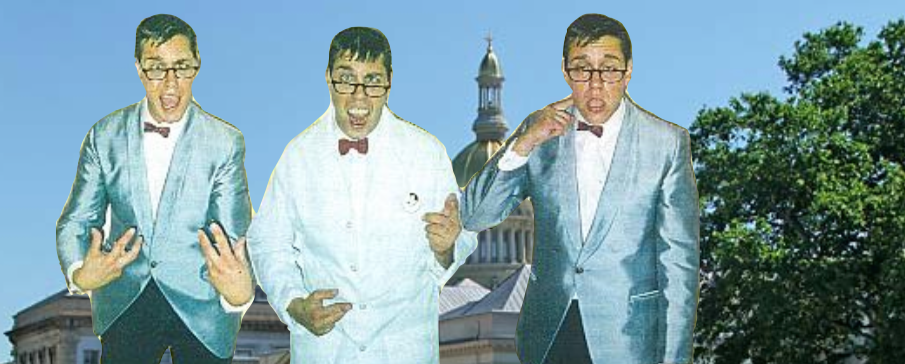 The Jerry Lewis Look-A-Likes of the Nutty Professor Monastery in Las Vegas are visiting New Jersey this month as part of their six-week "Hey, Lady" Tour.
They are here to share their Jerry Lewis culture, practices and paths to inner peace and compassion and to raise money for their monastery.
While in New Jersey,  the Jerry Lewis Look-A-Likes will be visiting six cities in the Garden State. While in Trenton, they will be receiving a special "Jerry Lewis Proclamation" signed by Lt. Governor Kim Guadagno (Governor Christie is out of town this week in New Hampshire for his presidential campaign).
They will visit the New Jersey town Jerry Lewis called home for many years (and gets mentioned by name in many of the comedian's films), Weehawken. While there, they will have a photo op with Weehawken mayor, Richard Turner, next to the Bobblehead Statue Jerry Lewis that overlooks the Hudson River.
Finally, the Jerry Lewis Look-A-Likes will make an appearance on a panel at Atlantic City's 500 Club, where Dean Martin and Jerry Lewis first performed together in 1946.
"We look forward with great anticipation to their arrival in Atlantic City," noted Mayor Donald A. Guardian.
Since the fall, Revel Casino and Trump Plaza have closed their doors. "This is very exciting, and should give a shot in the arm to the local economy," continued the Mayor.