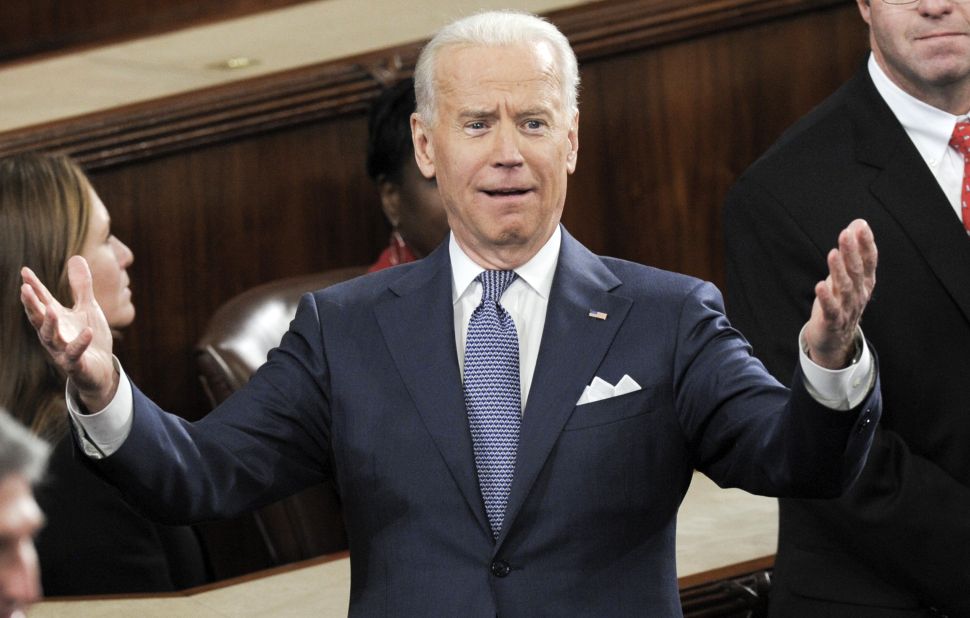 Joe Biden finally announced that he will not be running for president.
During an appearance at the Rose Garden, Mr. Biden announced—to the surprise of few—that he will not, in fact, be competing with former Secretary of State Hillary Clinton for the Democratic nomination.
Mr. Biden's announcement, which came in the form of a hastily announced Rose Garden event, gave the impression of someone who never really had his heart in the race or even the idea of the race.
The news is a mixed bag for each party.
For Democrats, the coronation of Ms. Clinton has been made much easier. Her rise to the nomination had already been unexpectedly complicated by Vermont Sen. Bernie Sanders, a declared socialist, who has been polling at around 24 percent and catching up to Ms. Clinton.
At the same time, Mr. Biden's decision not to run could be good for the Democratic primary, which is currently cooling on Ms. Clinton but might not see Mr. Sanders as a viable alternative. This also spares the party the gaffe-fest that is the current vice president.
Who could forget President Barack Obama's announcement of the signing of his signature, when Mr. Biden was caught on the microphone as saying: "This is a big f—ing deal."
Or how about the time he asked a Missouri state senator—who is confined to a wheelchair—to "stand up"? Or what about his numerous racial gaffes, including calling Jews "Shylocks" or saying he couldn't go into a 7-11 "unless you have a slight Indian accent"?
Those gaffes would have overshadowed any success Mr. Biden could put forward.
The problem for Democrats now is that Mr. Biden is seen as a likeable politician, while Ms. Clinton is now. Democrats are now stuck with a candidate that is described by voters as "untrustworthy."
To that end, Mr. Biden took a few seemingly parting shots at Ms. Clinton, most notably regarding her claim during the first Democratic primary debate that Republicans are her enemy. Mr. Biden repeated what he said on Tuesday about Republicans being the "opposition" and not the "enemy," as Ms. Clinton described. Mr. Biden spoke about finding common ground and trying to unite the party, something that seems out-of-reach if Ms. Clinton were president.
For Republicans, the news is also bittersweet. The GOP was hoping for someone that has a chance to bring down Ms. Clinton's nomination, but their hope was extinguished. The coronation of Ms. Clinton will continue, unless Mr. Sanders manages to get the nomination, something that seems unlikely given his defense of her during the debate.
The biggest question now is: What will the media focus on without having a potential Biden run to report?