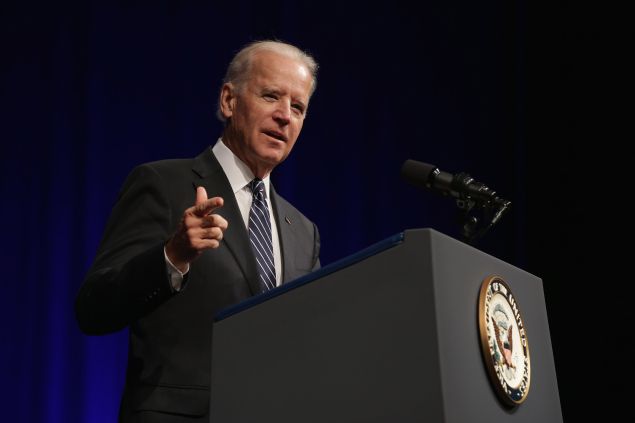 Ending months of speculation, Vice President Joe Biden said today he will not run for president.
Appearing beside President Barack Obama in the White House Rose Garden, Mr. Biden said he and his family had overcome the pain of the recent passing of his son, Beau Biden—who, while on his deathbed with brain cancer, reportedly urged his father on his deathbed to seek the highest office in the land. But the vice president said that he did not believe a sufficient window existed for him to raise the money and organize the campaign infrastructure to create an operation capable of competing with ex-Secretary of State Hillary Clinton and Vermont Sen. Bernie Sanders.
"I couldn't do this if the family wasn't ready. The good news is, we're at that point," he said. "Beau is our inspiration. Unfortunately I believe we're out of time. The time necessary to mount a winning campaign for the nomination."
Still, he promised to play a role in the 2016 campaign, and warned fellow Democrats against distancing themselves from the current administration.
"While I will not be a candidate, I will not be silent. I intend to speak out clearly and forcefully, to influence as much as I can," he said. "This party, our nation, will be making a tragic mistake if we walk away, or attempt to undo the Obama legacy."
"Democrats should not only defend this record, and protect this record, they should run on the record," he continued.
The two-time presidential candidate and ex-senator from Delaware stoked speculation that he would jump into the contest over the summer when he met with top liberal leaders and appeared with Gov. Andrew Cuomo to give a speech in New York on his record on women's issues. Mr. Biden looked increasingly attractive as a likable establishment contender as Ms. Clinton faltered amid the scandal over her use of a private email server as secretary of state, and as the insurgent, left-wing Mr. Sanders gained momentum.
But a strong performance by Ms. Clinton in last week's Democratic debate, and resurgent poll numbers in New Hampshire and Iowa—and embarrassing GOP gaffes surrounding congressional panels created to investigate the front-runner—seemed to eliminate the rationale for a Biden candidacy.
Florida Congresswoman Debbie Wasserman Schultz, who chairs the Democratic National Committee, praised the president's understudy.
"While Vice President Biden will not be a candidate next year, his unwavering commitment to America's working families is a legacy each of our candidates will proudly carry forward," she said in a statement, recalling her time working on Mr. Biden's ill-starred 1988 presidential campaign while she was a college student. "The confidence in his leadership that inspired me then, when I did not know him personally, was affirmed as I sponsored legislation with him in Congress and came to know him well."
Updated to include comment from Ms. Wasserman Schultz.