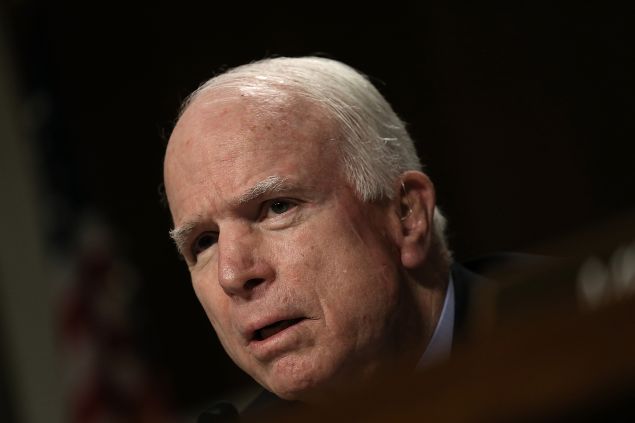 Arizona Sen. John McCain—the 2008 Republican presidential nominee—told reporters today that Vermont Sen. Bernie Sanders, the second place candidate in the Democratic primary, has a "record of advocacy for our veterans" while front-runner Hillary Clinton, the former secretary of state and senator from New York, does not.
On a conference call with reporters, Mr. McCain—chairman of the Senate Armed Forces Committee—and Florida Congressman Jeff Miller, chairman of the House Veterans Affairs Committee, lambasted Ms. Clinton for her claim last week that the 2014 Department of Veterans Affairs scandal was not "widespread." The two Republicans recalled numerous cost overruns and countless members of the armed forces who did not receive vital medical care, and the Arizona senator touted his joint bill with Mr. Sanders to increase transparency at the VA and to allow vets to obtain treatment at private facilities.
Asked if he thought Mr. Sanders was a greater advocate for former servicemen and women, Mr. McCain—a Vietnam War veteran and former prisoner of war—said he did not wish to "engage in expressing favoritism." But he remembered his fraught legislative negotiations with Mr. Sanders, who was then the chairman of the Senate Veterans Affairs Committee, and praised his socialist colleague's efforts.
"I will say Bernie Sanders worked very hard when he was chairman of the Veterans Affairs Committee, he, he and I had many disagreements, but we were able to come together, finally, after very spirited discussions—I think my reward will be in heaven, not here on earth for that exercise," he said. "But the fact is we were able to come together and come and pass legislation that was nearly unanimous in both House and Senate. So he does have a record of advocacy for our veterans."
Mr. McCain claimed Ms. Clinton had no such credentials during her tenure in the Senate between 2001 and 2009.
"To my knowledge, I know of no activity, legislative or otherwise, that Hillary Clinton was engaged in during her time as United States senator," he said. "I don't see how any veteran who cares about their fellow veterans could possibly have any good things, nor could support, her quest for being commander-in-chief."
Ms. Clinton's campaign did not immediately respond to requests for comment. However, Library of Congress records show Ms. Clinton sponsored several pieces of legislation related to veterans while in the Senate, including a measure to allow taxpayers to designate part of their payment to homeless veterans assistance efforts, the "21st Century GI Bill of Rights Act of 2007," the "Korean War Veterans Recognition Act of 2007" and a measure to provide a special pension to the parents of deceased service members.