The New York Botanical Garden's annual Rose Garden Dinner is already one of the more enchanting evenings of the New York social calendar—a night of wine, champagne, delicacies and dancing enjoyed between a saunter through a magnificent garden and dinner in a ballroom. Add Julie Andrews to the list of this year's honorees, and you have an incredibly elegant event.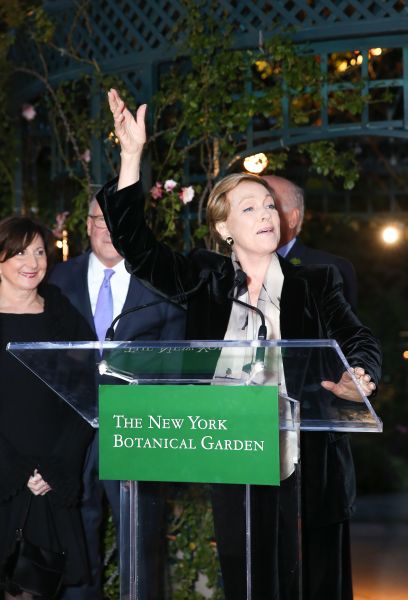 Now 80, Ms. Andrews is much more than the stage and screen actress best known for her classic titular roles in musicals like My Fair Lady, and Victor Victoria, and films such as Mary Poppins, The Sound of Music, and The Princess Diaries. She also happens to be the author of over 30 children's books, with her newest title just published and hitting shelves in time for Halloween.
The Very Fairy Princess: A Spooky, Sparkly Halloween, is the seventh in a best-selling series co-authored with her daughter, writer Emma Walton Hamilton. It follows the daily adventures of Geraldine (Gerry), who is convinced she's fairy princess and goes nowhere without her crown and wings.
Ms. Andrews' revealed The Very Fairy Princess series is being adapted for an animated television series.
The Observer spoke with Ms. Andrews before the evening festivities, which were filled with the sounds of familiar tunes from Ms. Andrews films—a little "Spoonful of Sugar" here and "Sound of Music" there. Here, Ms. Andrews' thoughts on princesses, her daughter, and a long-lasting career of creating memorable characters and stories for children.
On why she decided to pen a princess-themed book series for young girls. 
This particular [series] came about because we had done a series for boys, and [the publishers] said "Would you do something for young girls? Preferably, about princesses?" We did not want to do another princess book in the vein that they had already been done, so we took as our inspiration my Emma's daughter, Hope, who is convinced, and has been for many years, that she is a very fairy princess, because of something she feels inside. In her youth, she never went without her tiara and her wings. She always dressed in pink. Always had holes in her socks, and her tights about her ankles…It's not about a princess being full of glamour or sparkle, but it's about the sparkle she feels inside that tells her she is a "very fairy princess." It's become a real joy to write these little books.
On what it's like to work so closely with her daughter, Ms. Hamilton. 
We have very different talents, but are very compatible. The best idea wins, we've never fought, and we laugh a great deal, drink a lot of tea, and have a ball. She's the nuts and bolts of the story. She'll say, "Mom, we need to crescendo to a first act ending," and I add more of fanciful parts of the stories, such as the opening and closing parts of a chapter, but we develop them together in terms of an outline.
On what jumpstarted her career as a children's book author.
The [first] book came about as a result of a game that I was playing that required a forfeit. My children came for the summer while we were filming and we lived on this glorious estate. They just ran so wild that they didn't pick up their laundry, didn't brush their teeth, didn't make their beds or even try to.

And [finally] I said "OK, let's play a game. If you don't do this, you pay a forfeit." My eldest daughter, my stepdaughter, said "Well, you've got to play too… You have to stop sort of cussing so much." Of course, I was the first to lose the game, so she said, "You owe a forfeit," and I said "What'll my forfeit be?" She said, "Write us a story."

And that's how the first book came about—as a result of really bawling out my kids.