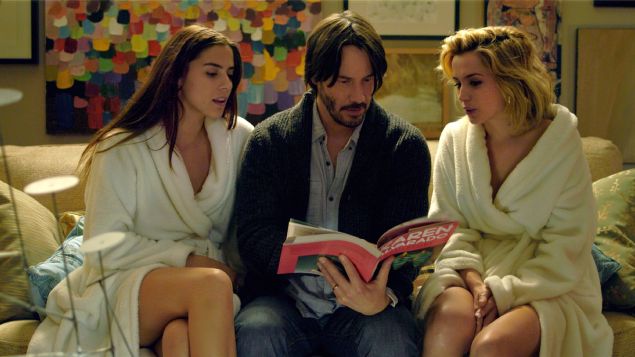 Ho-hum. Another home invasion movie called Knock Knock. This time it's Keanu Reeves in a contrivance on the order of Home Alone for grown-ups. But because it's written and directed by slick slasher king Eli Roth (Cabin Fever, Hostel), expect some genuine, well-executed thrills that keep the adrenaline going.
---

KNOCK KNOCK ★★
(2/4 stars)

Written by: Eli Roth, Nicolás López and Guillermo Amoedo
Directed by: Eli Roth
Starring: Keanu Reeves, Lorenza Izzo and Ana de Armas
Running time: 99 min.

---
This is a good thing, because Keanu Reeves has the adrenaline rush of road kill. He plays Evan Webber, a 43-year-old architect whose wife and two kids leave him at home on a stormy weekend while they go to the beach. Alone in the wind and rain with his rock music, it's almost like being a bachelor again, but before he can turn into a total slob, the doorbell rings. In come two sexy, soaking wet, scantily clad teenage chicks who are looking for a different house—lost and miles from where they're going. He calls an Uber, but it can't get there for 45 minutes. While they wait, Bel and Genesis get into the wine and Evan gets into their bikini bottoms before things turn sinister. He's been monogamous for 14 years, but the music from his vintage vinyl record collection turns sensual, and so do his horny guests.
When he wakes up, he's riddled with guilt but although he throws the two foxes out, they return for more. They wreck his house, tie him to the bed and proceed to get even. Poor Keanu. At the mercy of a pair of psychopaths, he's tortured, humiliated and buried in the backyard screaming for help. It does not end pretty. Bel (Ana De Amar) and Genesis (Lorenza Izzo, who in real life is Mrs. Eli Roth) are mad, ruthless Lolitas who don't mind disrobing and achieve high marks in their skill at keeping things rolling.
This is also a good thing, because Knock Knock otherwise challenges credulity big time. Why the nymphets picked him for a victim is never explained. Why nobody is home and there's not a single light on in otherwise overcrowded Los Angeles suburbia gives pause for plot concerns. Never mind. A disturbing horror film designed to prove women can be as predatory and vicious as men is intended to give female viewers a sense of empowerment, I guess. And watching two psychotic sex kittens slap Keanu Reeves around while he's stripped down to his Calvins does, I admit, offer a certain amount of guilty pleasure. Otherwise, there's nobody home in Knock Knock.