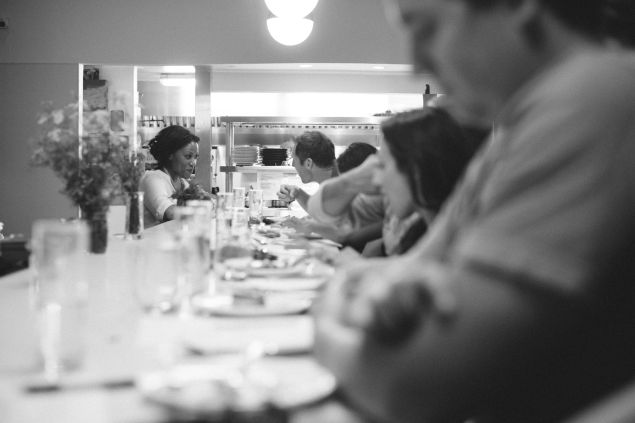 It's a sweltering first day of fall in Venice Beach, and the blocks around the pier are mobbed with surfers, skateboarders, swimmers and strollers soaking up the endless-summer sun. But surfer and skateboarder Nyesha Arrington, a "Top Chef" star who previously worked at Santa Monica's venerable Melisse restaurant, is in the middle of a long day of work. She spent the morning at the best-in-town Santa Monica Farmers Market and is spending the afternoon getting ready for dinner service at her new Venice restaurant, Leona, which she opened on Washington Boulevard near the pier in late July.
Ms. Arrington, whose multi-cultural riffs on casual-chic California cuisine fit right into a city where the best new restaurants are all about no boundaries and no white tablecloths, is part of an emerging restaurant row on Washington Boulevard. It's on a stretch steps from the sand that had long been a tourist-trap wasteland of sketchy and awful places to eat and drink.
"It's really insane how long there was not really good food on this block," Ms. Arrington said.
But everything has changed this year, thanks to some locals who took things into their own hands.
"I'm very much in love with beach culture and the vibe here," said Ms. Arrington, an L.A. native who's lived between Venice and Santa Monica for 15 years. "If I wasn't in this restaurant cooking, I'm generally on this block skateboarding or at the boardwalk."
Citrin, who grew up in Santa Monica and has spent a lot of time surfing around the Venice pier, is one of the true bosses of L.A. fine dining.
Leona is a collaboration between Arrington and local couple Kristian and Breegan Vallas, design-focused real estate entrepreneurs who are raising their young children in the neighborhood. (Leona has a serious kids menu.)
Just down the street from Leona is the new Simmzy's, an outpost of a Manhattan Beach-based gastropub empire known for its craft beers, burgers and tortilla soup. Simmzy's, where you'll see revelers enjoying beer tastings during both lunch and dinner, debuted about a month before Leona.
Even closer to the pier is the recent reboot of the Venice Whaler, which offers ocean views in its dining room and a to-go counter serving gourmet breakfast burritos and poke bowls.
These are all serious neighborhood restaurants in an area that, despite its tourist-friendly surroundings, is actually at the nexus of two thriving neighborhoods: the Venice canals with its funky, multi-million-dollar beach bungalows, and Marina del Rey with its luxury apartment complexes.
"It's not a tourist location. I chose this completely as a neighborhood location," says Josiah Citrin, the famed Melisse chef who's planning to open his new casual meatery Charcoal on Washington Boulevard in November.
Citrin, who grew up in Santa Monica and has spent a lot of time surfing around the Venice pier, is one of the true bosses of L.A. fine dining, the man who's run Melisse for more than 16 years. But at Charcoal, he's creating an everyday destination with open-fire cooking instead of a special-occasion spot with tasting menus.
"This is how I cook at home," Citrin says. "I do this every weekend. The whole concept is craveability."
He plans to serve dishes like an aged duck tartare with pickled fennel and radish, watercress, mustard and creme fraiche. He'll be roasting chickens and grilling beef, but this is L.A., so there will be plenty of vegetables too.
"There's going to be a collard green salad because we don't want to have a kale salad," Citrin says.
Charcoal's menu should also include broccolini with smoked potatoes, rosemary and chili bread crumbs. Citrin will bake potatoes in coals and maybe top them with aged gouda along with the requisite creme fraiche, salted butter and scallions. He's amped about a dish where he will char a whole cabbage "completely black" then serve it with yogurt, sumac, coriander and lemon.
Citrin plans to serve dinner every day along with weekend brunch, which will likely work out well in a moneyed but unpretentious area where residents will go out to eat clad in Prada and Tom Ford at night and then stroll around and grab a quick bite during the day in board shorts and flip-flops.
Leona's banging during dinner and weekend brunch, so Arrington's been busy plating gorgeous dishes like lamb-belly wontons and soft-shell-crab Benedicts. She doesn't make things easy on herself. She visits four nearby farmers markets, including one in Venice, each week and comes up with new ideas for dishes every time.
On the day I visit her at Leona, I overhear the kitchen talking about a possible Asian interpretation of shrimp scampi, perhaps with ponzu and lemongrass. Arrington tells me she's also developing a grilled spot prawn dish that involves smoking fregola, a Sardinian pasta, over wood chips. The prawns are lightly grilled with espelette pepper, lemon zest, olive oil, and sea salt. Then she adds the fregola, corn, chive oil and soft chorizo.
"Every week I'll try to focus on a different cuisine, whether it be Italian-driven or Asian or Indian," said Ms. Arrington, a black/Korean chef classically trained in French technique who represents L.A. food's unparalleled diversity and market-driven cuisine as well as anyone.
"We had a late pop for tomatoes this season, and corn, tomatoes, and summer squash are still pretty prevalent," Ms. Arrington said of her latest visit to the Santa Monica Farmers Market. "You sort of see butternut squash starting to sprinkle in."
But Arrington walked by the butternut squash that day because it was way too hot to be serving autumn food.
"You have to eat based on your senses and what you feel outside," she says. "It's so bright and sunny and beautiful, and I'm probably going to break off and ride my skateboard for about five minutes because Wednesdays are long days."
Soon she will be able to skateboard over to see her mentor Citrin cooking in his new restaurant. Maybe they'll reminisce about how a friend of Mr. Citrin's, chef Raphael Lunetta, gave Arrington her first surfboard 15 years ago. Maybe they'll talk about what was good at the market that day before they head back behind their respective stoves.
It's funny how things work out. Mr. Citrin has waited more two years to open Charcoal after an escrow process that "took forever." Sometimes, real estate delays cripple you. But sometimes, time fixes everything and you put your feet in the water at the exact right moment, after others have just tested the tide.
Mr. Citrin isn't opening a restaurant in an unlikely location anymore. He's opening the most high-profile restaurant in what's becoming a prominent restaurant row.
"The timing," he says, "is perfect."
Time to go take a dip.