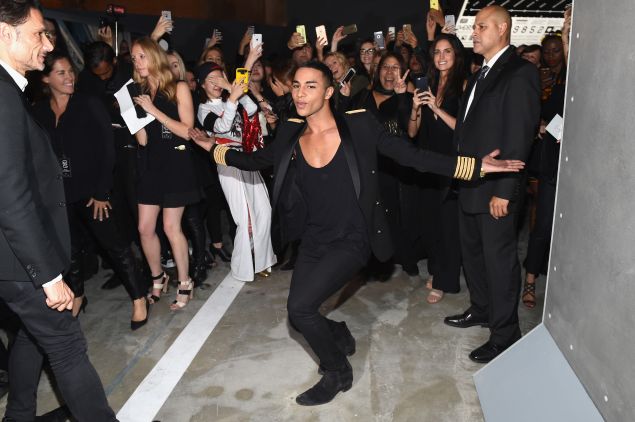 The morning after the blowout event that served as the reveal for Olivier Rousteing's much-anticipated Balmain and H&M collaboration, the collection has accrued over 21,800 posts on Instagram, tagged with the hashtag #hmbalmaination. Although for fashion followers (or fans of America's first family, the Kardashians) this should come as no surprise; Balmain's Paris fashion show was ranked as the most Instagrammed event of the Spring/Summer 2016 season.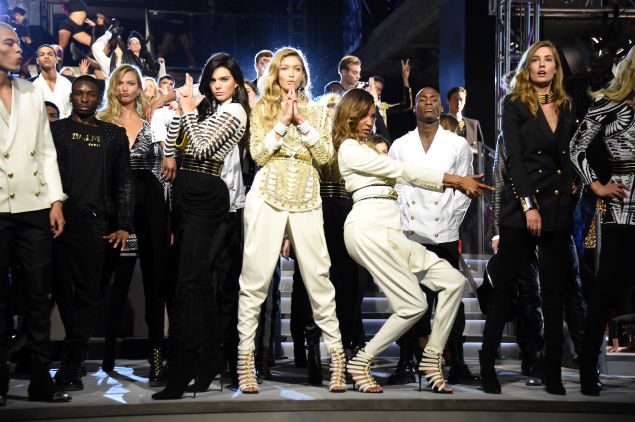 The not-so-casual Tuesday evening included a runway show where an impressive lineup of top models showcased the glittering collection, composed of many blazers, plenty of velvet and more than a few body-con silhouettes. Opening the show–which took place throughout the two story space at 23 Wall Street–was Kendall Jenner, followed by Jourdan Dunn and Gigi Hadid, the female stars of the collection's campaign. Other catwalk regulars were present too: Bella Hadid, Karlie Kloss, Joan Smalls, Alessandra Ambrosio and so on. As for the front row, the usual slew of editor-in-chiefs were present, from Stefano Tonchi to Amy Astley, in addition to starlets like Kylie Jenner, Diane Kruger, Alexa Chung, Lewis Hamilton and Zachary Quinto.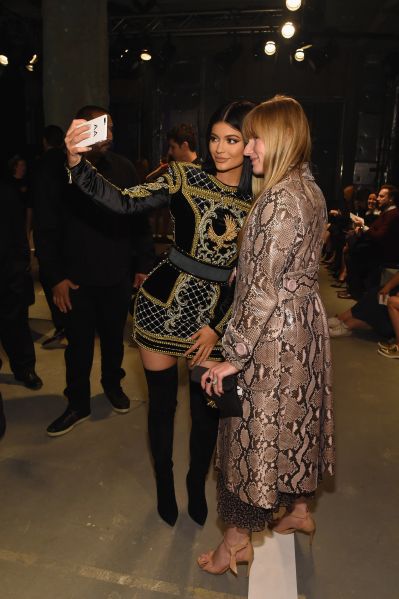 Factor in some dramatic lighting and a seating plan that allowed most guests a front row perch, and the social media posts across Instagram, Twitter and Snapchat were aplenty. Oh, and the Backstreet Boys performed, much to the delight of, well, nearly everyone who was a teen or pre-teen in the early aughts.
Earlier in the day, Mr. Rousteing fielded questions at back-to-back press conferences, where Vogue's Nicole Phelps lobbed questions at both him and H&M's head of design, Ann-Sofie Johansson. Bedecked in one of the collaboration's blazers (which showed off an impressive amount of skin) and a round wide-brimmed hat, the 30-year-old creative director sang his praises of social media.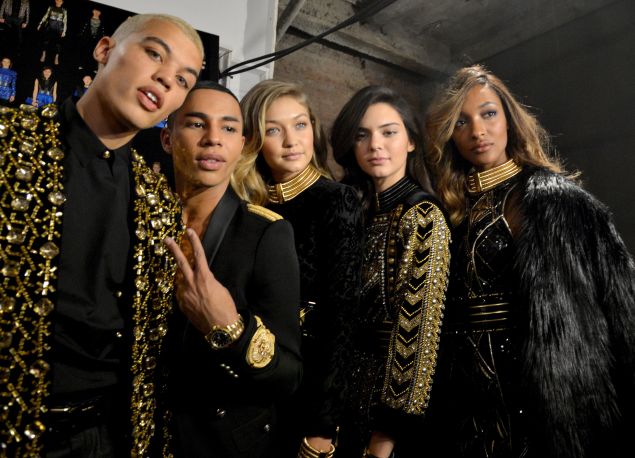 "You get to hear from the people who love you, and also the people who hate you, which is pretty fun," he sarcastically quipped. He also mentioned that he sees his posts as a form of advertising, allowing him to project a vision and aesthetic, which his 1.4 million Instagram followers tend to consume with aplomb. And yes, the 2.5 million followers of Balmain's account tend to adore him and his well-curated girl gang as well.
Mr. Rousteing also noted that his social media accounts are a way for him to stay grounded. "My life is so strong and I got so many things pretty young." He went on to say that he peruses the accounts of his commenters, seeing the hardships they live through and how difficult their lives can be. As one of today's designers who has a knack for embracing diversity, he also uses Instagram to see how his followers lead their lives and approach fashion in other countries. This H&M collection was made, in a way, to get a tighter grasp on these devout followers and fans of the Balmain brand.
Priced far below Balmain's general four-figure price range, although well above H&M's average price tag, there was plenty of discussion among the fashion set last night regarding who will be buying these pieces. A blazer dress that was covered in 250,000 beads, including pearls that were a throwback to Mr. Rousteing's first-ever collection at Balmain, rings in at $549; a pair of men's leather trousers cost $349. Basically, this isn't a pretty penny for the casual H&M shopper, but for many, it will be a reason to save up and finally own a piece designed by one of today's youngest and most celebrated designers. And if anything, at least it will result in a great Instagram moment.