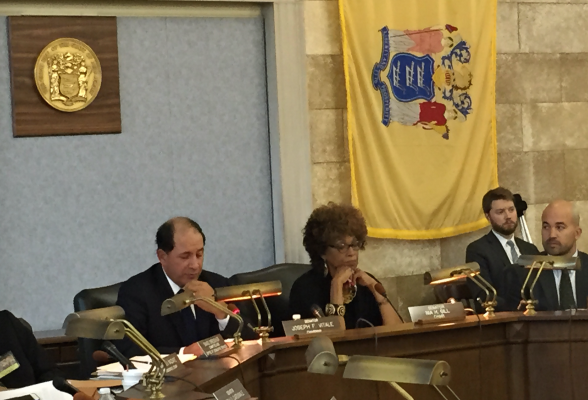 TRENTON – Adding to mounting criticism against Horizon Blue Cross Blue Shield for its proposed tiered system for hospitals and other healthcare providers in New Jersey, Senator Diane Allen (R-7) said during a joint hearing of the Senate Commerce and Health, Human Services and Senior Citizens committees hearing Monday that she hopes the plan will be altered to bring more of the new, lower-cost affiliates to her home district in Burlington County.
The tiered system would break down participating hospitals and clinics into two groups, with higher-rated first-tier providers receiving a greater volume of patients in exchange for lower reimbursements, resulting in lower copays for patients.
The tiered system is a joint attempt by Horizon, providers and their newly formed OMNIA group to address New Jersey's high healthcare costs, which are the second highest in the country.
"I continue to have the concern about winners and losers," Allen said. "Call them blue and green instead of one and two.
"I need to have a tier one hospital in Burlington County," she added.
Committee chair Nia Gill (D-34) criticized Horizon and the OMNIA group for what she described as a lack of transparency, saying that they did not provide the committee with information on why certain providers were chosen over others.
Allen and fellow Burlington County Republican Dawn Marie Addiego (R-8) said that residents of Burlington County deserve to reap the full benefits of the newly designated lower-cost providers by having more of them available within 30 miles of their homes.
"My concern is adequate access to care," said Addiego. "Which includes cost.
"I have to be concerned about my district, which doesn't only include Burlington County, but most of it," she continued.
"My understanding is that a couple of my systems in my district and in Burlington County actually scored significantly higher than anyone else in South Jersey on the outcome measures."
Horizon has agreed to grant first-tier status to at least one additional obstetrical clinic in the county.
Senator Gill also voiced her displeasure with advertisements the insurance giant has been running, which feature the logos of providers with whom Horizon is still only negotiating. Horizon officials would not comment on whether the hospitals are under contract yet, but Summit Medical Group CEO Jeffery LeBenger confirmed later in the hearing that they are not.
Some of the tier-one hospitals and providers have rate agreements in place, but not contracts. Though Horizon representative did not say whether any legally binding agreements apply, they expect for the OMNIA product to be available to patients on January 1.