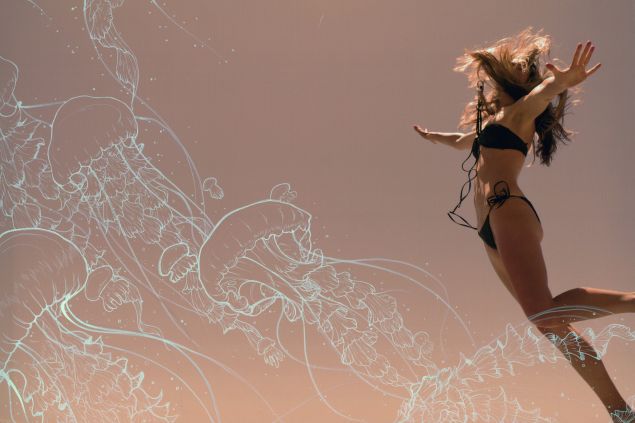 L.A. based swimwear designer, wife and muse of The Neptunes' Chad Hugo, Priscilla Lynch Hugo launched her debut collection last week, alongside "Into the Water," a series of prints playfully showcasing her artful designs. Ms. Lynch's first line is comprised of six bikinis, made in Los Angeles from eco-friendly textiles of recycled plastic water bottles. Averaging $300 per handmade suit, the collection is available in limited quantities online at Priscilla Lynch Swim. For Ms. Lynch, the line is a "meeting of the elements–woman, earth and water–to expose the female form," with materials that once created toxic environments for aquatic life but now exist in harmony with nature.
"Into the Water" was shot in Los Angeles by model and photographer Camilla D'Alfonso, and enhanced by the artist Navid Rahman, who adorned the images with whimsical, hand-sketched underwater worlds in white ink. Mr. Rahman flanked the models in koi and lily pads, jellyfish and reef. In directing Ms. D'Alfonso and Mr. Rahman on the art for her exhibit, Ms. Lynch looked to Gustav Klimt — particularly Klimt's use of line in his early, more graphic work such as Ms. Lynch's favorite: Fish Blood. In "Into the Water", women float through space — just like in Fish Blood, the figures are ethereal, hair becoming one with an aqueous medium.
Born and raised in Virginia Beach, Ms. Lynch grew up "spellbound by the magic of plants and water," and inspired by her sister, a botanist who runs an organic flower farm. A vegetarian by age 10, she wrote essays on the benefits of hemp versus cotton by 12, and at 16 had enrolled in college, studying fashion at Virginia Commonwealth University. After graduating, Ms. Lynch moved to Los Angeles, where she worked with many of the brands she had seen only in magazines as a teen. As a personal stylist with a focus on luxury and resort, Ms. Lynch was privvy to some of Beverly Hills' most prestigious names.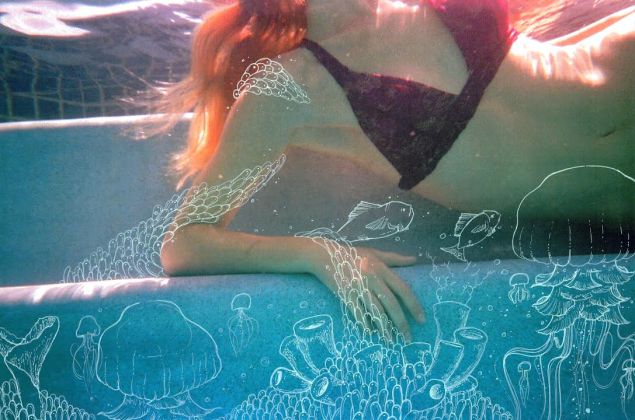 "In high school I was enraptured by Vogue and Harper's Bazaar, living in the magical worlds their editorials created," she told the Observer. "I loved the way I imaged those women lived, and I knew I wanted to create just like that."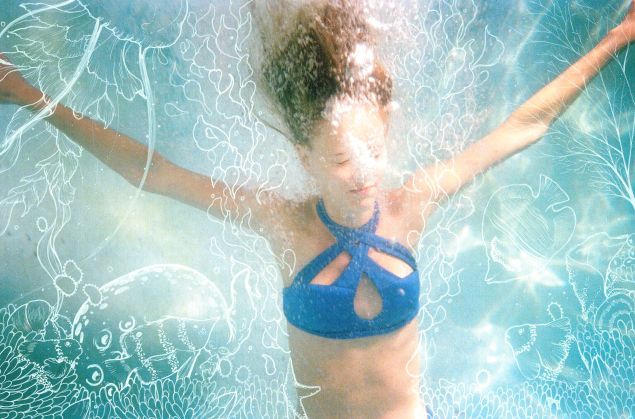 Like most labels, Priscilla Lynch Swim was several years in the making, starting as a passion project in the hours between her regular job. Eventually, she explained, "it made sense for me to break off on my own." Ms. Lynch saw a growing marketing of eco-conscious consumers who were "aware of their footprint and the earth they would leave behind for the next generation," and was ready to be a part of the movement.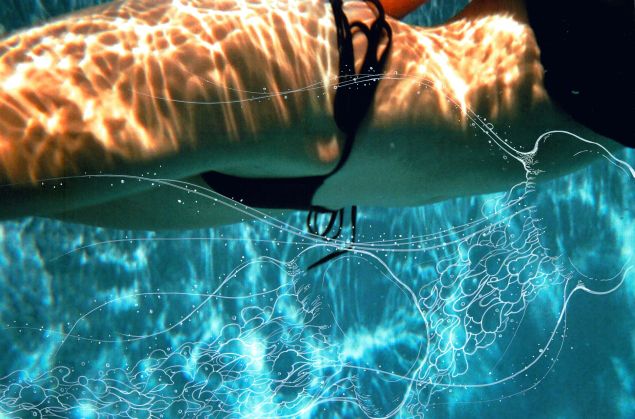 Her philosophy? "Style with substance–ethically-sourced and environmentally-sound–a harmonious alignment with nature." Ms. Lynch currently splits her time between Los Angeles and Virginia Beach with her husband and their one-year-old son Harley.