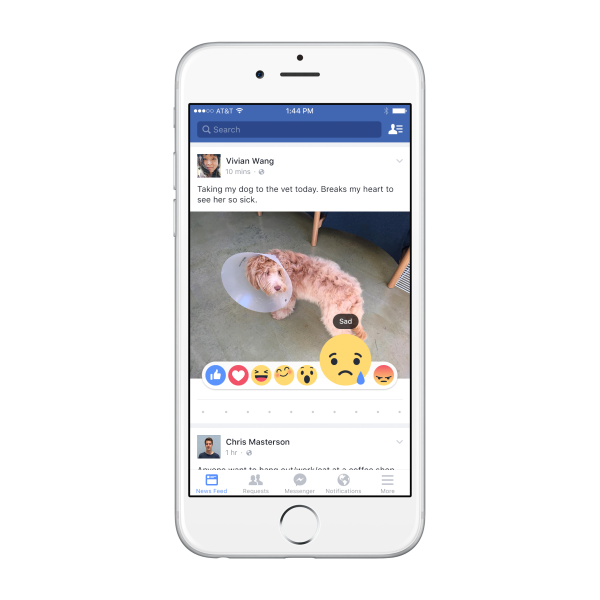 Today Facebook is introducing reaction emojis to supplement the "Like" button. Based on popular demand for something more than the classic thumbs up, the six "Reactions" include Love, Haha, Yay, Wow, Sad and Angry. The emojis will be introduced in Ireland and Spain to test how the emotional reactions are understood in English-speaking and non-English speaking countries.
CEO Mark Zuckerberg hinted at the introduction of emotional reactions in September as a way of expressing empathy about posts with an expansion of the "like" button. Now the reactions, for which Facebook filed a patent, will be  available on desktop and mobile platforms, though not on Messenger.
"Typing on mobile is difficult," Adam Mossori, Facebook's director of product, told TechCrunch. "And this is way easier than finding a sticker or emoji to respond to in the feed."
With the new feature, once the like button is clicked on mobile, the six options will pop up for the user to choose from. On a desktop, options will appear when the cursor scrolls over the Like button.
The number of Likes, Loves, and other reactions will display next to one another, similar to the tally of LOLs, OMGs, and other options on BuzzFeed. Facebook's Product Manager Chris Tosswill posted on the site that the reaction options will help Facebook curate content and ads that users are more likely to enjoy.
The website will not be debuting the mythical "dislike" button that could have turned Facebook into a space for cyberbullying. In a Facebook post, Chief Product Officer Chris Cox included, "As you can see, it's not a 'dislike' button, though we hope it addresses the spirit of this request more broadly." However, the angry reaction may not be a far cry from a dislike.
Continuing its tradition of making technology quicker and less painful, Facebook's new launch may be making responding to posts quicker, but more painful. By not forcing the user to think of a written comment, the reactions make it easier to post their negative, "angry" feelings towards a person or subject.
This could be problematic with young Facebook users. While the reactions are intended for the post itself, they could be taken more personally for some users. Facebook users cannot turn off reactions, just as they cannot hide the comments section in existing posts.