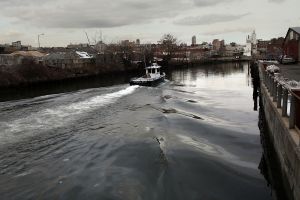 This past April, clean water activist Christopher Swain tried, and failed, to be the first man to swim the highly polluted Gowanus Canal as an Earth Day promotion for environmental awareness. The brave adventure was cut short after Mr. Swain completed just under a mile due to fears from weather and tide warnings.
Now though, he's getting a second chance to fulfill his unlikely dream as he returns to Brooklyn's toxic waters this Saturday, October 17, along with his team and the hopes of swimming the entire 1.8 mile length.
Mr. Swain, who also swam the entire Hudson River in 2004, was hit with a number of obstacles in his Earth Day attempt, including changes to his entrance and exit location from property owners, along with issues concerning liability and decontaminating process. But he swore that one day he would complete the murky journey and is willing to risk his body for it.
"I don't want to do a partial swim any more than I want to see a partial cleanup of the canal," Mr. Swain told the Wall Street Journal, as he embellished on his "crazy dream" of turning the canal into an after-school swimming hole. After completing the swim he plans "to measure, map, and document the state of the Gowanus."
Last month, the Environmental Protection Agency unveiled a $506 million and decade-long plan for a cleanup on the canal that would provide clean waters for boating, but it won't be safe for swimming anytime soon. The EPA has advised Mr. Swain against swimming in the notorious dumping ground, which is infested with cancer causing chemicals. However, he is still permitted to do so regardless and will gear up with a head-to-toe dry suit latex cap, goggles, gloves and boots.
According to DNAinfo, Mr. Swain plans to enter the canal from a private boat near the Union Street bridge around 10:30 a.m., and that the public is invited to watch him swim the canal's fetid waters around 4 p.m. from the roofdeck at Ample Hills Creamery on Union Street.