Beloveds,
Did everybody forget about me at the same time? I waited until literally the day this was due, hoping one of you would send in a question that wasn't a thinly veiled attempt to get me to publish a link to your band's Soundcloud. I can't believe the world is fresh out of broken hearts. I thought we had something special.
With no burning questions that need answering, this month I've decided to offer you some unsolicited advice. If you don't like it, you can either:
    send me a question for next month to prevent me from doing this again

    write your own damn column, or

    sit on it, Potsie.
Stop drinking and smoking cigarettes.
One lap around any Epcot Brooklyn neighborhood will clue you into the fact that even in 2015, when we all know better, every motherfucker on the surface of the sun smokes cigarettes. Everyone smells like cigarettes, everyone who works dead-end jobs loves taking cigarette breaks, everyone with messy bangs loves walking around with sunglasses on smoking a cigarette. When I tried to quit back in February, with the help of nasty nicotine lozenges (because the only thing grosser than smoking is what they give you when you try to quit), I gained 10 pounds. It's a foul habit from start to finish, whether that finish is the throbbing misery of nicotine withdrawal or spending your last days talking through a microphone pressed up against the cat-butthole some doctor drilled into your throat.
You pay both state and federal taxes every time you buy tobacco. With half of all smokers dying as a result of smoking-related illnesses, we can safely intuit that this is just another situation (like war and health care and prison and the police) in which the government doesn't actually care if you die a violent death.
If you hate what the government is doing—what with the trying to defund Planned Parenthood/deploying drones that kill infants/income inequality/that whole letting Trump run for president situation—then you should not smoke.
There's still time to taper off your drug consumption before the first White Walkers mosey into Bushwick.
Likewise, alcohol—important to nearly every single society across recorded history—is now used in excess in a way that's become completely culturally sanctioned. This is directly contributing to increased anxiety, depression and other psychiatric conditions among people across the board.
Think about the way the subway platform smells in early February. Wet and re-wetted food waste and rotting paper piled up in dim, cold spaces. Compromised immune systems and the stress of the holidays. Think of how you couldn't wait to get outside the second you saw sun. Think about how introducing these two gross drugs into your system daily might compound the stress and sadness you already feel due to the weather.
It's barely fall, but winter is coming. There's still time to taper off your drug consumption before the first White Walkers mosey into Bushwick (too late, am I right? Tip the waitress, try the veal, I'll be here all week). I drink and smoke. It's extremely hard to stop. Some of us might not be able to because of drug dependency issues, which is completely understandable. But for those of us who drink and smoke socially, there's no sense in piling on the depressants before the weather turns against us. We should seriously consider slowing down. It feels surprisingly good to take care of yourself, especially because it leaves you in a good place to take better care of others.
(Hey, I told you this was unsolicited advice.)
You are a dick if you treat women like YahooAnswers, or, Stop Asking Me About Deafheaven Motherfucker I'll Kill You.
Dear Dudes and Everyone: Women are never obligated to explain things to you. Even on the internet. Even on Twitter. Even if you ask us on Twitter over and over again for a 72-hour period, tagging other female music writers and using aggressive language.
(Which has led me to believe that this Twitter Man in particular is a sock puppet account run by one particular colon-polyp-also-father-of-young-daughters who has historically used social media to harass young female writers, some sexually, but I digress…)
It's not my job to explain anything to you. You get paid at a job.
Jess Zimmerman explains this simply and beautifully in her article for The Toast, 'Where's My Cut?': On Unpaid Emotional Labor:
Men like to act as if commanding women's attention is their birthright, their natural due, and they are rarely contradicted. It's a radical act to refuse them that attention. It's even more radical to propose that if they want it so fucking much, they can buy it.
This is obviously amplified if the woman in question has previously spoken on any subject directly related to her lived experience of oppression based on gender (or any other sense in which she may be oppressed). It's expected that she'll be willing to talk about it on command, for free, since she's talked about it before on her own terms. This logic is, of course, similar to the idea that a woman who consents to sex once (especially, as Zimmerman notes, in the realm of sex work) is somehow consensual by nature.
The demand on feminist musicians and music writers to pass judgment on situations involving male musicians' bad behavior is amateur as hell. Stop expecting women (especially those women who are historically underpaid due to racist wage inequality) to explain things to you for free. And stop creating false issues in an attempt to bait us into talking. That's the worst response ever to being refused attention. You are a baby. If you want my smart, wonderful friends to hold your hand and tell you what to think, pay up.
Please stop getting hyped about the Pope. The Pope is a woman-hating conservative who protects pedophiles.
This one is easy. It's weird that people are really excited about the Pope. I get it if you're seriously Catholic (I am on Season 6A, Episode 3 of The Sopranos—no spoilers please—and Carmela Soprano is the kind of person who would definitely be present if the Pope showed up in New York City), but I see friends who support Bernie Sanders posting about how this particular Pope is really changing the game.
Well, no, the Pope spoke to Congress about how gay marriage is a threat to the family. He not only believes people need to repent for their abortions, he's put a time limit on it. And as of right now, he hasn't prosecuted a single known child sex abuser, despite having the name of every single priest who has ever been accused of molesting children. He's progressive about climate change and global income inequality (two problems that are unlikely to be solved, you know, ever ever ever ever, no matter how many Papal Good Vibes you send out), and he thinks it's good to be nice to Cuba. It is good to be nice, now that you mention it.
Stop talking about the Pope like the Pope is great. Also stop screen printing ironic souvenir T-shirts and making twee memes about the Pope. He will be great when he punishes child rapists—which he actively chooses not to do.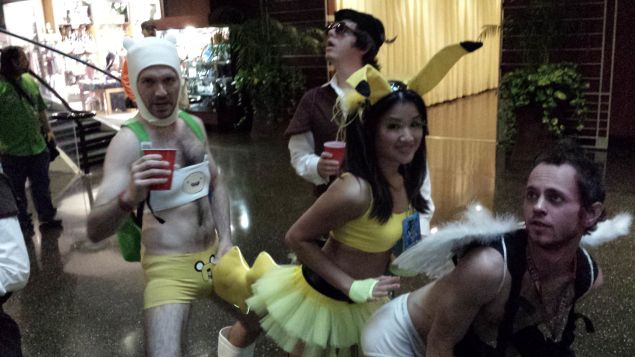 If you think the government should defund Planned Parenthood, you shouldn't be allowed to have sex.
I proved that I'm as stupid as people think I am when I confused the vote to defund Planned Parenthood with the government actually defunding Planned Parenthood. I sent out a panicked tweet about it, which resulted in some nice people leading me gently back to third grade and explaining how the branches of government work. Thank you all again for that. I'm extremely embarrassed.
Basically, the House is trying to defund Planned Parenthood based on some heavily edited videos of clinic workers discussing fetal tissue donation. It would leave the organization short $500 million—none of which, it should be noted, would be used to pay for the imaginary government-funded abortions that pro-lifers insist are frequently performed. This means that millions of Planned Parenthood patients across the United States won't have access to cancer screenings, pre-natal care, or basic antibiotics for bladder infections, in addition to the STD/STI screenings, birth control and abortions that Republicans won't shut the hell up about
From a purely practical standpoint, defunding Planned Parenthood would be terrible for the American economy.
From a purely practical standpoint, defunding Planned Parenthood would be terrible for the American economy. It's estimated that a one-year $500 million loss of funding would actually increase federal spending by $130 million over 10 years.
This is another instance of the nutless freaks in government trying to lord over the bodies of people who can get pregnant—except it has a weird amount of ballast behind it, given the upcoming presidential race. It is painfully obvious that defunding Planned Parenthood would be terribly detrimental to all Americans, even those who don't use the organization's services. Because of this stunningly obvious fact, it's safe to assume that the defunding is a power move meant to motivate pro-life conservative voters.
If you have had sex with more than five people in your life (amongst people of my generation, it's probably more like, "if you've had sex with more than one person in your life"), then you have inevitably touched the privates of someone who has been seen by a medical professional at Planned Parenthood. You've avoided having a child because someone you've boned has been on some form of (possibly low- or no-cost) birth control, has been given free condoms or Plan B, or accessed abortion services after becoming pregnant. Someone you liked doing it with felt better about doing it with you because they trusted the information about safe sex that they learned from the pamphlets in the lobby. Planned Parenthood may have counseled someone you love about their abusive relationship. Maybe they helped a trans friend with hormones or a pregnant friend find information about their Rh- status.
For these reasons and many more, not the least of which is the fact that Health Care Is A Right, Not A Privilege (imagine me blasting an air-horn in between every word), if you believe Planned Parenthood should be defunded, you should be made to wear a shirt that says that, especially in your Tinder profile photo and when you're out at bars, so people can make the conscious decision to not have sex with you, ever.
Stop writing "pumpkin spice" off as #basic #whitegirl stuff.
This is my favorite thing I've read this week. At Black Girl Dangerous, Sasanka Jinadasa has written an extremely brilliant article about why "pumpkin spice" shouldn't remain intertwined with stereotypes of white sorority girls:
It's not pumpkin or pumpkin spice that's the problem; it's the commodification of our resources as somehow exotic when used in non-white foods and comfort when used in white foods. And when we mock certain foods as "white foods," particularly in America, we're capitulating to a lie—the lie that anything we eat in the diaspora isn't touched and flavored by people of color. It's the ahistorical denial of the complexities of the role of colonialism, slavery, and genocide in the spice trade. And it further snarls the delicate balancing act all diasporic people are forced to embody, in constantly having to understand their selves in relation to the trauma of separation from home and capitalist violence.
That's all for now. Send questions to meredith@honor.press, or this will happen again next month—no way I'm running out of things to be pissed off about any time soon.
***
Malfunction No. 1 – Confessions of a Serial Cheater
Malfunction No. 2 – How the Fuck Do I Survive in New York City?
Malfunction No. 3 – Your Body Is an Empty Room