The man accused of fatally shooting police officer Randolph Holder shouldn't have been on the streets, Mayor Bill de Blasio and Police Commissioner Bill Bratton said today, but had been diverted from jail for drug treatment instead.
"My understanding of this individual's track record, he would have been the last person in New York City I would have wanted to see in a diversion program," Mr. Bratton said at One Police Plaza today. "He has shown no propensity, with the number of arrests over many a period of time, for changing his ways."
Police today said the suspected shooter, Tyrone Howard, 30, had a lengthy rap sheet that includes previous assaults, and that he had been arrested last year in a drug sweep that netted 19 people in the East Harlem's public housing developments. He might have been in jail last night serving time on those charges—if not for a judge diverting him to a court-mandated drug rehabilitation program instead. Police also suspect him in a September 1 shooting of another man in the same East Harlem neighborhood. Since then Mr. Howard has missed several court dates, and police had tried to apprehend him as recently as October 16.
"As we saw recently, his whole life has been but an escalation of crime, criminal activity, including what we allege occurred on September first," Mr. Bratton said. "And that's what we were seeking him for, was the September first shooting, and now a month later we have the murder of a New York City police officer."
The shooting comes on the same day that Mr. Bratton was set to join a cadre of police commissioners and chiefs in Washington, D.C., to advocate for putting fewer people in jail in an effort to end an era of mass incarceration. And in recent months, Mr. de Blasio has spoken at length about the need to move away from cash bail so people charged with but not convicted of crimes do not sit on Rikers Island while they await trial. But today both men said there is a group of "hardened criminals" who simply must be locked away—and that Mr. Howard was one of them.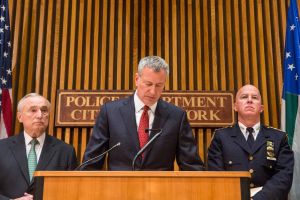 "When you look at the offenses that this individual committed, they are consistent and they were violent. I don't know the details of how his case was handled by the judge, but I do know that someone like this shouldn't have been on the streets," Mr. de Blasio said, before pivoting to discuss the man suspected of killing another cop, Brian Moore, in May. "By the way, the individual who killed Officer Moore, who had a long history of violence and a documented history of mental health problems, should not have been on the streets either. We can't day clearly enough whether he should have been in a secure mental health facility or whether he should have been in a prison—but he sure as hell shouldn't have been on the streets."
Mr. de Blasio added: "It would be fair to the men and women of the NYPD and the people of this city to see a more consistent approach to prosecuting those who are consistently violent."
Mr. Howard's sentence to drug rehab was for a drug crime, not a violent one, though his record includes arrests for violent crimes. Asked what should disqualify someone from being diverted to a drug program, Mr. Bratton said it was a constant discussion he's had with district attorneys—but for him, the line was gun crimes.
"My own perspective on it is, if you use a firearm to shoot another individual, you should be in jail. You shouldn't be diverted. You should receive the stiffest sentence possible, and you serve that sentence," Mr. Bratton said. "As we seek to let people out of jail, we need to be very careful who we're letting out and we also need to be much more assertive about who we put in."
To that end, Mr. Bratton said that while he was supportive of the idea that some nonviolent drug offenders should not be in prison, he had also planned to voice concerns about efforts to remove some from jails and prison at the conference in Washington, D.C. today, and at a meeting with President Barack Obama he had planned on attending tomorrow.
"They'll be coming back into communities in which there are no jobs, there are no services, there's no housing, oftentimes the families have dissolved during their time in jail—so there is not a safety net," Mr. Bratton said. "So the expectation, the concern or the warning if you will, the red flag that I'm raising and some of my colleagues are raising in the law enforcement community, is that we can expect to see those individuals reverting back to a life of crime. Some of them, even when they're given opportunities, will go back to that life of crime—because that's what they are. They're criminals."
The mayor said he, too, had been having conversations about that topic with district attorneys, including Manhattan District Attorney Cyrus Vance Jr., and others in the criminal justice system. He said that ensuring the city's "truly hardened violent criminals," whom he estimated numbered in the thousands, were put in jail was not at odds with ensuring others who did not need to be there are released.
 "We know that tens of thousands hundreds of thousands of people who committed nonviolent crimes ended up with serious time in jail or prison. But meanwhile, we also know that some people who had a very clear history of violence never ended up in prison," Mr. de Blasio said. "That's a world out of balance. That's something we have to fix."
Ross Barkan contributed reporting.