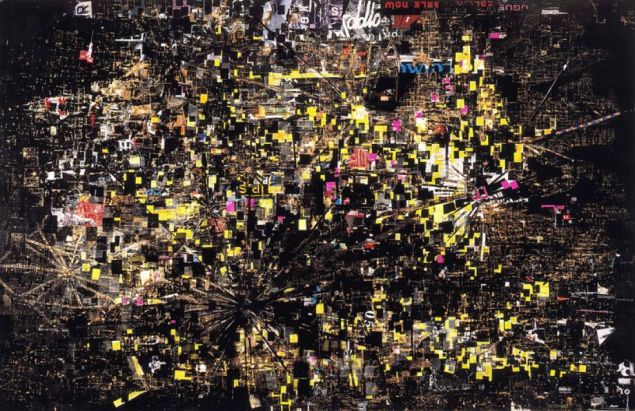 Los Angeles painter Mark Bradford will create a massive, site-specific work at the Smithsonian's Hirshhorn Museum and Sculpture Garden next year, the museum announced.
The piece, the largest Mr. Bradford has ever created, will fill the Inner Circles gallery at the Washington, D.C. museum, as a sort of "circular fresco." The work, which will be unveiled next November and be on display for one year, will also be the first to use the space in its entirety.
The former hairdresser Mr. Bradford makes abstract work that is nonetheless informed by his cultural experience, especially of recent geopolitical events like the Los Angeles riots or the AIDS epidemic in the U.S. in the 1980s.
Touching on race, gender, homophobia and the intersections therein, his work combines painting and collage. He uses found materials like flyers from a lamppost, but deploys them in deconstructed bits for use in his layered, textured multimedia works, creating what L.A. Times critic Carolina Miranda has called "works that channel urban landscapes that have been constructed and obliterated, only to be constructed and obliterated again."
Notable past works of Mr. Bradford's include Finding Barry, an abstract map of AIDS infection rates across America and Mithra, a large sculpture work of an ark, reminiscent of Noah's, in the Lower Ninth Ward in New Orleans.
The bold choice to commission such a large work is possibly a power move for relatively new Hirshhorn director Melissa Chiu, who came under fire in August for her plans to hold the D.C. museum's annual gala in New York City.
Earlier this year Mr. Bradford had his first solo show in Los Angeles at the Hammer Museum, called "Scorched Earth." The exhibit featured six works, one of which was a performance takeoff of Eddie Murphy's Delirious.
His work is in the collections of the Solomon R. Guggenheim Museum and the Los Angeles County Museum of Art, among others, and he was a recipient of the MacArthur "genius" award in 2009.
Mr. Bradford is represented by Hauser & Wirth.