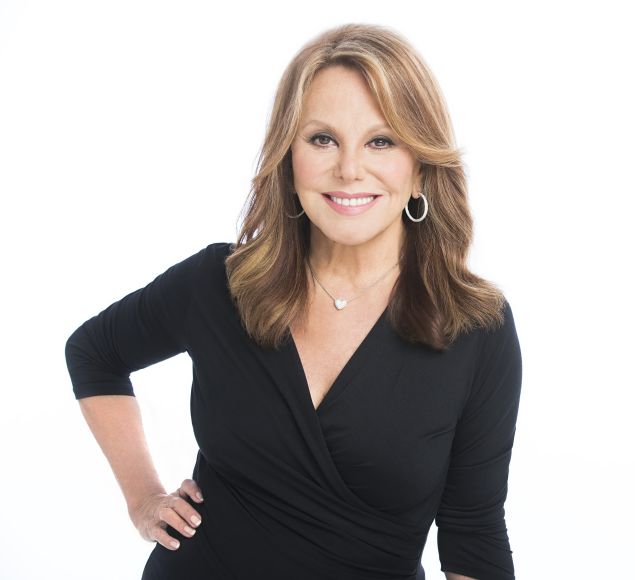 Like Whoopi Goldberg, Dustin Hoffman, Stockard Channing and Kevin Spacey, Marlo Thomas can lay claim to being A Mike Nichols Discovery. She met him at a theatre in Hollywood decades ago, one of three people in the audience judging auditions (the other two: Neil Simon and producer Saint Subber). She was handed a number that matched her up with a scene partner (hers was Martin Milner, later to star in Route 66), and they did a scene.
"Then Mike came up on stage and gave us direction—always a good sign, I've learned. If you're giving an audition and the director is giving you direction, it's because he has seen something already and wants to see more."
What Nichols saw was a star, and he promptly put her in the lead of the London production of Barefoot in the Park, opening up to her a dream whirl of theatre glamour. "All the London stars came to see our play. I went to Larry Olivier's New Year's Eve party. I had a wonderful time…"—so much so that she seriously considered staying there and marrying her leading man, Daniel Massey. But a pilot she had filmed sold, and that pulled her back to earth—or at least to California.
She admits that she frequently ponders that path not taken. The path she did take turned Margaret Julia Thomas, daughter of Danny Thomas (a comedian and a mover-and-shaker in early TV), into a household face and name. Her renown came from That Girl, a winsome ABC sitcom that ran from 1966 to 1971 and well beyond in syndication. It chronicled, in weekly half-hour doses, the struggles of a wannabe actress in New York City, and it couldn't have been more pioneering for the time had it called itself Daniel Boone.
It was, years before The Mary Tyler Moore Show, the first primetime series about a working single girl making her way alone in life. Ms. Thomas dreamed up the premise herself and became, after Lucille Ball, the second woman in TV history to produce her own show. She called a halt 130 episodes later—after five years, two Emmys and a Golden Globe. Far from finished, she went on to win a Peabody Award and another Emmy (Free to Be . . . You and Me); to make a Broadway debut in a show written expressly for her by her then-boyfriend, Herb Gardner (Thieves); win a fourth Emmy (for a dramatic special, Nobody's Child); star in Broadway comedies directed by Nichols (Social Security) and written by Elaine May (Relatively Speaking); and she has enjoyed a 35-year marriage to talk-show host Phil Donahue.
Ms. Thomas ended her pioneering sitcom with her character still single. 'It would have been a betrayal to give the impression that marriage
is the only happy ending.'
Ms. Thomas famously left her best-known character, That Girl's Ann Marie, hanging. Her sponsor, Clairol, and the network, wanted to wrap up the series in a nice pink bow, with a guy waiting at the end of the aisle (series beau, then-fiancé, Ted Bessell as Don Hollinger), but she would have none of that and dug her heels in. "I felt it would have been a betrayal to give the impression that marriage is the only happy ending."
How right she was! Check out the rockily-ever-after she is currently going through with Clever Little Lies, Joe DiPietro's domestic comedy, which started previews September 18 and will officially open October 12 at the Westside Theatre. The title is the playwright's secret Rx for keeping marriages afloat. In the play, it refers to her character's marriage to Greg Mullavey and to her philandering son George Merrick's to Kate Wetherhead as well.
"When I read it for the first time, I thought, 'Oh, I know what this is,' and then it surprised me," said Ms. Thomas. "It started off in a way I thought I knew, then goes into a lot of twists and turns and keeps surprising you."
A crowning bauble to Ms. Thomas' career arrived last November when she found herself—left of Meryl Streep and Stephen Sondheim and right of Stevie Wonder—being awarded the Presidential Medal of Freedom. "It came as quite a surprise. You never think, 'Oh, I hope I get the Medal of Freedom,' so I had to ask, 'How did I win that?' It seems That Girl broke barriers for single girls, and Free To Be . . . You and Me changed the culture for kids. Then, there was the work I do for my dad's charity, St. Jude [Children's Research Hospital]."
The sparkplug spunk that launched That Girl has emerged from all of the above miraculously undimmed and still charging away. Her secret she revealed in her book, Growing Up Laughing—to wit: Hang with the funny people.
"I grew up with comedy people. Some hit the table and say, 'funny, funny,' but never laugh. My father laughed. He was a great audience."