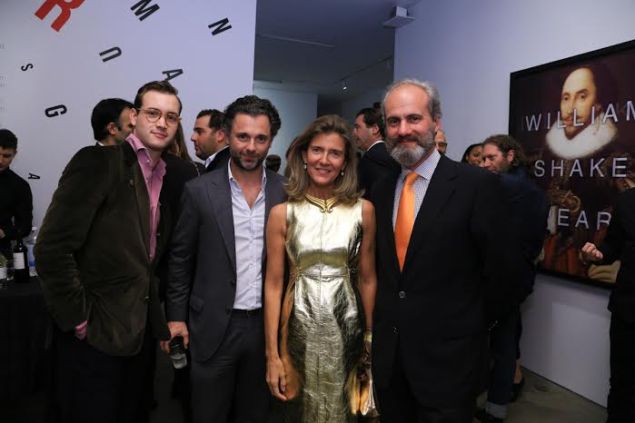 As is NYC nightlife tradition, a venue signals that Something is inside via a velvet rope and careful assistants clutching the guest list. Last night, Hoerle-Guggenheim Gallery director, Philippe Hoerle-Guggenheim, opened Massimo Agostinelli's "Anagrams" exhibit with a shiny red Aston Martin DB9 outside and a celebrity host, R&B singer Maxwell, who was playfully dressed in a red Paul Smith suit. Mr. Hoerle-Guggenheim—decked out in black with a manly, modern-James-Bond presence—collaborated with his social but private friend, Maxwell, after the gifted Now musician glimpsed and loved Agostinelli's Now I Won piece from his "Palindromes" exhibit in London this past May. ("Lonely Tylenol" on 15 5 15 for the Brit wits.)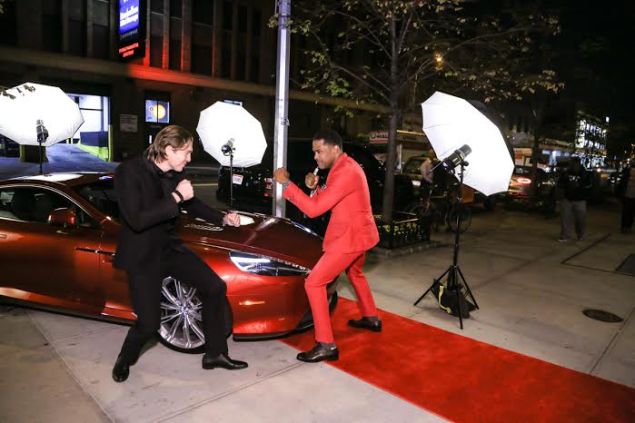 Inside: the art was fresh, clever and insightful—exploring the hybrid meanings associated with pop-culture icons via intelligent wordplay. ("James Dean" becomes "Made Jeans" when the viewer moves around the completed image. "Statue of Liberty" becomes "Built To Stay Free." "James Bond" becomes "Send A Job M.") Twenty-eight-year-old Mr. Agostinelli was seriously focused on being respectful and attentive to guests. With a misunderstood introvert's kind observant brown eyes, he took in questions and answered them with patience and care. The son of billionaire financier Robert Agostinelli had the conscientiousness and manners of a young, committed artist, and not the flashiness of a self-important rising star at his first U.S. solo exhibit. He shared crucial bits of what has shaped him. "I attended 14 different schools" meant that, growing up, he had been deemed by teachers as disruptive and insolent. So it was endearing to meet his second-grade teacher, Julie Kaplan from The Birch Wathen Lenox School, who glowed while speaking enthusiastically about him. (Later, Massimo writes: "Julie was the only person in my academic career who understood me and truly loved me." He is open about his dyslexia, ADHD, ADD and LLI [Low Latent Inhibition].)
His mother, Pascale Gallais Agostinelli, a vacation-tanned beauty and sculpturist, was well-dressed and most charming in a gold sleeveless dress, a statement necklace from Greece, and clashing shoes. The dress was a bit roomy, so she whimsically used two gold binder clips to clip the front at the waist! Her husband, Weill Cornell neurologist Emilio Oribe, in an orange tie from a patient, warmly spoke about Massimo and his light perfume-making with his daughter—Eau de Brooklyn.
Mr. Agostinelli's girlfriend, luxurious-looking raven-haired stunner, Luciana Miller, is his right-hand partner in love and business. They split their time between NYC, London, and Zurich. With the polite grace of a well-bred lady, not a word out of place, she loyally explained Massimo and his work to me, never once talking about herself unless I asked. Fitting—a yellow-gold-and-diamond Cartier Love bracelet was on her wrist.
Other guests included Adam Dell, Deimante Guobyte, Johannes Huebl, Alexander Soros and John Utendahl.