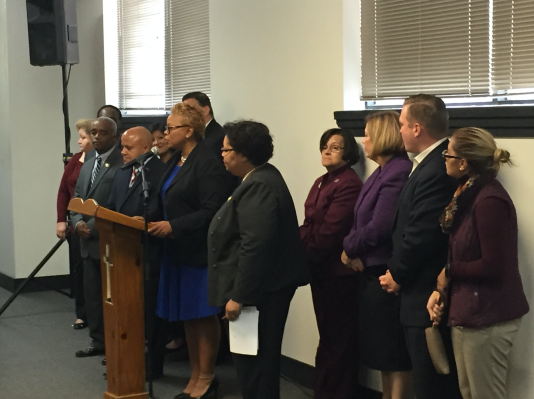 CAMDEN – Mayor Dana Redd and members of the Camden City Council met in downtown Camden Thursday morning to announce the Democratic council members' campaigns for reelection in the first, second and third wards. Citing the Norcross-led development projects on the Camden waterfront, Redd said that the Democrats will be campaigning hard in this slow election year despite the strong odds in their favor.
Councilwoman Dana Burley will be facing independent Moneke Ragsdale in the first ward, while Councilman Brian Coleman will be running against independents Namibia El Burke and Cornell Garnett in the second. City Council President Francisco Moran will be running against independents Eulisis Delgado, Zawdie Abdul-Malik and Osvaldo Rodriguez.
Senator Nilsa Cruz-Perez was at the press conference, as was former assemblyman Angel Fuentes, who resigned last Spring to take a job with the county as Deputy Clerk.
Though races across the state are sure to be slow without even a state Senate election to draw residents to the polls, Redd said that the execution of housing, tourism and public safety projects is too important and too dependent on continuity within the council for the delegation to take the elections for granted.
"We want to make sure we're getting the word out to put them back in office so that they can continue the great things they've done," said Redd. "We know it's going to be a low-turnout year, but we're going out there to knock on doors."
Moran pointed to the council and the Redd administration's 2012 decision to overhaul the Camden police department as the turning point for the city, while Redd said that last weekend's papal visit was just one example among many of the ways the department has helped change the city from the ground up.
"I think you're seeing a new synergy and energy in this region, and Camden in my opinion is beginning to take its rightful place," she said.
"More importantly is the opportunity of creating the jobs," said Moran from the podium of the city's various initiative to create public-private job training programs.
"Under the leadership of the mayor we ended up with about $1.9 million to train the individuals, working with the enterprises that are coming into the city that have said 'we commit to opening a lot, opening up X amount of jobs.'"
"'We will train them, as long as they follow the script,'" he continued.