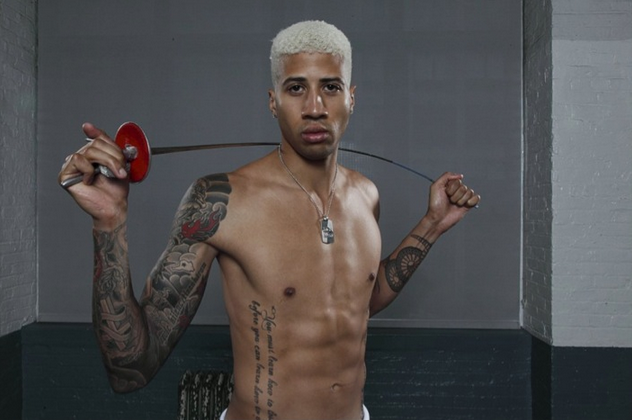 Miles Chamley-Watson is not your average fencer.
It is not just that the 6'4″, tattoo-covered athlete won the Junior Olympics at 13, placed fourth in the 2012 London Olympics, or, at 23, became the first American to win a men's individual Senior World Championship—to name but a few of his achievements in fencing. Mr. Chamley-Watson, it so happens, doubles as a high fashion model. At 17, he was spotted by Ford Models while walking down the street; since then, he has walked for Ralph Lauren, VFiles, Rochambeau, Mango, ETXEBERRIA, Off White, Sir NY and Blasser, posed for GQ and Rolling Stone, and become the face of luxury footwear line Buscemi.
Fresh off winning bronze in a team event at the San Jose World Cup, Mr. Chamley-Watson took some time to chat with the Observer about fencing, Fashion Weeks, and his dreams to become the next David Beckham.
Fencing isn't exactly popular amongst young kids. How did you first get into it? I got into trouble. [My middle school] made us stay three hours after school, and you could either play chess or pick up a sword. I was not going to play chess, so I picked up fencing for fun. If you're 9, you kind of just like playing with swords—anything sharp. My coach told me I was pretty good, but I didn't think anything of it. Then I entered competitions and ended up winning them all.
Did you have a sense, in 2013, that you'd become the first American men's fencer to win an individual Senior World Championship? I was actually really angry because I didn't win the Olympics. [Mr. Chamley-Watson placed fourth in the 2012 London Olympics.] I went in there and went out for blood—I didn't think about winning. That mindset really just put me in the zone. I was able to just destroy my opponents.
And then you won! It's surreal when it happens.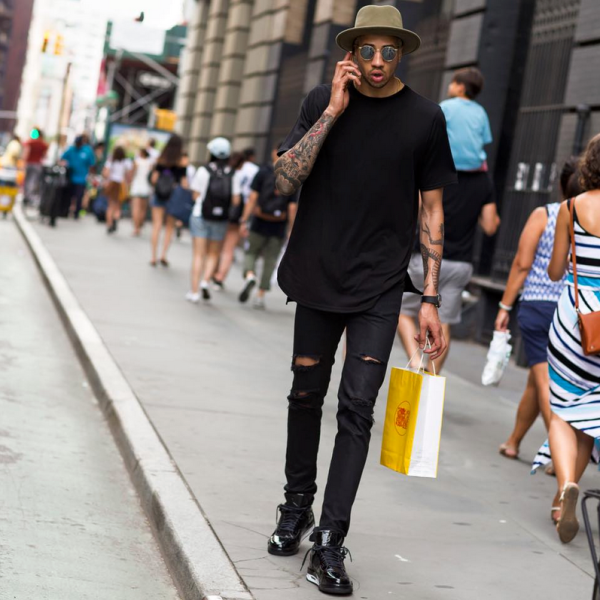 What misconceptions do people have about fencing? People think it's like The Parent Trap—that it's slow, and no one gets hurt. That's the most annoying thing. It's a very physical sport—it's considered a combat sport. Two people have died!
What does your training regiment look like? Monday to Friday, I'll work with a trainer from 9 to 11 a.m. Depending on the day, we'll do plyometrics, running, sprints. Sometimes, I'll take a SoulCycle class or do boxing as cross-training. And sometimes I play tennis—I like to try different sports—tennis is good for footwork.
So how did you get into modeling? My mom was a model, so I was around that a lot growing up. I was scouted [by Ford Models] at 17, walking down the street in New York with my mom, looking pretty good. I don't know what the hell I was wearing! I went in there, they loved me, but I told them I was going to college in a week. [Eventually] I took a year off for the Olympics, and I said, I'm going to do some modeling. So at 19, I went to Madrid, Paris and London Fashion Weeks.
Now I've been doing a lot of big modeling stuff. Sports and fashion are two completely different worlds, but they're very similar at the same time.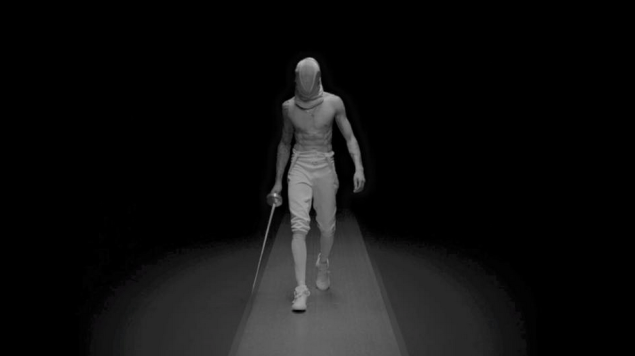 You mentioned David Beckham as one of your inspirations. Why is that? David Beckham is someone who's been able to bridge those two gaps perfectly. He's become a brand. That's something that I aspire to be. You never really know what's going to happen next, but I'd love to be someone like him.
How would you describe your personal style? I like to mix my streetwear with high-end fashion. And I've got a mean fedora game.
Do you find that modeling makes you a better fencer? [Modeling] is completely different from what I normally do. I'm at my best when I'm doing two things I love. My coach always told me it's important to have a healthy distraction. You train all day, so you don't want to go home thinking about training—you want to do something outside of that.
What do people in the fencing community think about your modeling career? They love it because I'm making the sport more visible, more public.
You just had a competition in California, and have another one coming up in Tokyo. As you train for the Olympics, are you still making time for fashion? I'm trying more to focus on Rio, but if a big job comes up, like Givenchy or Balmain, then maybe!
[youtube https://www.youtube.com/watch?v=pjNKhOztopM&w=560&h=315]