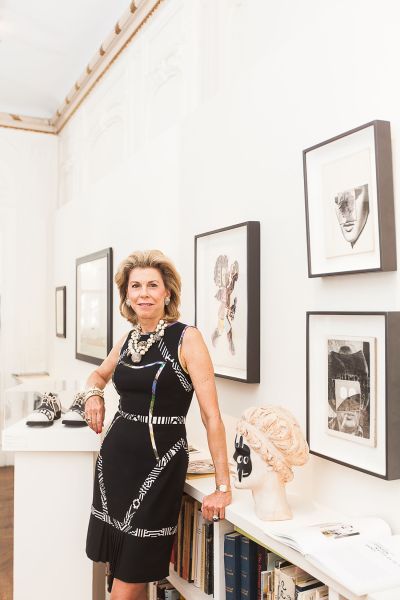 Frances Beatty lives in a sprawling apartment on the Upper East Side that feels one-half museum, one-half home. Nooks and crannies are plentiful, as are family photos, books and floorboards that opt to creak on occasion. But also at her home, which she shares with her husband Allen Adler, lives an astounding art collection, where sculptures and paintings are displayed in a manner not dissimilar to how one might keep a souvenir from a family holiday. The apartment, like its owner, fizzes with charisma.
So when Ms. Beatty, who is president of Richard L. Feigen & Co. a few blocks down on East 69th Street, opened her door to the Observer this summer it came as no surprise that we started off with a tour. Setting down a cold glass of cranberry spritzer treacherously near a group of framed Old Master prints, the dealer quickly launched into tales of acquiring Western bronzes and 17th century skulls, some of which were rested on an antique table by the front door. Not an inch of wall space is uncovered.
"We have an extremely eccentric collection," said Ms. Beatty, gesturing to a Goya etching hanging near a Picasso, a Cindy Sherman, and then an entire wall of works by the underground conceptualist Ray Johnson, who is often called "the most famous unknown artist." This art collection,
When Richard Feigen told her she could be a great art dealer, Frances Beatty said: 'I thought to myself, "That's like being a drug dealer—that's awful."'
built with her husband over some 30 years, is thanks to the sort of eye only a dealer who sees so much of everything could have. Ms. Beatty, who has been at the helm of the postwar and late 20th century art department at Feigen since she joined the gallery in the mid-'80s, has dedicated much of her career to working with names like James Rosenquist (also a close friend), Frank Stella and the late Ray Johnson.
Having studied art history at Vassar, Ms. Beatty was on track a generation ago to become a professor at her alma mater. But while joining the department was a great honor, she said, she was also "a single girl going to live in Poughkeepsie." Just around then, Richard Feigen, probably the nation's leading dealer in Old Master paintings, who was looking to expand his business into more recent art, offered her a job.
"[Richard] said, 'I think you could be a great art dealer.' And I thought to myself, 'That's like being a drug dealer—that's awful,' " Ms. Beatty joked, sporting a lime green shift dress and a good blow dry. "But kind of having lived from hand to mouth for quite a long time, I thought, 'I'll give this a try.' "
That was in 1986 when, before the days of Larry Gagosian et al., Mr. Feigen was jetting across the pond on Concorde, a prominent bidder at auctions in Europe and the U.S. (he was just about the first person in the art world with a cell phone), brokering deals for museums and moguls. In fact, the name Feigen held such weight in the 1980s and 1990s art world that he even appeared as himself in Oliver Stone's Wall Street. Mr. Feigen described Ms. Beatty in a phone call to the Observer as "one of the most perceptive and ablest dealers," he knows. Using the art world's highest compliment, he added: "She has a very good eye."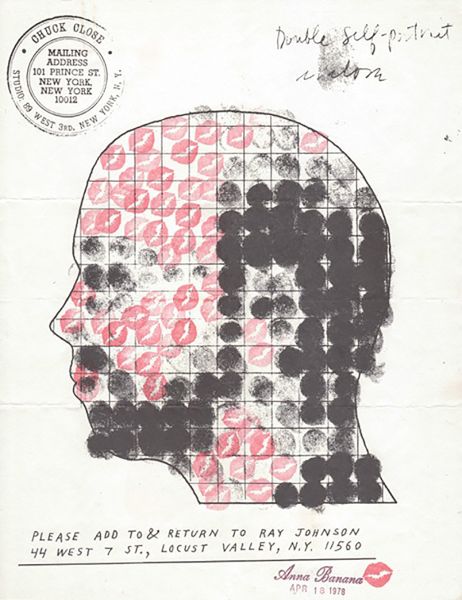 Some of the many works in Ms. Beatty's personal collection, which extends to a country home, are by friends. A painting from James Rosenquist, who called Ms. Beatty "a very dynamic individual who's witnessed many, many art world events," hangs in the main room, for example. There are many drawings, as Ms. Beatty has been co-chair of the downtown Drawing Center for years, a distinction and devotion that won her the Director's Award from the institution.
Perhaps closest to the dealer's heart however, are her "fabulous group of Ray Johnsons." Indeed, rarely has there been a closer artistic tie between a dealer and the artist whose estate she now represents.
The Detroit-born avant-garde artist, who studied at Black Mountain College and hung around there with the likes of John Cage, was an active player in New York's downtown art scene in the '50s and '60s. He is perhaps best known for his "mail art." These Dada-esque collage works, of which Johnson created hundreds (if not thousands), were initially sent out by him to a small mailing list that included artist pals like Chuck Close and John Baldessari. The recipients were playfully encouraged to add to the works, change them in whichever way they wished, (sometimes, there were directions such as "please add hair to Cher," and then return to sender, or just pass on). By the end of his life Johnson had created an international mail art movement across an expansive network.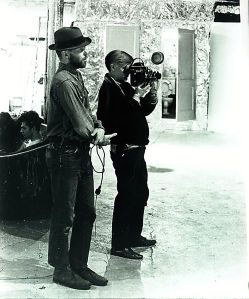 For decades, Johnson's magnum opus has been instrumental in shaping Ms. Beatty's own career at Feigen. "I tried to do a show for 14, 15 years. I tried desperately," Ms. Beatty said. "But Ray was just completely elusive." A great recluse, Johnson rarely agreed to exhibitions, leaving Ms. Beatty and Mr. Feigen to keep courting him.
"All the time I represented him, it was not easy to get [to] him. He wanted to be shy and obscure," Mr. Feigen attested. "[But] Frances became very much involved in his work before she joined me, and we consider Ray one of the major figures in the postwar period."
Tragically, the artist took his life in 1995 at the age of 67 by simply diving into the water in Sag Harbor and swimming out to sea.
Now, Johnson's art—currently valued between $12,000-$150,000—is having a bit of a moment. A Johnson mail piece is included in the upcoming Performa 15 performance art biennial—"Frances came to us about it, and now there's piles of mail all over the desk in our office," notes Performa founder RoseLee Goldberg. (To participate in the project, go to performa-arts.org.) So, posthumously, his archive continues to grow.
The New York Times recently called his signature mail art a "one-man social-media platform for a pre-Internet age," and the past year has seen four exhibitions of his work in New York City alone. It's thanks, in no small part, to Ms. Beatty's efforts as president of the Ray Johnson Estate.
It's clear by the enthusiastic tone Ms. Beatty uses to discuss his work that she sees Johnson's growing legacy as one of her greatest accomplishments. After his death, it was Ms. Beatty who was tasked with combing through the archives. She depicts what he left behind as "an Ali Baba's cave," and the cornucopia of materials, stories, artworks and objects she was left to play with eventually led to the 2002 documentary How to Draw a Bunny. But while it was critically acclaimed, the dealer was quick to point out that she had to "beg, borrow and steal," to raise the money for it. It was, in other words, a labor of love.
When the Observer visited Ms. Beatty at her rather grand office on an upper floor of Feigen gallery, she was in the midst of their exhibition "Please Return To: Mail Art From the Ray Johnson Archive." Splayed across the walls were countless pieces of Johnson's mail art: one collage depicted Fred Astaire's mother's potato masher, another a letter addressed to Madame Tussauds wax museum in London.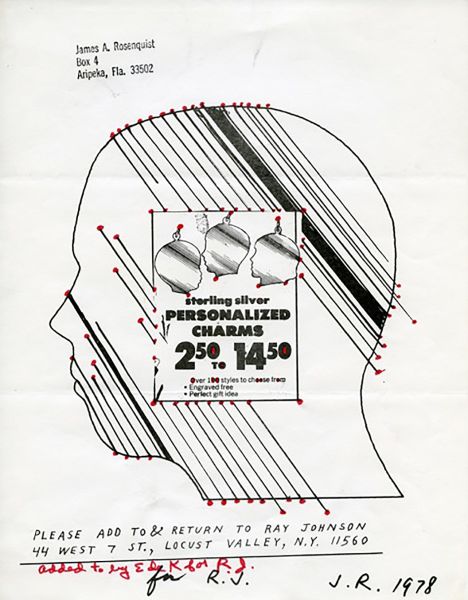 As the Johnson archive continues to grow, Ms. Beatty sees no end in sight when it comes to dedicating her time to Johnson's legacy. "Ray was very reclusive after about 1974, which is why he was called the most famous unknown artist. Little by little, he kind of withdrew from the world paradoxically while writing all of this mail art," she said while thrusting a handful of Ray Johnson mail art templates at us. "There are still boxes we haven't opened."
Because of the type of art he did, but more importantly, the type of people he knew, Ray Johnson's art lives on. Frances Beatty is proud of that.