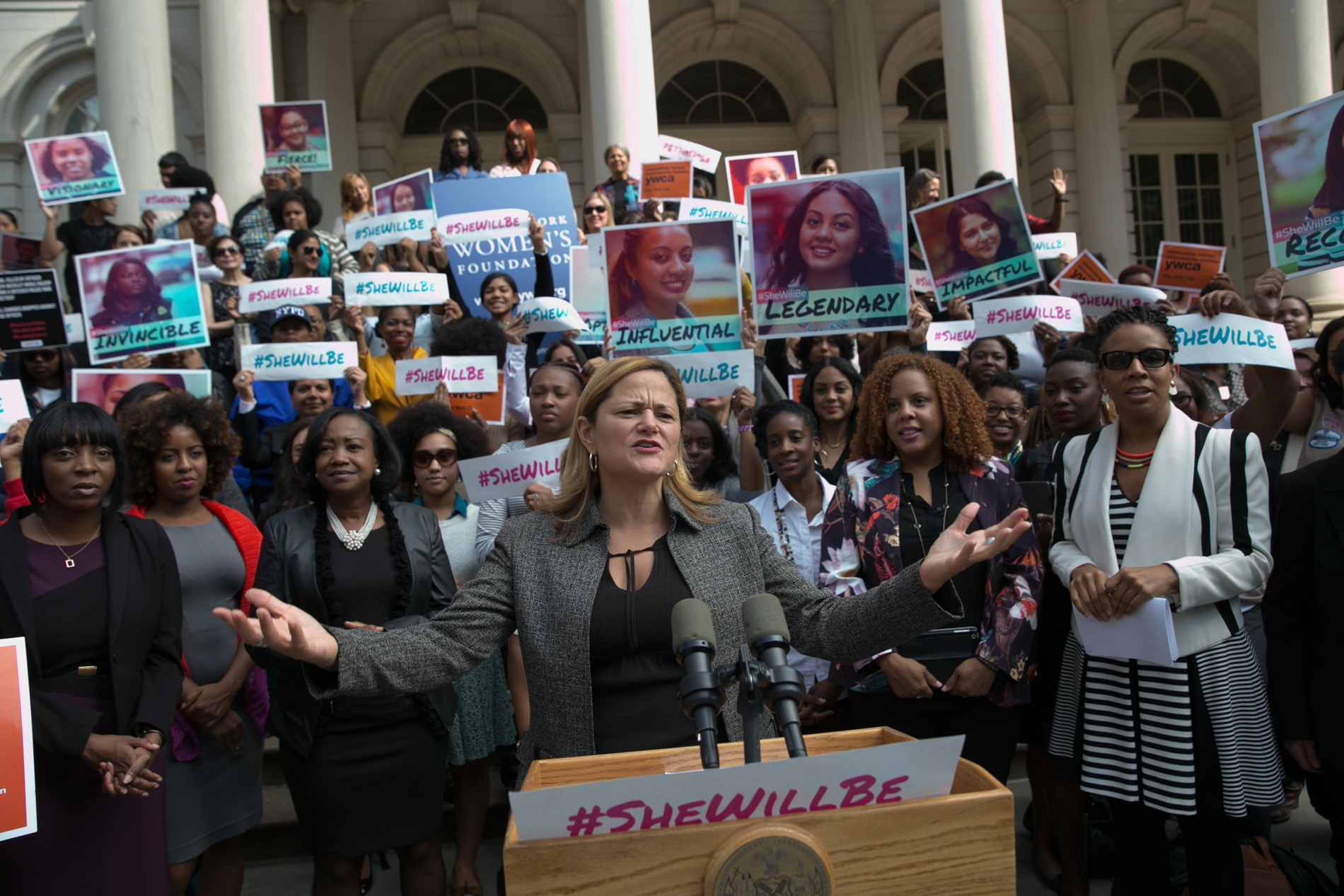 Council Speaker Melissa Mark-Viverito assembled a coalition of female activists today to launch the Young Women's Initiative—a group she said would combat racial and gender inequality and be the first of its kind in a nation with many similar initiatives aimed at young men of color.
"We're proud of this effort, not proud that we're the only ones in the country doing it. But hopefully we can serve as a model and inspire other cities to really look at that, and maybe something comprehensively at the federal level," Ms. Mark-Viverito said today during a press conference on the City Hall steps.
Ms. Mark-Viverito will co-chair the coalition, which she said would seek to improve outcomes for women in their healthcare, education, involvement in the justice system and economic development. Advocates today compared it to the similarly named Young Men's Initiative, launched by Mayor Michael Bloomberg in 2011 to help young black and Latino men, and to My Brother's Keeper, a nationwide program launched by President Barack Obama. Mayor Bill de Blasio bolstered the Young Men's Initiative after taking office, saying he was doing so in response to the launch of My Brother's Keeper in 2014.
Those programs have not included young women of color—who some members of Ms. Mark-Viverito's coalition today said have felt all but invisible. Joanne Smith, executive director of the group Girls for Gender Equity and a co-chair of the Young Women's Initiative, said women had implored Mr. Obama and Mr. de Blasio to include them, but neither had.
"We said we want inclusion in the New York City My Brother's Keeper—you can't leave us behind," Ms. Smith said. "The mayor doubled down. Do you know how hurtful it is when politicians double down? When you vote for them and they double against our very own survival?"
Ms. Smith went on to draw a sharp contrast between the mayor and Ms. Mark-Viverito.
"While others said no, the brave speaker, Melissa Mark-Viverito, stepped up. We only needed one yes, and she said yes. And we're here to blow the door off that yes," Ms. Smith said. "Do you know how liberating it feels when you vote for someone, when you choose someone, and they choose you?"
Mr. de Blasio's office did not immediately respond to the criticism. Ms. Mark-Viverito said she and her colleagues in the Council had found government "lacking" when it came to helping young women, and decided to do something about it.
"Obviously the attention that has been given towards the initiatives at the national level to young men is important, but we really also felt that there were needs that young women have as well that were being overlooked in that conversation, and that kept coming up again and again," Ms. Mark-Viverito told the Observer, among women in the philanthropy world and elsewhere. "As legislators, as policy makers, we were like, well, government has a role here too, and we should be figuring this out as well."
Ms. Mark-Viverito is launching the initiative along with her colleagues in the City Council—and Councilwoman Julissa Ferreras-Copeland, the Council's finance chair, pointed to the leadership roles women of color are playing in the legislative body.
"If you think about it, the speaker is a woman of color, as finance chair, [I'm a] woman of color, the women's chair committee is a woman of a color," Ms Ferreras-Copeland said. "It's almost like it was the perfect timing, because we're all bringing our experiences to this conversation, but also understanding that we need to hear what young girls are going through today. While we feel young in government, we're not necessarily 15."
To that end, Ms. Mark-Viverito kept the goals of the initiative—which will eventually make both policy and budgetary recommendations to help women in areas ranging from health to self-sufficiency—relatively open-ended, saying she wanted to hear more from women and girls on the ground.
"We don't want to live in a vacuum. We want to be informed by the experiences of young women today, of what they're living and what they feel is missing in terms of the way of how the city is serving them," Ms. Mark-Viverito said.