A true "wow" in Manhattan residential architecture is not easy to come by. A 20-foot-high folding glass wall, opened in all of its glory as we walked into the duplex spanning the second and third floors at the Metal Shutter Houses, however, does make quite the impression, especially since it opens onto a south-facing, 380-square-foot terrace.
"This is where the building gets its name," Corcoran broker Eric Becker, who shares the listing with Amanda Sawyer, told us as he flicked a switch that opened up the metal shutters on the opposite end of the condo, where there's a second, smaller terrace facing north, situated just off a dining space.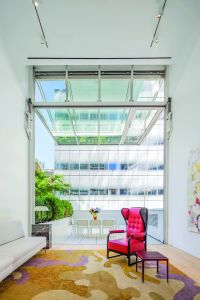 The owner, gallerist Klemens Gasser, bought the condo at 524 West 19th Street in 2010. The eight-unit building was designed by Pritzker Prize-winning architect Shigeru Ban, and Mr. Gasser was involved in the building's construction—he owned a gallery in the location, and had thought of putting on a small residential addition. Upon meeting Mr. Ban, Mr. Gasser was "totally captivated by his work…instead of just adding something on top, we decided to build a whole new building," Mr. Gasser told the Observer.
The upper level, reached by way of a glass-sided staircase, is a result of Mr. Gasser's need for some extra family space—a den and large master bathroom were both converted into bedrooms—though for the latter, Mr. Becker noted that he's "sure somebody is going to put it back."
Despite the family-friendly customizations, Mr. Gasser is ready to leave the neighborhood, and is asking $4.7 million for the 1,986-square-foot space.
"Chelsea has changed a lot—not that it's become bad, but it's more saturated, and there are different people here now; there's more wealth and it's less artistic than before," Mr. Gasser, who now lives in Brooklyn, added.
"It's a jewel box. It has great architecture," Mr. Gasser opined, "but I'm not a collector. I like to sell."