Today, Tracksmith launches its second issue of Meter, the athletic brand's quarterly publication that celebrates the untold stories of both amateur and professional runners.
Matt Taylor, CEO and co-founder of Tracksmith, first started the premium performance running brand after noticing a lack of originality in the industry. "Most athletic wear is neon now. Everything looks the same. Our products are conceptual and every detail is highly considered. We have an understated aesthetic and quality that draws inspiration from competitive racing," he told the Observer.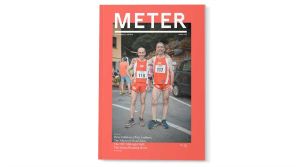 The second issue of Meter, much like Mr. Taylor's athletic wear, makes sure to reflect on the sport's storied past in order to acknowledge its future. It celebrates the beauty and intensity of running at its finest. Meter moves away from the statistic-heavy nature of modern competition and pays homage to the sport's organic roots.
"Ironically, I wanted to start a running magazine more than a decade ago. I wrote a business plan in college, but I jumped into other careers. I always thought there was a massive hole in this type of storytelling, so we started working on the concept before the brand even launched. Meter is an extension of our brand and belief. It just took us a little while," Mr. Taylor told the Observer.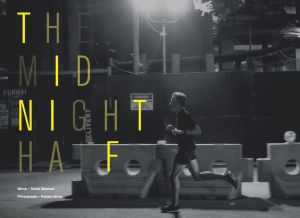 In this issue, you can find stories that celebrate the sport's historic aesthetic. A beautiful piece by Ben Wilkinson, for example, addresses the loss of art in Olympic athletics.
The second issue also includes a story from a runner in New York City's Midnight Half. If you don't recognize the name, don't worry, I didn't either. The race, which first began in 2012, is one of the city's best-kept (and quite possibly one of it's most dangerous) secrets. Initially, only 54 runners participated in the half-marathon. This year, 144 people entered.
Runners dodge cars and pedestrians in the middle of the night, trying to find the fastest way to their checkpoints. The personal account, written by Sarah Gearhart, offers a glimpse into a world of runners who "appreciate what's become a sacred running society."
Meter truly gives voice to an industry that lacks it. In "Lone Wolf," another standout story, retired sprinter Chris Lambert addresses what it means to apply the work ethic and single-mindedness of your sport to another part of your life.
Reading Meter feels like looking through a peephole, staring at an underground club of cool kids. It's a fresh approach to storytelling, covering topics that similar publications tend to overlook. "Running is the oldest and most accessible sport in the world, but its stories have no outlet," Mr. Taylor told the Observer.
It won't tell you how to lose belly fat in two weeks, or how to stretch before a long run, but it will inspire you with human interest stories that appreciate and celebrate the sport.