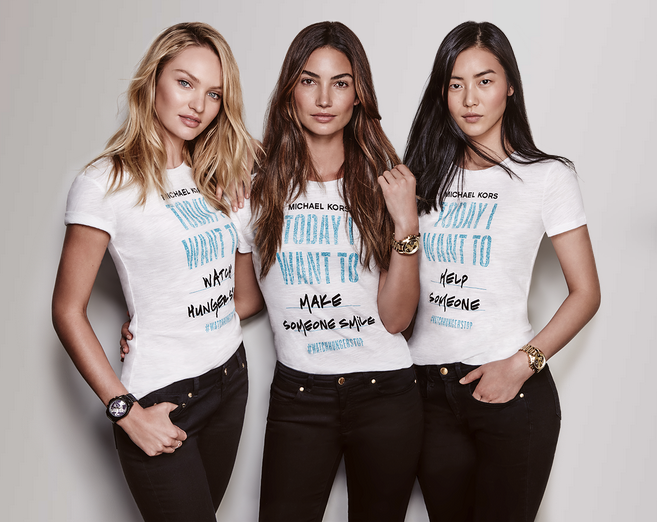 As zany, luxurious, face jewelry-filled Fashion Month nears its end, Michael Kors is switching gears and focusing on something quite different: a month devoted to ending world hunger.
Philanthropy is nothing new to Michael Kors, which launched its Watch Hunger Stop campaign in 2013. Since then, the luxury brand has delivered more than 10 million meals to hungry children worldwide through the United Nations World Food Program (WFP)—Michael Kors himself even earning the title of United Nations World Food Programme Global Ambassador Against Hunger. Their philanthropic tactics are varied, from encouraging fans to post "selfless selfies" in the brand's Watch Hunger Stop t-shirts, to partnering with with actress and noted charity enthusiast Kate Hudson.
For its latest initiative, Michael Kors has outfitted models Candice Swanepoel, Lily Aldridge and Liu Wen with its Watch Hunger Stop shirts. The trio posed for a photo and video shoot that will perhaps encourage others to upload their own pictures to the Watch Hunger Stop gallery; for every virtual t-shirt photo uploaded, Michael Kors will donate 50 meals to WFP, up to a maximum 1,000,000 meals. (Ms. Swanepoel, Ms. Aldridge and Ms. Wen are not the only models posing in Watch Hunger Stop t-shirts. Those checking out the gallery should see if they can spot a certain long-haired, smiling member of the Kardashian-Jenner clan.)
Michael Kors is also debuting a special limited-edition watch called the Bradshaw 100. Available in black or gold-tone for $295, the sleek, unisex timepiece comes emblazoned with a map of the world on the face, and on its back, Michael Kors's engraved signature, the campaign title "Watch Hunger Stop," and the message "1 Watch = 100 Meals." As the message suggests, Michael Kors will donate 100 meals—not to mention $25—to WFP for every watch sold.
"I'm very proud that through our Watch Hunger Stop campaign we've helped WFP deliver over 10 million meals to children in need," Mr. Kors said in a statement. "We couldn't have done this without the compassion and efforts of our fans and customers whose support of this important cause is inspiring. I'm excited to see how much more we can do."