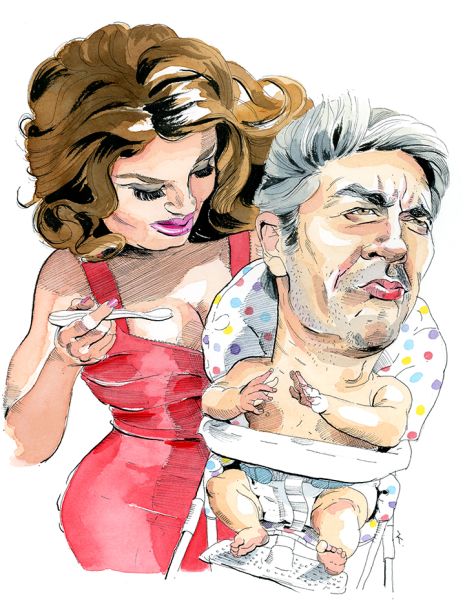 The night wasn't exactly young, as it was a 10 o'clock dinner under the glittering stars at popular Villa Verde, in Capri. Our table of 10 was joined by a couple who had ventured off their yacht for a bit of social interaction. Or so we thought. As we made polite conversation with the Texas blonde—a former lingerie model who sported the kind of jewels generally bestowed upon those who excel in the "performing arts"—she stroked the head of her fiancé, a bulldog of a man with a row of immaculate porcelain caps. A renowned technology wizard who is known for his keen mind and bold and litigious moves, he seemed like an entirely docile, mute puppy, as she broke off bits of the Italian bread, dipped it into olive oil and deposited the bite-sized pieces into his mouth. He sat there, not saying a word, his mouth open like a young bird being fed in the nest.
Clearly, the West Coast tech wizard, while a shark in the boardroom, was just a young hatchling at the table.
A month earlier, I had dined with new entry Real Estate Mogul at the Palm. His wife, the curvaceous Nouvelle Social Powerhouse, had organized a girls' night and suggested I have dinner with her husband. It was our first guy's dinner together and I thought a steakhouse was appropriately bro-y.
"What are you having?" I asked after some initial conversation.
"I'm not sure," he said, disregarding the menu. "Do you think you can order for me?'
'Sorry,' he whispered, 'but most of my good friends take care of me. Some cut my meat. I have even been fed.'
"Excuse me?" I looked at him somewhat askance.
"I don't usually order for myself," he revealed. "Stacey [not her real name] does it for me."
I appraised him with a widened eye. "You don't know how to order for yourself?"
"That's right," he said. "I haven't done it for years and I'm not going to start now. It's like check writing. I make the money, Stacey writes out all the checks. I haven't written a check in 20 years. Go ahead and order."
I looked up at the waiter standing there stone-faced, then back at the menu. "Um…my friend here will have the…Caesar?"
Real Estate Mogul shook his head "no" and I immediately changed course.
"Yes, umm, the Gigi salad?" I said in a questioning tone. "He nodded his head as I gained my confidence.
"He'll have the Gigi salad and…" I paused, "a sirloin steak?"
He nodded his head vigorously.
"Yes," I continued, emboldened. "A sirloin steak, medium-well with a half order of onion rings and fried potatoes?" He beamed as I completed the order.
"We'll also have an order of creamed spinach." I had hit my stride and we clinked our glasses. I then put in my own order.
"Do your other guy friends order for you?" I pried.
"Sorry," he whispered, "but most of my good friends take care of me. Some cut my meat. I have even been fed."
"Fed?! Really?" I exclaimed.
"It's amazing what people will do if you pick up the bill," he shrugged. "Although, I got more attention during the recession."
I immediately slipped the waiter my Platinum Card, lest I be implored to wipe crumbs from my companion's mouth.
He called his wife. "Richard did a nice job ordering for me," he told her. "Yes. I'm very impressed. He even knew that I liked my steak medium-well." He paused his conversation to address me. "Stacey wants to thank you. By the way," he returned to his call. "What should I have for dessert, honey?"
***
I'm not exactly a golfer, but on a recent Sunday I found myself perusing the salad bar at one of the North Shore clubs.
"Do you want your salad mished?" the waiter asked without blinking an eye.
"You don't mean mushed?" I asked.
"No, chopped. We chop the salad fine with this." He held up a Lizzie Borden-worthy utensil akin to a small manual log cutter. His cohort was busy turning people's salads into pabulum.
"No thank you," I said, as a vast man in a fuchsia golf shirt walked over and handed his salad bowl over for a good pummeling.
'I make decisions all day long. I'm out there. I'm a bit of a street fighter. And I don't have your head of hair, so I need some validation.'
"I like it like baby food," he joked.
"Don't put that dressing on his salad," his wife intervened.
"But I love blue cheese," he whined.
"No to the real blue cheese," said the thin, extremely attractive blonde eyeing him like he was in grade school. "He'll have the zero-calorie Walden Farms blue cheese," she ordered, wagging her bejeweled finger at him, "if he knows what's good for him!"
***
"I have been married so many times because I can't be alone," the controversial mogul said over lunch at the downtown Nobu.
"You're just lucky you can afford the alimony," I said, smiling. "Do you think your choices have something to do with your mother?" I asked, reaching for the salted edamame.
"Richard, that's like asking if I have Chinese food on Sunday nights. It's just a fact. I think most powerful men need to be adored and the last one to do that was their mother."
"Why do think the pull is so strong?" I asked.
"Look," he said, glancing at his vintage Patek, "I make decisions all day long. I'm out there. I'm a bit of a street fighter. And I don't have your head of hair, so I need some validation."
"Well, I don't have your bank book." I smiled.
"I need a bit of worship. Most men do. Although I do know quite a few successful men that are masochists and love it when their wives or girlfriends beat them up." He appraised me to see if I was one of those.
I hastily dismissed his implication. "That wouldn't work for me," I said. "So what does it take to marry you?"
"Apart from the hotness, I need a woman to take care of me. I'll take care of certain things but I'm the one who needs to be catered to. If she's needy, it won't work. Have anyone for me?" he asked. "Gorgeous and a caretaker?"
"I think I do," I said. "Someone who fits the bill is coming on the market. I'll call you with her number as soon as the divorce is final. I'll tell her to take a course in hot stone massage first."
"No. I prefer straight Swedish," he said with the seriousness of an army general. "And if she understands the importance of reflexology, I'm known to be very generous at Cartier."
He flashed his Black Card with a laminated grin.
***
At our al fresco lunch at Sunset Beach, the rosé was flowing, the frittes were authentically thin and crispy and the music was an authentic slice of St. Tropez.
Hamptons Neighbor and his lovely wife, Karen [not real name] joined us for lunch on the top terrace and the conversation flowed like the Minuty. I asked Karen if she felt Hamptons Neighbor needed extra mothering.
"I understood that when I married him that he had extra needs, but it has gotten a bit worse over time," she said, smiling dutifully. "He provides for the family and pays all the bills and there are certain things that are my job."
"Like?"
"Well, he won't order takeout and he won't call the dry cleaner. I pack for his business trips. I also cut his nails for him."
"I like it," he interjected. "I haven't done it myself in years."
"I even do his toenails," she said, adjusting her Chanel sunglasses.
"I think that's a bit too much information over the branzino," I said, "but I understand. What else do you do for him?"
"Look, there are things he does and things that I do and it just works," she said. "And he doesn't bother me about certain things any more."
"Like what?"
"You know, my spending."
***
"I think he's that way because he grew up with so much," Palm Beach Babe said of an auto fortune heir, as we enjoy a Jambon Fumé at Eric Kayser on 74th street. There's nothing like a little Lilly Pulitzer print to liven things up, but despite the lime green headband, the
conversation was spicier than I expected.
"Look, perhaps I'm still single because I don't do what she is willing to do," she whispered about the heir's wife.
'How can you want to have sex with someone after cutting their meat? I need the man to take care of me.'
"Every morning he demands a hot meal," she continued. "It must be prepared and served by her. And he must come home to a hot meal that includes all the food groups; his meat must be cut, he must have a vegetable interaction, some sort of starch and it must be different than what the children are eating."
"Does she sit with him after serving him?" I asked.
"Yes. There is some polite conversation. Once the staff clears the meal, he might watch some television or smoke his cigar and then she draws him a hot bath and presents him with a warmed towel. She then lays out his pajamas."
"Is she happy?" I asked.
"I think she feels quite important. She is the CEO of the home and he is the chairman," she observed.
"Perhaps you do need to be more attentive to the men in your life after hearing this case study," I said, laughing.
"How can you want to have sex with someone after cutting their meat? I need the man to take care of me," she stated firmly.
"Do you and [The Impossibly Blonde and Glamorous Socialite] know anyone for me? I hear you make introductions."
"I do have a mogul and you are his type, but I don't think it would work."
"Why not?"
"He wants a hot meal and a hot towel," I advised. "If you want to land this mogul you need to baby him."
"Well, if I get to use the G-4, at this point I'll powder his bottom."
***
We were lunching with a Hollywood producer and Midwestern billionaire at Canzone Del Mare in Marina Piccolo. Despite the sweltering heat, we ordered the spaghetti aglio e olio and stuffed zucchini flowers, along with numerous bottles of local Falanghina.
After our lunch guests departed, Dana and I retired to our lounge chairs. I stripped off my shirt and picked up the towel.
"Where are you going?" She looked up, adjusting her straw hat.
"I'm taking a swim," I said. "I'm burning up."
"You should wait 30 minutes before you go in the water," she advised.
"Why did you just say that?" I asked.
"I guess it's an old wives' tale, but it's something I always tell the children."
"You know, I am an adult," I protested.
"Oh please," she joked. "Wait 30 minutes, s'il vous plaît. And while you're waiting, come over here and give momma a kiss," she said. I did not resist, particularly as she looked like a movie star with her blonde hair and sunglasses.
Then I planted myself dutifully under the umbrella, waiting for digestion to occur. After all, one doesn't say no to a babe.