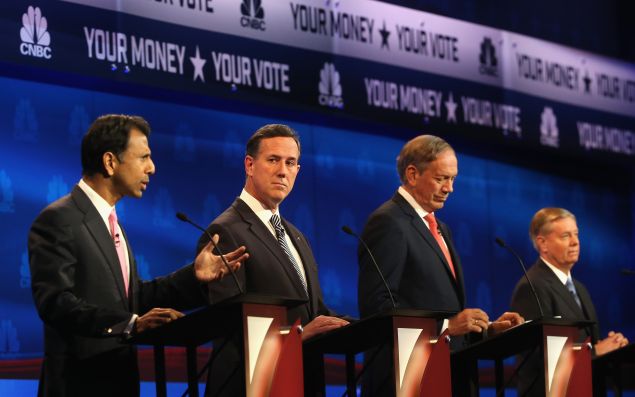 In Colorado, the same four Republicans made their plays again to try to break out of the triple-A division debate, before the 10 big leaguers took the stage—each taking a different swing at the fast-sinking chance to be competitive for the nomination.
GRAHAM CRACKING
South Carolina Sen. Lindsey Graham sniped a little at high-polling real estate magnate Donald Trump, but his most memorable line of the night had a downright Trump-ian ring to it, down to its jabs at the Democratic contenders: ex-Secretary of State Hillary Clinton and Sen. Bernie Sanders
"I am tired of losing! Good God, look at who we're running against! The number one candidate on the other side thought she was flat broke after her and her husband were in the White House for eight years. The number two guy went to the Soviet Union on his honeymoon, and I don't think he ever came back," he said, even as he laid out a moderate plan to reform the immigration system and reduce carbon dioxide emissions
For the most part though, the former air force colonel flexed his foreign policy muscle, vowing to bring the increasingly aggress and expansionary Russia and China to heel and breaking a world record for the most times anyone has ever used the phrase "commander-in-chief." Deeming President Barack Obama "weak" and "incompetent," Mr. Graham vowed to beef up the military budget stare down international rivals.
"When it comes to the Chinese, you got a clenched fist or an open hand—you pick," he declared. "Make me commander and this crap stops."
But his repeated pivots to foreign policy became awkward as the forum wore on, as he managed to turn a question about corporate personhood into a monologue about military service members.
BOBBY'S PIN
Louisiana Gov. Bobby Jindal seemed to realize what channel he was on (CNBC) and who he was talking to (free market maven Jim Cramer). The wonky former Rhodes scholar emphasized his credentials as a fiscal conservative and tax slasher and blasted Mr. Obama and Ms. Clinton for trying to take the nation "down the path toward socialism."
"I've got the courage to apply our conservative principles," he said. "I'm the only one who's reduced the size of government."
He struggled, though, to explain his state's millions-deep budget gap.
PATAKI ON THE ATTACK-I
Former New York Gov. George Pataki, who has struggled to justify his barely-registering run as a liberal Republican, seemed to want to appeal to a younger generation—emphasizing his trust in science on climate change and immunizations, and bragging about using e-hail app Uber.
"One of the things that troubles me about the Republican Party is too often science that everyone accepts. I mean, it's ridiculous that in the 21st century we're questioning whether vaccines are the appropriate way to go. Of course they are," he said.
SANTORUM
The Urban Dictionary-famous former Pennsylvania Sen. Rick Santorum played up his blue collar appeal, highlighting his roots in a "steel-making town outside of Pittsburgh," arguing that the most basic economic unit is the family and discussing his tour of breweries across the country for "pints and politics." That last part turned awkward fast.
"I'm not concerned Americans aren't going to have choices in beer," he said. "And I care about that."
He also stood at odds with the libertarian wing of his party, arguing strongly in favor of renewing the export-import bank, which grants loans to corporations—pointing out that, in the absence of such a system, companies will simply relocate to countries where they can secure such assistance.
Disclosure: Mr. Trump's son-in-law, Jared Kushner, is publisher of Observer Media.