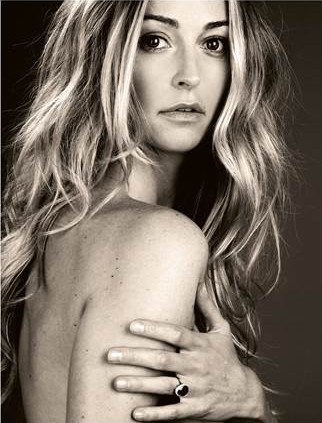 When Dawn Russell was suffering from Stage 3 cancer in her mid-20s, she discovered a surprising aid in her recovery: not taking some fancy drug, but eating a ton of green veggies. Now, the former model (and wife to Britain's Lord James Russell) is debuting a fancy—and perhaps strange—health supplement inspired by her own experience.
Ms. Russell's creation is 8G, an effervescent tablet chock-full of greens that fizzes and dissolves when dropped in a glass of water. Each dose contains blue-green algae, organic aloe vera, barley grass, spinach, kale, spirulina, chlorella and wheatgrass—ingredients that boost the immune system, reduce inflammation, lower cholesterol and blood pressure, and pack Vitamins A, C, B6, B3 and zinc.
"I chose these ingredients because they were very helpful to me, personally, in my recovery from cancer," Ms. Russell told the Observer. "Blue-green algae, kale—these greens gave me strength when I needed it."
We love the taste of vegetables in, well, vegetable form. But do they really taste great dissolved in water? Apparently so. Ms. Russell claims she and her team of chemists went through 263 tries to pick out the perfect taste profile—each of which her husband dutifully tasted. Their final product has "a clean, citric flavor," she said.
"It might be better to describe 8G in terms of what it doesn't taste like," she suggested. "It doesn't taste like vegetable gloop—you don't need to hold your nose. We blended the greens in a way that is basically harmonious, the flavors work together. It was not easy, and making 8G effervescent was an extra challenge."
Another extra challenge was avoiding sugar. Each 8G tablet is sugar-free, and has nine calories. "Many popular green juice drinks are simply filled to the brim with sugar," Ms. Russell said. "It's no wonder they're popular!"
Be warned: the tablet is no panacea—just an "easy delivery system for greens," as Ms. Russell put it. Though greens helped her recover from cancer, Ms. Russell is not suggesting 8G will magically cure everyone's ailments.
That being said, "You will always benefit from incorporating more greens into your diet," Ms. Russell pointed out.
8G retails nationwide and online at Nordstrom, at $12.50 for a tube of 10 tablets. Adults can take up to three per day—a rate that would set them back around $125 a month. Steep, sure, but we suppose more affordable than a daily trip to Liquiteria or Juice Generation—$10 green smoothie, anyone?
"In 10 years' time," Ms. Russell said, "I would love for as many people as possible to have a tube of 8G somewhere in their lives."