For the historical exhibition "Berlin Metropolis: 1918-1933," New York's Neue Galerie art museum is giving viewers the chance to step into the shoes of a Weimer-era "Neue Frau (New Woman)." Or to be more precise, to try on her lipstick.
The museum has partnered with AERIN Lipstick, a line of cosmetics and beauty products made by Aerin Lauder of the Estée Lauder family (she's the daughter of Ronald Lauder, leading art collector and co-founder of the museum), to produce "Berlin Nights." It's a limited edition deep-red lipstick shade akin to the color of choice frequently worn by Germany's Neue Fraus during the 1920s. The progressive young women were known for sporting bright-colored make-up, wearing their hair short and defying gender norms.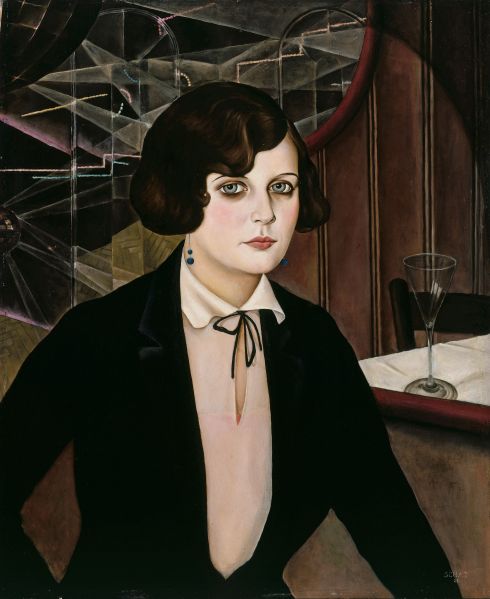 "Bright red lipstick during Berlin's 'Golden '20s' was a proclamation of a woman's self-determination and ownership of her sexuality," Neue Galerie director Renée Price told the Observer.
"Berlin Metropolis" explores Berlin during the Weimer period through painting, drawing, sculpture, collage, photography, architecture, film, and fashion, and is on view through January 4, 2016.
The show is divided into five sections, among them "Neue Frau," which includes several key artistic representations. Examples include Christian Schad's Two Girls (1928), Werner Peiner's Resy (1928) and photographs of actress Valeska Gert, whom Ms. Price tells us, "strikes poses in different guises that almost seem to prefigure the work of artist Cindy Sherman."
Aerin Lipstick's "Berlin Nights" can be purchased through the museum's design shop for $34, and comes in a custom box covered with a reproduction of Schad's 1927-1928 iconic portrait painting Lotte. In the painting, which is not featured in the show, Lotte is pictured with a glass of champagne seated at a bar, clad in a black blazer, bright red lipstick and bobbed hair. The real life Lotte was a friend of Schad's and a local milliner.
Neue Galerie has produced limited edition lipsticks twice before. With Aerin, and in conjunction with the blockbuster exhibition "Gustav Klimt and Adele Bloch-Bauer: The Woman in Gold" (April 2-September 7), the museum created two shades for its "Rose Balm" lipstick set. The first, called Liebling, was a mauve tone meant to nod to the color of Adele's lips in Klimt's world-famous portrait, and the second, Sequin, was a shimmery gold to match the color of the renowned Viennese socialite's gown.
A third lipstick, made with Estée Lauder, called Berlin Red, was produced in tandem with the 2010 "Otto Dix" exhibition.
Along with "Berlin Nights," the museum store has made several other specially-designed products for its Weimer period exhibition. On offer are woolen cloche hats, golden coquette gloves and a set of "Blue Angel Woolens" inspired by German-American actress Marlene Dietrich, which include a muffler, a beret and fingerless gloves.