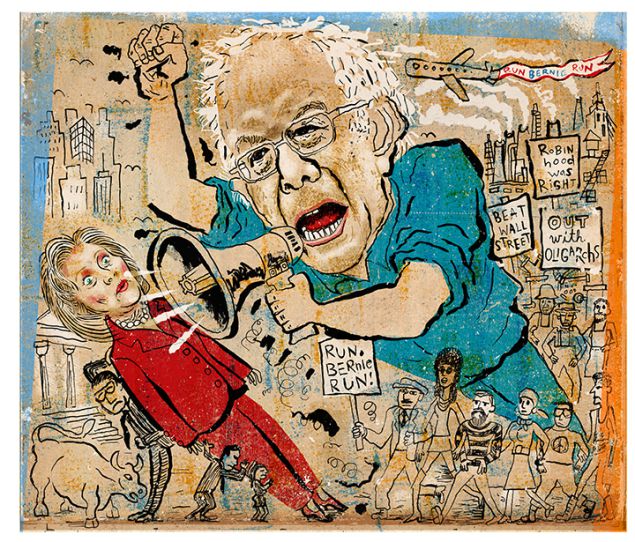 Congressman Jerrold Nadler, a Democrat, argued today that Vermont Sen. Bernie Sanders—the self-identified socialist and top rival to Hillary Clinton—isn't a true socialist but simply a very liberal Democrat.
Speaking shortly after an unrelated press event with Congresswoman Carolyn Maloney in Manhattan, Mr. Nadler—widely seen as among the most liberal Democrats in the House—argued to the Observer that Mr. Sanders is "certainly not by the classical definition" a socialist. The Brooklyn-born Vermont politician has maintained throughout his 44-year career in politics he is a "democratic socialist," reiterating the claim in Wednesday's Democratic debate, and pointed to the generous welfare states of the Scandinavian nations as models America would emulate under his administration.
"The dictionary definition of a socialist is someone who believes in the social ownership, that is to say, the government ownership, of the means of production and distribution. I'm not aware of anybody in Congress who believes in that. Anybody," Mr. Nadler said. "I don't know what 'socialist' means in this context. I see Bernie—Bernie Sanders, is the question you're asking—as really liberal Democrat."
Even though Mr. Sanders is currently seeking the Democratic nomination, he has only held office as an independent. Every time he is up for re-election, the Vermont Democratic Party nominates him as its candidate, and he declines its nomination—thus allowing him to typically steamroll over the Republican candidate in the largely Democratic state.
He caucuses with the Democrats in the Senate.
The Upper West Side-based congressman, who represents a sprawling district spanning Manhattan and Brooklyn, pointed out that Mr. Sanders was quick to emphasize his support for low-level free enterprise during the debate on Wednesday. He also argued that the senator's stances were largely identical to those of most left-leaning registered Democrats.
"He was asked a question about socialism, and the answer he gave on television, almost any liberal Democrat could have given. Not as socialism—he said, he says he believes not all the money should go to one percent of the population and the rest of the population shouldn't have any money, that's, we all agree with that," he said. "Most liberal Democrats wouldn't say that, but I'm not sure how different it is. Because Hillary said she's a capitalist because she believes in small business, and then Bernie came in and said, 'Well I believe in small business too!' So I don't know what the distinction is really."
But can somebody who identifies as a socialist, a label almost two-thirds of Americans view unfavorably, become president?
"Well, we'll find out," he said. "I think people, yeah, let me put it this way: I think people will focus on ideas and programs and problems and solving problems and not on labels."
Earlier this year, Mr. Nadler told the Observer that "I agree with Bernie on a lot of things" and called him "a great senator," but said he was backing Ms. Clinton because he believed she stood a stronger chance of winning the presidency.
"He would not be, he wouldn't be the strongest Democratic candidate, and we have to elect a Democrat," he said in April.