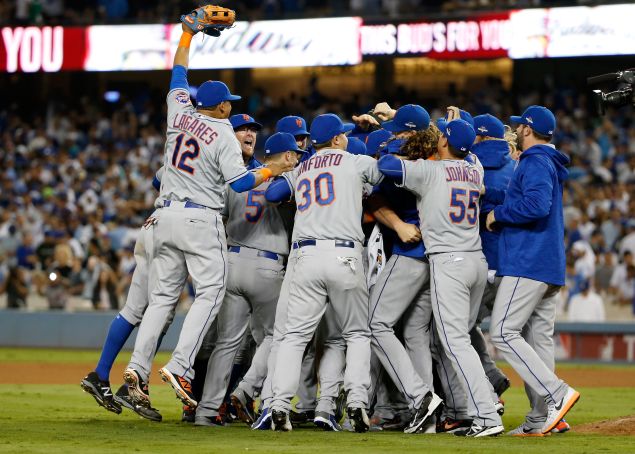 WHO HAD A GOOD WEEK?
1. The Mets: Normally, we present Next Week/This Week as a faceless mind meld of sorts, the combined efforts of three of the Observer's political reporters to give you, the public, the best and worst of the past week with a dash of whimsy. However, the illusion of the mind meld will be set aside momentarily to disclose that one of the reporters drafting today's Next Week/This Week is a Yankees fan who has been particularly harsh on Twitter toward a certain crosstown "rival" (are you a rival when you've lost a majority of head-to-head match-ups this year and haven't appeared in a World Series since before the invention of Facebook?) while openly rooting for whomever said New York team is facing (this week it was the desultory Dodgers and their cadre of over-the-hill ex-Phillies.) So, all snark will be set aside to admit that the New York Mets are clearly winners and are worthy of praise. A begrudging tip of the cap to New York Observer cover boy Jacob deGrom. A slow, soulful nod to Daniel Murphy. A light pat on the back to Terry Collins. It's been quite a run and this NLCS against the Cubs will be the most intriguing playoff showdown baseball fans have been treated to in a very long time. The hashtag #LGM will not be used here as long as this reporter, who requested anonymity to pen this missive, crafts Next Week/This Week, but sources say there's at least one Mets fan on the Observer politics team who may force it into future versions of this series.
Oh well.
2. David Dinkins: The former mayor, hated by the right and somewhat embraced by the left, got the Manhattan Municipal Building named after him, thanks to the fact that the very tall, bearded man he employed two decades ago was elected mayor. Mr. Dinkins was his courtly self during a ceremony on Thursday and will now get the pleasure of telling random people that walk by the limestone monolith that it belongs to him. Something tells us Rudolph Giuliani, the Republican who unseated Mr. Dinkins in 1993, isn't getting the same treatment anytime soon.
3. Hillary Clinton: Pundits love Hillary again! Despite the fact that the former secretary of state competed on plenty of debate stages throughout the 2008 presidential campaign, talking heads were amazed and astounded she didn't bomb on Tuesday. So that's a win. She parried Sen. Bernie Sanders of Vermont well enough, threw in some smirks and a dig(?) against Denmark, and the political watchers who are paid a lot of money to tell us exactly when Vice President Joe Biden will say he is/isn't running for president were appeased. Hillary surrogates, thanking God Mr. Sanders is not 20 years younger and nonwhite, applauded. The fundamental math of the primary didn't change. But that's not a fun media narrative.
WHO HAD A BAD WEEK?
1. Joe Biden: The Veep's window to run for president is rapidly closing, and Ms. Clinton may have shut the door with her good-enough debate performance on Tuesday. There was never a whole lot of room for Mr. Biden to begin with, despite what pundits and casual observers believed. On domestic and foreign policy, he is aligned with Ms. Clinton, and his closeness with the credit card industry and his vote in favor of the Iraq War all but ensures he won't be able to pluck any supporters from Mr. Sanders' fervent progressive base. Now that Democrats, especially insiders, are becoming more comfortable with Ms. Clinton as the front-runner, the Biden candidacy loses much of its logic. He has no natural constituency and it doesn't look like he's ever getting one. To add salt in the Biden lover's wound, the establishment cash and operatives that are needed to run a successful presidential race have all been scooped up by the Clinton machine. Sorry, Joe.
2. Lincoln Chafee: The former Rhode Island governor and senator finally had a chance in the spotlight when he appeared in the first televised debate of the Democratic presidential primary. He did himself no favors. A peculiar presence on the stage, Mr. Chafee at one point described himself as a "block of granite" and explained away his vote to repeal Glass-Steagall, the law cherished by liberals which separated investment and commercial banking, as a simple mistake of a freshman senator. If there was anyone on Tuesday who did not seem presidential, it was Lincoln Chafee. He barely registers in the polls and that probably won't change.
3. CNBC: Donald Trump, the celebrity real estate developer still leading the GOP presidential field in the polls, and Ben Carson, the retired neurosurgeon and darling of grassroots conservatives, both threatened to withdraw from the next CNBC-sponsored Republican debate if the network doesn't change their format. Both men think the debate, slated to run two hours plus up to another 16 minutes in commercial breaks, is too long, a contention that is not entirely off base. They also took issue with CNBC's plan to not include opening or closing statements. The GOP debates have been ratings bonanzas thanks to Mr. Trump and Mr. Carson. If they boycott the next Republican debate, CNBC will suffer. (Mr. Trump has since tweeted that CNBC agreed to his demands.)
WHAT WAS THE WEEKS BIGGEST STORY?
There were several, actually. Mr. de Blasio held the first town hall of his mayoralty this week, taking questions on housing issues in front of a friendly audience in Washington Heights. He also took the advice of this Observer reporter and called into WFAN to talk sports. (Can't hurt, right?)
Over the weekend, Mr. de Blasio and Mr. Cuomo actually came to an agreement on the Metropolitan Transportation Authority's nearly $30 billion capital plan, with the city agreeing to fork over $2.5 billion over 5 years (a significant increase over what City Hall traditionally contributed) and the state committing $8.3 billion with the promise of not raiding the transit funds. The capital plan will pay for much needed repairs and upgrades. What it won't really do, to the chagrin of mass transit advocates, is pay for any new expansions of the system.
WHAT HAPPENS NEXT?
Mr. de Blasio is allegedly going to hold a town hall in Staten Island at some point soonish. It's the only borough he didn't win in 2013, so that should be entertaining.
DID ANY POLITICIANS ACTUALLY PUT OUT STATEMENTS ABOUT THE METS WINNING A POSTSEASON SERIES?
Yes. State Senator Jose Peralta of Queens. The statement is below.
"Congratulations to our New York Mets on yet another amazing win and clinching a spot in the National League Championship Series. Queens and Mets fans needed post-season baseball and we got it. What better place to finish the series than Los Angeles, the land of Hollywood, of blockbuster movies. Now, it is time for the Cubs, the next hurdle in the road to glory. The dream of becoming World Champs is one step closer. Let's go Mets."
WHAT ARE WE HOPING HAPPENS NEXT WEEK?
Mr. de Blasio's trip to Israel brings permanent peace to the Middle East, validating every single self-serving voyage abroad by an elected official. Assemblyman Dov Hikind, who is also on his own trip to Israel as we speak, shares a Nobel Peace Prize with the mayor.
WHAT WILL ACTUALLY HAPPEN NEXT WEEK?
Mr. de Blasio and former Mayor Michael Bloomberg, who Mr. de Blasio relentlessly criticized during his campaign for mayor, will hold their first joint press conference on October 21 to plant the millionth tree of the Million Trees NYC program, which Bloomberg launched in 2007. The two appeared together before, but this will be the first event the mayors are coordinating together. A hatchet might very well be buried.
Disclosure: Donald Trump is the father-in-law of Jared Kushner, the publisher of Observer media.