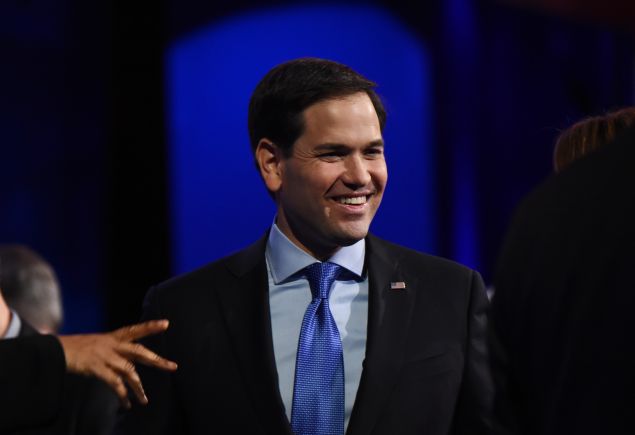 WHO HAD A GOOD WEEK?
1. Marco Rubio: The Florida senator has never led in any polls during the Republican presidential primary and his fundraising has been unimpressive. But after another strong debate performance this week, Mr. Rubio's stock is on the rise, especially as pundits wonder how far front-runners Ben Carson and Donald Trump, two outsiders who have never held elected office, can really go. Mr. Rubio, fresh-faced at 44, is quickly become a favorite of establishment Republicans, and may pose the biggest threat to a Democrat if he wins the nomination. Look for the campaign dollars to start pouring in.
2. Ted Cruz: Like his Republican colleague in the Senate, Mr. Rubio, Texan Ted Cruz is gaining momentum in the crowded GOP field. A fierce, uncompromising conservative, Mr. Cruz is banking on performing well in Iowa and dominating the southern states that all vote together in March. With his large war chest and flush super PAC, his game plan is plenty viable, and it looks like pundits are finally giving the old college debate champ his due. He may be too far to the right to ultimately win the nomination, but Mr. Cruz will undoubtedly be a force to be reckoned with.
3. The Kansas City Royals: They won the first two games of the World Series over the New York Mets and can hammer a stake through the heart of Flushing with a win tonight. Congressman Peter King will be devastated.
WHO HAD A BAD WEEK?
1. Jeb Bush: He's the front-runner who never was. The former Florida governor, brother to a president and the son to another, is having a very hard time breaking into the family business. Another lackluster debate performance this week had his donors panicking and many pundits wondering whether Mr. Bush, once viewed as a top tier Republican candidate, should just pull the plug on his campaign. He's proven to be uninspiring for the conservative base and suffers from the damaged reputation his brother, George W. Bush, still holds among voters of all ideological stripes. To make matters worse, his undoing may come at the hands of the kid politician he once mentored, Mr. Rubio.
2. Second Avenue subway: The Metropolitan Transportation Authority approved its nearly $30 billion capital plan this week, and the big loser was the Second Avenue subway and residents of East Harlem. While the first phase of the seemingly mythical train line, which has been planned for literally a century, is set to open at the end of 2016, tunneling on a portion extending from 96th Street to 125th Street won't begin until after 2020. Elected officials in the area (outside of Council Speaker Melissa Mark-Viverito) were furious.
3. Bill de Blasio: He started his week off on the right foot, defying the odds and defeating City Hall reporters in a softball game. After that, it was all downhill. A poll yesterday showed him with his highest disapproval rating yet, another poll today said voters don't like the way he's handling crime and poverty, and no one seemed to care about his belated endorsement of Hillary Clinton. To rub salt in the big guy's wounds, leftist protesters crashed the first fundraiser of his re-election campaign and stole all the headlines.
WHAT WAS THE WEEK'S BIGGEST STORYLINE?
The Republican candidates battled with the CNBC moderators during the debate and Reince Priebus, the chairman of the Republican National Committee, announced today the RNC is suspending their partnership with NBC for an upcoming GOP debate next February ("pending further discussion.") Republicans felt the CNBC moderators were overly hostile, and apparently pressured Mr. Priebus to follow through on their grievances. The debates are a true ratings bonanza, so the RNC is holding all the cards right now.
WHAT HAPPENS NEXT?
NBC freaks out.
WHO WAS LAST TO THE TABLE?
On October 22, Gov. Andrew Cuomo announced he would unilaterally expand existing anti-discrimination statutes to include transgender persons—the third time this year the governor bypassed the State Legislature to advance a liberal cause. On October 26, Assemblywoman Rodneyse Bichotte of Brooklyn got around to praising Mr. Cuomo in a statement.
WHAT ARE WE HOPING HAPPENS NEXT WEEK?
NBC enters into an exclusive agreement to have Donald Trump debate Sen. Bernie Sanders, one-on-one, next February.
WHAT WILL ACTUALLY HAPPEN NEXT WEEK?
Mr. de Blasio starts to really hope Hillary Clinton shows up at his Iowa forum in December.
Disclosure: Mr. Trump's son-in-law, Jared Kushner, is publisher of Observer Media.