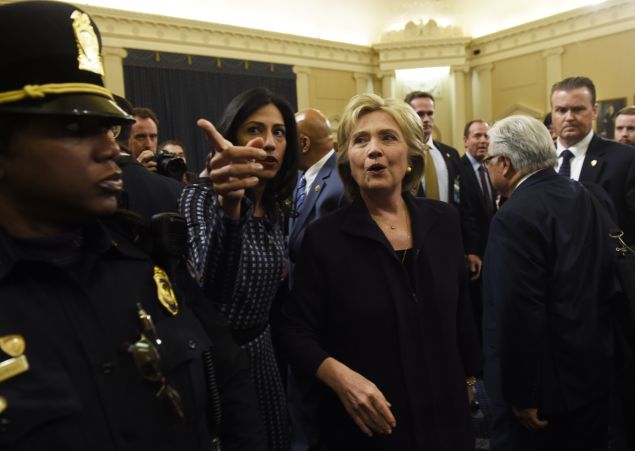 WHO HAD A GOOD WEEK?
1. Hillary Clinton: After months of stumbling, the Democratic front-runner looks to have found her footing in the presidential. The once-looming threat of Vice President Joe Biden jumping into the contest disappeared as Mr. Biden announced Wednesday he had gotten too late a start to be competitive. And she came out of the 11-hour marathon session yesterday of the House Benghazi Committee with her candidacy intact and her supporters fired up, and even some in the GOP marking the match-up as a loss for their side. If she can keep Vermont Sen. Bernie Sanders off her back in Iowa and New Hampshire, she should have a clear dash to the Democratic finish line. But she continues to struggle in national polls against Republicans, so the time for her to build up momentum is now.
2. Transgender advocates: Transgender people are the latest beneficiaries of Gov. Andrew Cuomo's decision to come out as an unabashed liberal. Possibly induced by his anemic victory in last fall's Democratic primary and/or some kind of head trauma, the governor for the third time in the last four months resolved that he did not need the cooperation of the Republican-run State Senate to pass a key progressive initiative—in this case, the Gender Expression Non-Discrimination Act, which has passed the Democrat-dominated Assembly eight times but failed to get a floor vote on the other end of the Capitol building in Albany. GENDA aimed to guarantee that people couldn't receive different treatment in housing, hiring, lending and education because of their sexual identification. Since that was a non-starter, Mr. Cuomo decided his office could construe generically-phrased existing laws aimed to protect women from mistreatment to also apply to transgender people.
3. Paul Ryan: The wonky Ways and Means Committee chairman from Wisconsin officially launched his bid for Speaker of the House of Representatives yesterday after securing support from both GOP moderates and the Tea Party-aligned Freedom Caucus, and getting the carve-outs for family time he insisted upon when he announced his interest in the position on Tuesday. The man who once sought to become the vice president now stands to be third in line for the White House, if Air Force One and Two ever crash into each other for some reason. His job will mainly consist of keeping his conference from jumping off the fiscal cliff into government shutdown and political disaster in the next two months while current Speaker John Boehner steps out for smokes. So enjoy this moment as the great unifier while you can, congressman. It's all downhill from here.
WHO HAD A BAD WEEK?
1. The Chicago Cubs: Despite getting absolutely everything else about the year 2015 correct, Back to the Future II was wrong on one count: the Windy City's lovable losers will not be winning the World Series, and instead got swept in the National League Championship Series by the New York Mets. In fact, this year will mark 70 years since the team last took home the pennant, and 107 since it brought a ring back to Wrigleyville. That's to say that the last time the Cubbies were World Series champions, a Roosevelt was president. No, not that one, the other one. In fact, in 1908, penny farthings and mustache wax were all the rage, the Ottoman Empire still existed and the events of Back to the Future III were just 23 years in the past. Also, if the Internet and the drunk guy at the bar the other night are right, that billy goat's name was Murphy.
2. The NYPD: The murder of Officer Randolph Holder in East Harlem on Tuesday, allegedly at the hands of a gang member fresh off a drug dealing arrest, cast a pall over City Hall and One Police Plaza and raised questions over the direction of the criminal justice reform movement. Police Commissioner Bill Bratton canceled a trip to D.C. where he was to discuss plans to combat mass incarceration, and instead stayed home to bemoan "anti-police sentiment" and argue alongside Mayor Bill de Blasio that a judge had just months earlier sentenced the accused shooter to rehab rather than prison. Mr. de Blasio is now calling for tougher sentencing of violent offenders statewide, and Mr. Cuomo is arguing that the killings of New York City police—four in the past 11 months—have become a too-common phenomenon. Also complicating the conversation is the reality that three of those four officers killed have been people of color, reflecting the growing diversity of the NYPD's majority minority rank-and-file. But no matter who comes out on top of the public debate, it's clear who lost: Holder's family, New York City and its police department.
3. Democrats who used to be Republicans and want to be president: Ex-Virgina Sen. Jim Webb and former Rhode Island Sen. Lincoln Chafee—both one-time members of the party of Lincoln who gained reputations as anti-war crusaders in the Senate—dropped their bottom-of-the-barrel campaigns for the Democratic nomination this week. Mr. Webb, a Reagan administration and military veteran, found his moderate stances on social issues failed to resonate with liberal primary voters, while Mr. Chafee apparently realized nobody had either heard of him or Rhode Island. Mr. Webb has said he's considering an independent bid for the White House, but that's got even longer odds than his hopes of riding the Democratic donkey into the Oval Office.
WHAT WAS THE WEEK'S BIGGEST STORYLINE?
Locally, the tragic killing of Officer Holder and its as-yet unclear aftermath dominated the city's minds and media. The mourning coincided with Mr. Biden's national announcement that he would not be looking to move into President Barack Obama's office, and Ms. Clinton's reassured dominance of the Democratic field.
WHAT HAPPENS NEXT?
Mets fans will wait anxiously to find out if their team will be playing the Royals or the Blue Jays, while Yankees fans will decide whether to root for their city's home team or to remember which legion of drunk supporters they have to put up with on the train. And Ms. Clinton can look forward to more one-on-one time with Mr. Sanders in the next Democratic debate on November 6.
WHO WAS LATE TO THE TABLE?
Most of the city's elected officials offered their condolences to Holder's loved ones within a matter of hours. No so for Congressman Charles Rangel, in whose district the murder occurred, who waited until two days later.
WHAT ARE WE HOPING HAPPENS NEXT WEEK?
Former Maryland Gov. Martin O'Malley, that other guy who isn't Hillary or Bernie, will finally realize that what he really wanted all along is to run an equally hopeless bid against Mr. Ryan to become speaker of the House.
WHAT WILL ACTUALLY HAPPEN NEXT WEEK?
After the speakership vote on Thursday, that slow, sinking sensation of regret will lodge firmly in place in Mr. Ryan's stomach.