What's the deal with Josh Gondelman? Here's a 30-year-old guy who managed to parlay a parody Seinfeld Twitter account into a new book (out today) and a staff writing gig on John Oliver's Last Week Tonight. He's someone who you probably already kind of hate based on that one-sentence description, or at least feel annoyed enough about that you are considering putting down this article and retooling your screenplay (not that you will). And yet, he's widely respected in the comedy community as being a sweetheart in an industry that doesn't exactly celebrate the "nice guy." And yet, his co-written Twitter account is really funny. And yet, he's just a normal, likable person. So again, we ask: what's the deal with this guy?
"Josh Gondelman is the nicest man in comedy," said Sara Benincasa, a New York-based comedian and author of author Agorafabulous! and the upcoming DC Trip and Real Artists Have Day Jobs. "He's caring, smart, funny, talented, and deeply kind."
"What I'm saying is, I assume he has bodies in his basement."
It was in December 2012 that Mr. Gondelman and another comedian, former BuzzFeed writer Jack Moore, began writing the Twitter account @SeinfeldToday. Chances are you've already followed them, or read a trend piece about the account. Calling it a parody is actually a misnomer. It's more of an homage: What if the Larry David characters were re-imagined in the social media era? As in:
June 3, 2013: @SeinfeldToday: Jerry gets paranoid about his girlfriend's past when her iPhone automatically connects to the Wi-Fi at Newman's apartment. (11,000 retweets.)
Mr. Gondelman ended up with 867,000 followers, and that writing gig at HBO. Plus colleagues who seem actually happy about his success.
"It's actually aggravating sometimes how nice he is," says comedian Dan Wilbur, who recently performed with him in Red Hook. "It's rare to see comics even stay after their sets sometimes. But any time Josh has to leave early he apologizes profusely and compliments your set with some specific, reinforcing idea."
Another accolade: "He'd listen, he'd ask about how stuff was going with you, he would have an actual conversation with you," said Boston comedian Kevin Fanning, who worked rooms with Mr. Gondelman when the latter was starting out. Mr. Fanning noted that the writer continues to be a "Gchatter without an agenda."
"He's just checking in to say hi. It's insane," said Mr. Fanning.
"I just got lucky with my brain chemistry," Mr. Gondelman admitted one rainy September evening. We were drinking in the Williamsburg condo he shares with girlfriend, Kickstarter's Maris Kreizman (author of Slaughterhouse 90210, also released today), and their adopted pug, Bizzy. A portion of their extensive book collection is shelved by color; the kind you see on Pinterest that make you feel bad about your lack of home decor initiative. Mr. Gondelman himself is unassuming: a little bit George, a little bit Jerry. He's a slight man with a nasal voice and no trace of a hometown accent. "I would still be a preschool teacher if I wasn't doing this. I really liked doing that."
If he were single, he'd be perfect for your girl friend who's distraught over a breakup, and who just wants to meet a "nice guy for once."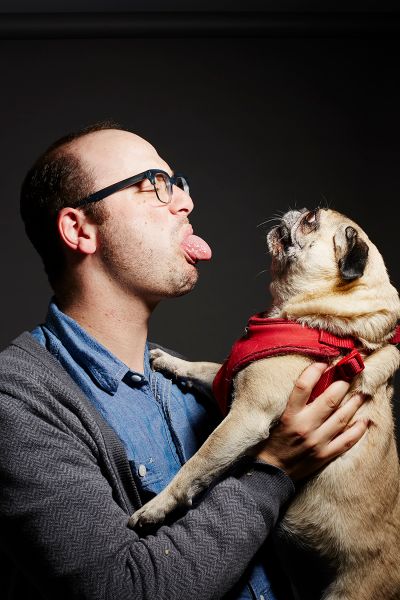 Perhaps the only place where such a milquetoast adjective becomes a warning flag is in the world of New York stand-up comedy, which still connotes a certain cynical, chip-on-the-shoulder enfant terrible. It's a stereotype that endures despite its somewhat dated archetypal spectrum ranging from Lenny Bruce to Andrew Dice Clay. Hard drinkers, rabble-rousers, grudges lasting long past final call, jokes re-appropriated, slights never forgotten…this is the last place you'd want to put comedy's last nice guy.
But Mr. Gondelman's no pushover. He is a self-proclaimed "extreme optimist"; a prolific performer who still manages to do standup almost every night of the week in addition to his full-time job ("Good work begets the chance to do more good work" is a personal credo). He's not self-deprecating, cynical or buffoonish: he doesn't even really have a shtick. "Sure, sometimes I get teased for being the guy who likes everything, but I don't think of myself as someone apart from this world," he said.
After graduating from Brandeis with a double major in creative writing and English in 2007, he hit the ceiling of what Boston had to offer and moved to New York in 2011, following his then-girlfriend. "It's harder to make inroads into other entertainment jobs in Boston," he said of the relocation. "You just don't have the contacts, and you don't see a lot of people that you can go, 'Oh, that's how it's done.' "
But he knew he didn't want to be a screenwriter. "It drives me crazy to think of sitting alone for four months, writing something and not getting feedback. Because what if it sucks?" Needing the immediate feedback of a room, he offset his meager stand-up earnings with writing gigs for glossy magazines. His first major piece, "Both Sides of a Break Up" was co-written with his soon-to-be ex-girlfriend. (Imagine how nice you have to be to pull that off!) That led to more gigs: Women's Health, Cosmopolitan.
Sponsored by Wheaties, the comic participated in a Tough Mudder race: a 10-plus-mile obstacle course that makes CrossFit look like Pilates. "The part where you get electrocuted wasn't even the hardest," Mr. Gondelman argued. The gonzo stunt did earn him his own cereal box, however, and he later turned it into a story for Esquire.
The cyberspace Seinfeld update came about because Mr. Gondelman's interest aligns with the hit comedy's anthropological streak. "They put their finger on things that either existed or could exist," Mr. Gondelman said. "Like a 'close talker,'" he said. "Before that, we didn't have a term for it, or maybe you said one thing, and your cousin from Des Moines, he called it another thing. But now we all know what to call that type of person."
Off the success of the Seinfeld account, Gondelman submitted his first-ever comedy packet to the newly-conceived Last Week Tonight Show with John Oliver and was hired as producer of original web content for the show's first season. That meant keeping engaged with fans via social media, but also helping bring buzz and a sense of community to Sunday night-banished brethren of The Daily Show and Colbert Report. Not an easy task, considering the topics Mr. Oliver was interested in covering were less "mock Americans" and more "Let's see what's going on in the rest of the world!"
And yet: the first season of Last Week Tonight was by all accounts a tremendous success, in no small part due to their web team, which won a Creative Arts Emmy for Interactive Programming. Well-deserved: the online arm of the show was crucial to their FCC Net Neutrality stunt, where they helped galvanize hundreds of thousands of petitioners to contact the FCC themselves. Servers crashed. FCC Chairman Wheeler noted to reporters that he was "not a dingo," as Mr. Oliver had facetiously alleged. Then there was the searing coverage Last Week brought to otherwise overlooked issues in American news satire: the Indian elections, for example, and of course, Pumpkin Spice Latte season.
"What is strange is that pumpkin spice foods seem to grow more omnipresent every year, even though there's no actual pumpkin in the drinks," Mr. Oliver ranted last autumn. "Kind of like how everyone you meet calls himself a DJ all of a sudden, when what they really mean is that they own an iPad and have been to a party."
That's the voice of Mr. Gondelman, who wrote the bit.
[youtube https://www.youtube.com/watch?v=DeQqe0oj5Ls]
For the second season of Last Week, he was hired as a staff writer, which he accepted happily, despite being knee-deep in edits for his first book, co-written with friend and Fast Company journalist Joe Berkowitz.
The book—a sort of how-to-not guide for your twenties and thirties—hits shelves today. It's full of tough love: a whole chapter is devoted to why mixing friend groups is a terrible idea, always. "Being forced to tag along with friends of friends and witness other people's inside jokes is a Clockwork Orange-esque immersion into horror," the authors claim, before listing off acquaintance archetypes that should never party together. (Think: Plays in a Shitty Band Friend, Cries After Two Drinks Friend, Can't Get Over Their Ex Friend, Never Carries Cash Friend, Suddenly Got Really Religious Friend.)
The title, and there's no nice way to put it: You Blew It: An Awkward Look at the Many Ways in Which You've Already Ruined Your Life.