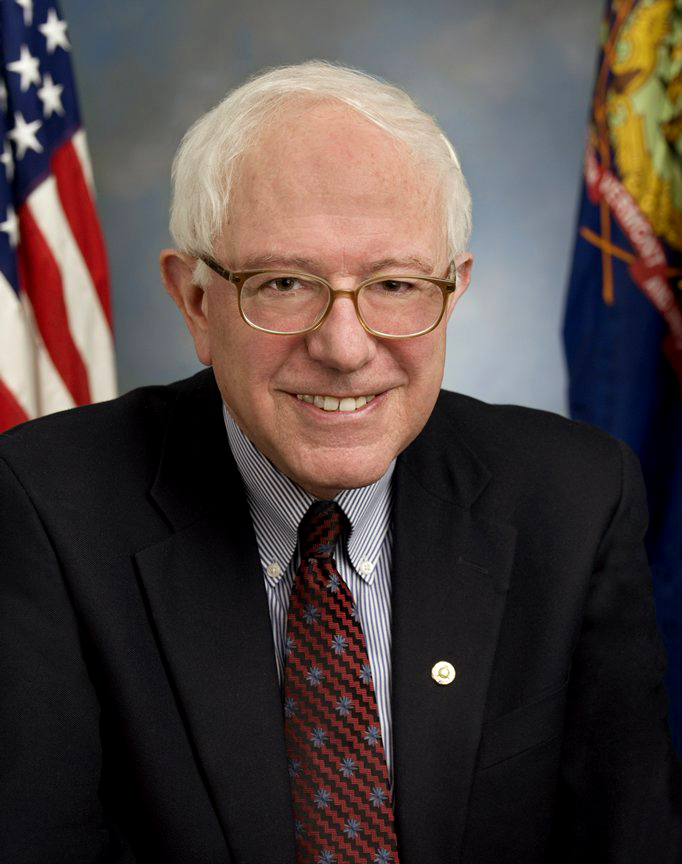 While support for Bernie Sanders among those in New Jersey's general Democratic Party establishment is weak compared to support for Democratic frontrunner Hillary Clinton, there is one group that seems to be "feeling the Bern" in New Jersey: Millennials.
Among students who identify as Democrats and participate in school Democratic clubs on New Jersey's college campuses, support "seems to be split pretty evenly between Hillary Clinton and Bernie Sanders," according to Sam Fogelgaren, President of the College Democrats of New Jersey and senior at The College of New Jersey.
"The alternatives that he offers are resonating with students pretty strongly," said Fogelgaren. "We are young enough where we don't remember Hillary as First Lady or even to a large degree for her role as a Senator. I can't really speculate for other people's approval or disapproval of her. But, I think Bernie offers a unique role as someone who is good at speaking to his message and I think college students and millennials appreciate that."
According to a national poll released by ABC/The Washington Post, Sanders currently sits at a 35 percent favorable rating to a 35 percent unfavorable rating. Clinton's rating is 45 percent favorable to 47 percent unfavorable.
Among voters aged 18 to 29, Sanders is the clear winner. Among 18 to 29-year-olds, Sanders has an 18 point net positive rating while Clinton has a 3 point net positive.
According to former president of the Seton Hall College Democrats, junior sociology major and current legislative aid to Assemblyman Carmelo Garcia (D-33), Demetrius Terry, Sander's platform speaks to young people in a way that Clinton's does not. He cited, in particular, the Senator's stance on college debt forgiveness and free higher education for all.
"For college and student loan issues, Bernie Sanders is definitely the person who will be tackling those issues," said Terry who is actively supporting Sanders. "I was supporting Hillary Clinton but after I learned about him and did some research, I saw that he is definitely the right choice as a college student."
Terry said that while he knows there are Clinton supporters on his campus, he thinks tonight's debate will start a shift for some to the Sanders side.
"I think the momentum is only just rising," Terry said. "At the end of the day tonight people who might not have known him will change their mind."
Terry, who is African American, said he recognizes the disconnect Sanders has among minority voters but said that he believes that tonight's CNN debate will help voters change their minds about him as a candidate and rally behind him.
"I know Hillary Clinton has definitely wrapped up the African American vote, I guess you can say," Terry said. "But Bernie Sanders, with civil rights issues, has been doing this for so long."
A similar sentiment exists among the young voters at Stockton University. The College Democrats chapter there has officially endorsed Sanders as their candidate of choice, according to Fogelgaren. The Facebook group Stockton for Bernie Sanders has 241 members, no small feat for a university that has only around 8,600 undergraduates.
At Seton Hall, where Terry is a student, Sanders support is also flourishing. On November 27, the band the Vaughns—which boasts two SHU students as members—will be playing a the "Jersey for Bernie" fundraising show at the Meat Locker in Montclair. That concert will be co-sponsored by the Young Democratic Socialist organization from William Paterson University.
Rutgers, Seton Hall, Stockton University and Drew University, among others all have Sanders-specific groups on campus. While Clinton also has some groups specific to her, notably at Rutgers, young Clinton supporters on campuses seem to be mostly supporting her through general College Democrat chapters.
While support is strongest for Sanders among young people, he is till trailing Clinton in other age groups, according to the ABC/Washington Post Poll. Clinton also has Sanders beat when it comes to those who identify as Democrats. Those who identify as independent prefer Sanders to Clinton.
The debate tonight should introduce more voters to Sanders who has less national recognition than Clinton. The debate will begin at 8:30pm ET on CNN.