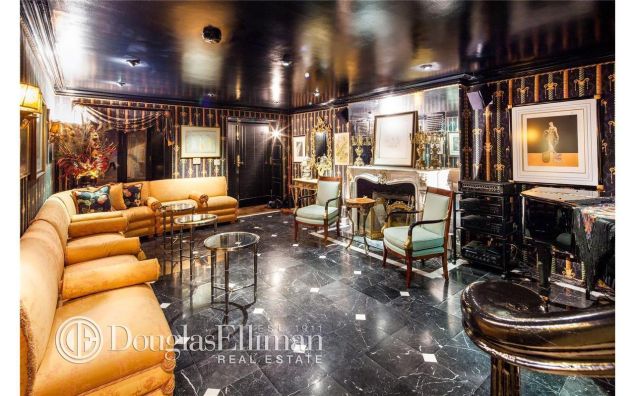 Though we may have held out hope that the owners of a certain Upper East Side townhouse would change their mind—because who else would outfit the home with such gusto?—it appears that the days has come for new residents to move into 127 East 62nd Street.
After a few price cuts, Frank and Mary Skillern have found buyers for their five-story, 4,520-square-foot Neo-Greek style townhome, which the Observer got a glimpse of earlier this year.
Mr. Skillern, the former CEO of American Express Centurion Bank, and his wife, an interior designer, have owned the home since 1998.
Sabrina Saltiel at Douglas Elliman had the $7.4 million listing (down from an original $9.45 million asking price) for the four-bedroom, 3.5-bath Lenox Hill townhouse, whose features include a library/private screening room on the top floor with two skylights, a planted outdoor deck, and no less than five fireplaces throughout.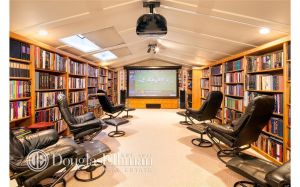 The Skillerns, who have been described as "passionately devoted" to the arts, definitely made their own quite distinctive mark on the home, with lots of ornate gold-framed artwork atop yellow printed wallpaper, oversize crystal chandeliers, and assorted sculptures on various ledges. The more…unconventional interior design is a rather welcome departure from the often cookie cutter decor choices favored by much of the Upper East Side set in the area.
We do hope that the townhouse's new owners, Khai Meng and Bee Ling Tham, will preserve at least some of the home's unique quirks, whether it be the ceramic dioramas portraying assorted scenes from Shakespeare in the dining room, the yellow-and-gold sitting room, or, our personal favorite, the "cabaret style lounge" that is accessible through a separate entrance on the ground floor and includes a PA system and a baby grand piano where Patti Lupone and Michael Feinstein have both performed.