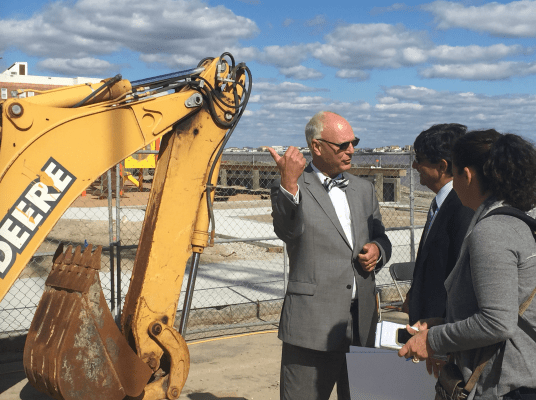 ATLANTIC CITY – Fresh from a press conference kicking off the construction of a $43 million seawall and boardwalk construction project a few blocks from the barred and locked Revel casino, Atlantic City mayor Don Guardian talked this year's Assembly race and his own disagreements with his fellow Republicans in the county, and with candidate Chris Brown.
Guardian has been vocal in his support for Assemblyman Vince Mazzeo (D-2) and Senator Jim Whelan's payment in lieu of taxes bill for casinos, while Brown (R-2) has made his opposition to the agreement's current 10.66% apportionment of funds to the county a focal point of his campaign.
Guardian took a diplomatic stance on the race, which has also seen him at odds with County Executive Dennis Levinson.
"It seems that whoever's talking is talking about the other guys being pro-North Jersey casinos," said Guardian of the candidates, offering that "I know as a Republican that Chris Brown and Will Pauls have been fighting the notion of a North Jersey Casino."
Guardian also said candidate and Atlantic County freeholder Colin Bell's recent accusation that the PILOT mess resulted from disagreements between him and Levinson was without merit.
"This is a bill that when proposed, not enacted but proposed, was a lot different than it is today," he said, saying that he and Levinson had indeed discussed the percentage before the bill went to a vote. "18.5% was the average of what the county received over the last fifteen years. So going forward fifteen years, we used 18.5%. But almost from the time that we discussed that as being fair, everything else collapsed."
On the decrease to 13.5% and then to 10.66%, Guardian pointed to city gaming revenues and their 50% decrease following casino closures, and to stipulations in the bill that would have seen the Golden Nugget and Resorts casino paying more taxes than they do now. Guardian said when they objected, the figures changed and so did a county tax certified officer's decision on the county's cut.
Guardian said that he did not see a sharp divide between the city and county when it comes to their economic fates, pointing to their shared agony over widespread unemployment and home foreclosures.
"They've got to figure out what to do. I see the Assembly and Senate are considering a room tax going to the county. I can't be a hypocrite and say I'm against it," he said, adding that the diminished tax base has led to city contributing 30% less to the county.
On the proposed casinos in the Meadowlands and Jersey City, Guardian was just as adamant as Brown, Mazzeo or any worker at the Trump Taj Mahal fearing for her mortgage.
"It's not a good plan for the state of New Jersey. It's common sense but it's a lot harder to see. So if you want the sound-bite, the sound bite is "We're gonna build a casino in the Meadowlands, and we're gonna pay 50% and they only pay 8% down in Atlantic City, and this is gonna be good for the state." But what about the 7% on sales tax that we bring in? We used to bring in $100 million that was not casino money. Now we bring in a billion, and it's been going up by $100 million every year.
"I think when you piece together all the money Atlantic City has going up there, and the concept that you're then going to take a $100 million dollars and put it back to Atlantic City, we're going to lose that much if two or three casinos close just in property tax. And that doesn't include anything about the lost wages."
"You lose jobs here – that's income tax that the state loses as well," he added.
Stopping just short of drawing any analogies between the seawall and his own administration's efforts to diversify the city's economy and tourism industry, Guardian was optimistic about Atlantic City's odds when the next national economic downturn strikes.
"That's how we're going to face the next recession. That's what I'm trying to do, prepare the city. Whether it's in ten or fifteen years, that we're not just a tourist town."