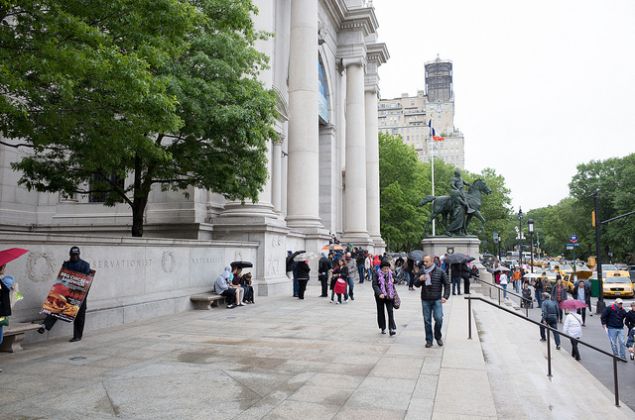 Citi Habitats has acquired rival Aptsandlofts.com, which does residential and commercial deals in Brooklyn, Crain's reports—the latest in a wave of real estate consolidations. "By acquiring Aptsandlofts.com, which currently has three offices in Brooklyn, Citi Habitats will add 110 agents and staff to its roster and expand its footprint in a borough with rapidly changing demographics and rising real estate values. Prior to the deal, Citi Habitats employed 750 agents and staff who worked out of seven offices—all in Manhattan."
Speaking of brokerage mergers, Engel & Volkers has acquired residential firm Mercedes/Berk, which will bring their total number of agents to 55, The Real Deal reports.
Can you imagine if there were a pedestrian bridge linking New Jersey and Manhattan? Gothamist reports that a Jersey City architect (of course!) has made some renderings of what life would be like if "Tinder profiles bearing the word "Hoboken" wouldn't be promptly dispensed of with a dismissive left swipe."
A study intended to advocate for street vendors' rights to make a living and grow their businesses could inadvertently stymie their cause, Crain's reports, by documenting that they pay on average just $7,120 per vendor in taxes (city, state and federal combined) each year. Advocates would like to see the city end its cap of 5,100 mobile vending permits.
Now, onto non street (traditional?) vendors, yesterday the mayor signed a law that will mandate any store of business running air conditioning keep its doors closed, according to The New York Times. Fines, which will be set at $250 for a first time offense, will go in effect July 1, 2016.
On Tuesday night, some 200 people turned out to a public hearing on the Museum of Natural History's planned $325 million expansion into the neighboring pocket park—a proposal that has not been very popular with the neighborhoods, according to The Wall Street Journal.
And In the Post, Steven Cuozzo opines that the owner of Grand Central Terminal will find it hard-going suing the city for an unjust taking by claiming that the Midtown East rezoning will render his property much diminished in value as "The US Supreme Court… ruled that 'mere diminution in the value of property, however serious, is insufficient to demonstrate a taking.' "
If you like creepy hotels, this season's American Horror Story based off the 600-room Cecil Hotel in Downtown L.A., according to Gothamist, which has had two serial killer regulars (when it was in the transient/extended stay mode), witnesses a number of suicides and murders and seems to be a hotspot for strange deaths and prison escapees.