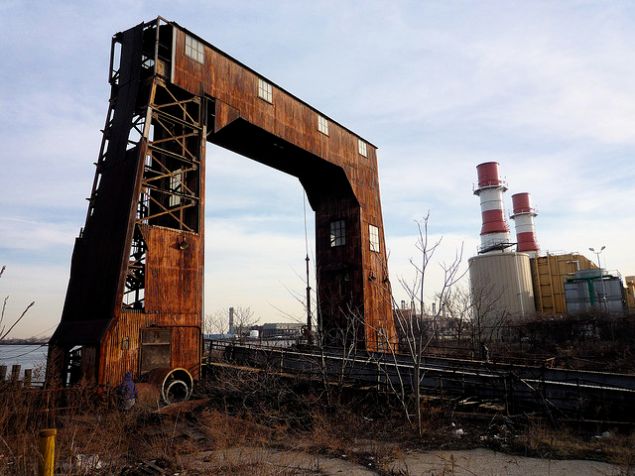 The de Blasio administration has presented the $5 billion sale of Stuytown and Peter Cooper Village to the Blackstone Group as the end of the complex's long, over-leveraged saga. But Crain's points out that there are some uncomfortable parallels between the two sales, not least of a staggeringly high price paid, in both instances, at what seems to be a market crest, necessitating rising rents. "Blackstone has agreed to preserve 4,500 apartments for middle-class families earning up to $128,000 and 500 units for those making less, and promised not to turn the buildings into condominiums. The only possible conclusion is that, like Tishman, Blackstone believes rents can be raised."
Bronx business owners complain that visitors and investors are biased against the borough whose name still conjures up visions of late 1970s urban decay, rather than the much-improved reality, Crain's reports. Tech entrepreneurs, in particular, complain that they have a hard time attracting funding with a Bronx address.
At the same time, there's growing unease in the South Bronx over the de Blasio's administration's rezoning plan, and a local group is calling on the mayor to commit to making 50 percent of the housing permanently affordable, according to The Wall Street Journal. "If we can't figure it out in the South Bronx, we can't figure it out anywhere," housing activist Susanna Blankley told the paper. "If we lose the South Bronx as a place where working people can raise families, we're in trouble."
Capsys, New York's oldest modular company, is shuttering, according to The Real Deal. The company, which produced the modules for Atlantic Center and the Kips Bay microunit development, has been in business for some 20 years and, after learning that its lease at the Navy Yard would not renewed, was unable to find any spaces close enough to the city to keep its current employees. Moreover, transporting module units overland is costly and time-consuming.
Meanwhile, high-design stackable emergency housing pods have been set up in Cadman Plaza; if FEMA approves the designs, they might be used the next time a major hurricane or other natural disaster hits, The New York Times reports. They add that they're pretty nice—they're even stocked with french presses, though bagels must be griddled on the stove for lack of toasters: "Almost everyone tells us these are nicer than their own apartments," said James McConnell, an assistant commissioner at the city's Office of Emergency Management.
SHoP's Vishaan Chakrabarti is leaving the it architecture firm to start up his own shop, New York Magazine reports. Named Partnership for Architecture and Urbanism, it sounds as though it will be characteristically ambitious and self-important, aiming "to create an ecological network of empowered citizens, generous buildings, discursive public space, strong infrastructure and a thriving urban environment."
Without more runways, LaGuardia's notorious delays will hardly improve, WNYC reports. At least the rebuilding promised for the airport's terminals will mean more pleasant waiting conditions?
Also more pleasant than in the recent past is our shade-dappled, tree-lined city. The New York Times reports that the city will plant its one-millionth tree on Wednesday, a lacebark elm in the South Bronx, capping off a campaign that began during the Bloomberg administration.
Correction: a previous version of this story stated that Capsys produced modules for Atlantic Yards; it was Atlantic Center.