"You would think New York City is the worst place for a garden, but being on a roof here is priceless," said François Bléhaut, project manager at Gunn Landscape Architecture. "If you work in, say, Midtown, it's really magical to be able to see the sky. It's really unique to have space above your head. It's more magical than anywhere else because of the contrast."
The same can be said of all things trees, shrubs, grass and flowers in an urban environment.
"This is actually something that has science behind it," said Gwenn Fried, manager of Horticultural Therapy Services at NYU Langone's Rusk Rehabilitation. That's the use of plants and things in nature as a modality to effect change in a person. Plants, Ms. Fried said, are non-judgmental, intellectually and sensorially stimulating and normalizing. At one of the service locations, the Hospital for Joint Diseases, a terrace garden is currently in construction, to supplement the treatment that includes workshops and trips to nearby parks.  
Landscaped terraces, rooftops and other outdoor spaces have been all the rage in New York City for years, and demand shows no sign of ceasing, according to real estate brokers and designers.
"Take the Upper East Side," said Mr. Bléhaut. "You never saw a single plant on a roof. Now everyone wants them."
People are paying more attention to their homes, the interior design, said Mr. Bléhaut. Landscaping is part of that focus.
Research shows people who interact with plants (even if that's simply walking an extra block every day to pass a park) have improved perception, better attention and reduced anxiety. Why? Ms. Fried said theories range from "loving the savannas" (principal ecosystem in our earliest evolution: grass, trees) to "great distraction" (something we can care for, see change and improve, manipulate, separate from ourselves).
"There's so much symbolism in plants. You don't plant something if you don't have hope," said Ms. Fried. "Plants in the home inspire people to take better care of their homes and themselves. Even if you bring cut flowers in once a week, bring something from nature into your immediate environment. It will have a positive impact."
"People want to see plants. They don't necessarily want to use the space every day."—François Bléhaut, Gunn Landscape Architecture.
An impact that may benefit a resident's financial well-being, too, whether resale or leasing. Quality of life is an obvious selling point.
The deck at 4545 Center Boulevard, Long Island City, is among the city's most talked-about roof spaces. Located on the 7th floor roof (not the 42nd; the building is an L-shape) the deck is actually a private club for tenants in this and other buildings in TF Cornerstone's six-building Center Boulevard community. Members only can enjoy the two tennis courts, sand volleyball court, children's jungle gym, lawn, sun area with lounge chairs, outdoor shower, cabanas and grills. Look west to the Empire State building and north to the Queensboro Bridge.
It's essentially a 50,000-square-foot playground with evergreens, grasses and shrubs woven through, within wide stone planters that act as separations. A shimmering, marble and tile, two-layered water feature mirrors the sky and river, if every day they were the clearest shades of blue.
"In our experience, city dwellers are seeking beautifully landscaped outdoor space now more than ever before," said Sofia Estevez, executive vice president at TF Cornerstone. "We wanted to create an amenity that would enable tenants to take full advantage of the sweeping views of the Manhattan skyline and East River, while enjoying these great outdoor features."
The firm's landscaping vision extends to the surrounding urban waterfront park—designed by Abel Bainnson Butz—as well. When we visited on a sunny weekday afternoon, the riverfront was dotted with strollers, singles, child-free twosomes. The deck hosted but one nanny-stroller.
A citywide paradox, say brokers and landscapers. Sometimes that same strongly desired outdoor space is infrequently used.  "People want to see plants. They don't necessarily want to use the space every day," said Mr. Bléhaut."Sometimes it's a cup of coffee in the morning when you're not at your country house. Sometimes it's for two or three parties a year and that's enough to justify the cost."
Gunn is currently finishing a project on West 16th Street, a garden for a penthouse resident. The request, as it often is, was for a high-end garden, which refers to materials and amenities. "It's not like we're just putting a couple planters on the roof," said Mr. Bléhaut. Custom furniture, a kitchen, a Jacuzzi, a spa and a shower will join sustainable woods and botanicals there. Projects like these take nine to 18 months.
Without referring to notes or files Paddington Matz, a 20-year real estate veteran and currently a broker and senior vice president at Town Residential, can list sales and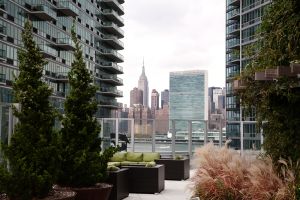 deals for countless roofs, pieces of roofs, terraces and clients for whom outdoor space was non-negotiable. Recently, she revisited a roof space she developed in 2005. "The saplings turned into a jungle. It's amazing," she said. The design included a six-foot cedar hot tub, something not usual in Tribeca, where rooftop mowing can often be observed from the street.
It happens one of two ways: the old fashioned (a teenager) or the fashionable (a service). The Observer visited a private roof where the former is employed, information shared while we watched three men in painter's booties snipping, trimming, watering and scrubbing walkway slates on an adjacent roof. Nearby, a TV was installed. Another had a jungle gym atop AstroTurf. Another had a tented cabana. Everywhere we turned, with and without necks tilted up, we saw greenery.
Impressive, yes, but not quite as amazing as the ornamentals and edibles immediately surrounding us, and the space where we stood, sectioned into four areas by wooden decking and gorgeous, heavy individual planters full of flowers: comfy weather-tolerant couch, chairs and side tables; lawn and wall-supported pear trees; six-person dining table (with squeezing-in room for more) and grill; two-person table nook (if nooks aren't tiny).
The upside of DIY landscaping is variety. Service providers are best when working with familiar and similar plants: bamboo, river birch and Hollywood juniper are among those that generally thrive in New York City. But take landscaping into your own hands and your list can include: roses, snapdragons, beans, fennel, two types of mint, sage, shiso, winter lettuces, blueberries, red currants, strawberries and pears. If you've never eaten a pear from a tree grafted with branches of different species (red Bartlett, regular Bartlett, Bosc) that lives on a private roof above a Manhattan apartment, you haven't lived.
Here the owners are frequent enjoyers of their special space, acquired over time in their 20-year tenancy, from half to full ownership. Gardening, reading, grilling, sleeping under the stars (natural and artificial). This roof also has the ultimate urban landscape feature: a nest built by a mockingbird with twigs and plastic twist-ties from construction sites.
The simple and the most unique can be the most spectacular. "I try to not deal in trends and focus on what's the right response to any site, regardless of what's hot," said landscape designer Susan Welti of Foras Studio, who said the firm is swamped with projects. "Corten steel was hot, but I think will survive hotness and be a lasting good idea because it's a simple organic finish and is beautiful."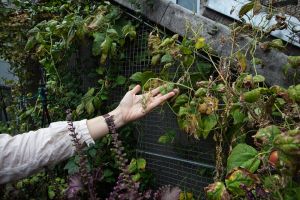 She is referring to that natural, rusty-looking steel on trend with developers, and landscape architects everywhere. You've seen the popular, appealing, low-maintenance material in outdoor sculptures, walls, vegetation beds, planters and more.
It can be a challenge to keep things simple, admitted Ms. Welti, who also teaches a landscape design class at the New York Botanical Garden. "It's hard to find just the right gestures to illuminate a space and not go overboard with embroidery, but the end result is so vastly better." Think too much texture or color; too many decorations; too little clean, empty space.
"There's so much peripheral dreck—crappy looking buildings nearby, cable wires, condensers on rooftops, a bad fence, ill-chosen trees—in urban design that my response is to pare back and subtract. Look for the most important of the surrounding factors to respond to and keep the responses few and simple."
Surrounding factors like architecture. This is, of course, all just pieces of a whole.
"Outdoor space has always been a big thing," said Ms. Matz. "Now it's landscaping that's more important than ever."