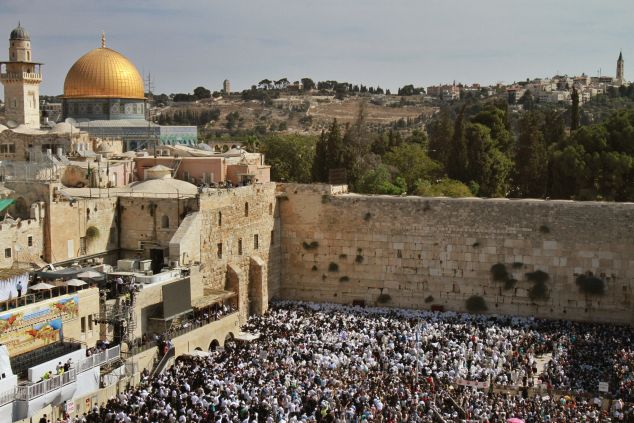 The United Nations Educational, Scientific and Cultural Organization (UNESCO) is expected to consider a resolution proposed by Algeria, Egypt, Kuwait, Morocco, Tunisia and the United Arab Emirates, on behalf of the Palestinians, that will sanction the Western Wall as part of the al-Aksa Mosque compound.
A draft text, which could be voted on as early as today in Paris, states that UNESCO "affirms that the Buraq Plaza is an integral part of al-Aksa Mosque/al-Haram al-Sharif." The Western Wall, called the "Kotel" in Hebrew, is regarded as Judaism's holiest site. It is sometimes referred to as the "Wailing Wall," a derogatory reference to the period of Roman Rule over Jerusalem in which Jews were allowed to visit Jerusalem holy sites only one day a year.
The Foreign Ministry of Israel called the proposal "an attempt to distort history and blur the connection between the Jewish people and its holiest place and to create a false reality."
According to the World Jewish Congress, "the draft resolution seeks to confirm an earlier UNESCO decision that the Cave of the Patriarchs and Rachel's Tomb, two West Bank sites holy to both Jews and Muslims, are part of a Palestinian state." The measure also "blames Israel for the recent wave of Palestinian violence and terror."
The resolution is believed to have a good chance of passing as UNESCO tends to favor Palestinian requests.
According to The Jerusalem Post, Israeli Ambassador to UNESCO Carmel Shama Hacohen called the resolution "a total Islamization" of a site that is revered by both Jews and Muslims.
Mr. Hacohen doesn't believe that the measure passing is inevitable, and told The Jerusalem Post, "To disconnect the Jewish people from the Western Wall is one step too much, even for nations that are the most anti-Israel." He added, "The timing is also problematic, since the Temple Mount issue has already sparked Palestinian violence against Jewish citizens of Israel."
UNESCO General Director Irina Bokova has already come out against the resolution. "We all have responsibility to UNESCO's mandate, to take decisions that promote dialogue, tolerance and peace," she said, in a statement put out by her office appealing "to the UNESCO Executive Board to take decisions that do not further inflame tensions on the ground and that encourage respect for the sanctity of the Holy Sites."
The text of the measure does not recognize any Jewish historical connection to Jerusalem, which dates back approximately 3,000 years. There is also no mention of Judaism's connection to the Temple Mount or the Western Wall. 
According to Mr. Hacohen, "The US plans to oppose the resolution, but some of the Europeans are working to amend the text, with an eye to supporting it."