"Even with exposed brick, people say, 'I love it. Would it be horrible to paint it white?' " said Corcoran broker Heather McMaster, describing the oft-conflicted reaction she gets when showing historic townhouses. Dark woodwork elicits even greater consternation from potential buyers: " 'It's so beautiful, I would feel blasphemous painting it, but it makes everything feel so dark and heavy.' "
Townhouses are undeniably charming, and there is nothing quite so delicious as having a house of one's own in the midst of the great metropolis, but a difference of decorating opinion with last century's residents is the least of the challenges faced by those trying to lead contemporary lives in them: creaking floors, cramped kitchens, ancient infrastructure, tiny bedrooms, closet-like bathrooms and dark corridors created by the warren-like layouts. Even those delighted by the sight of Eastlake detailing, walnut paneling and coffered ceilings find that installing central air or re-leveling the floors such that the stove doesn't list takes some serious doing.
At the same time, new townhouses, effortlessly contemporary and perfectly climate-controlled as they are, can feel a little, well…soulless. Quirks and ornate details are, after all, rather the point, at least for buyers who have always dreamed of double parlors, wedding cake ceilings and snuggling into bed to the crackle of a wood-burning fireplace.
New construction partisans, meanwhile, point out that what most people want is not a 100-year-old house, but a 100-year-old house that's been gut-renovated to feel like a brand new one. So why not save them the trouble and offer a product they can enjoy without a protracted battle with a contractor?
Both old and new have their fans, of course, and brokers point out that there are more than enough buyers to go around when it comes to townhouses of any vintage. But they also note that there's very little overlap between the two camps—you're unlikely to find anyone waffling between an 1890s brownstone and a sleek 2015 model with Corten-steel accents.
"The majority of my clients are buying townhouses for the charm and the history and the uniqueness and in some cases the seven wood-burning fireplaces and the drop-dead staircase," said Town broker Ginger Brokaw. "It carries a certain amount of elegance and cachet that you can't find in new development. That's the thing with new construction—is townhouse No. 1 going to be any different than townhouse No. 2?"
"Modern living has changed the spaces we live in," countered Omri Sachs, a principal at Adam America, the developer of a new construction townhouse project in Boerum Hill named State + Bond, for the streets on which it sits. "The foyer and library—arguably no one uses those anymore. People do not lounge in the library; they do not sit in the dining room and wait for the servants to come in. The kids sit in the open kitchen while the mother is preparing lunch."
***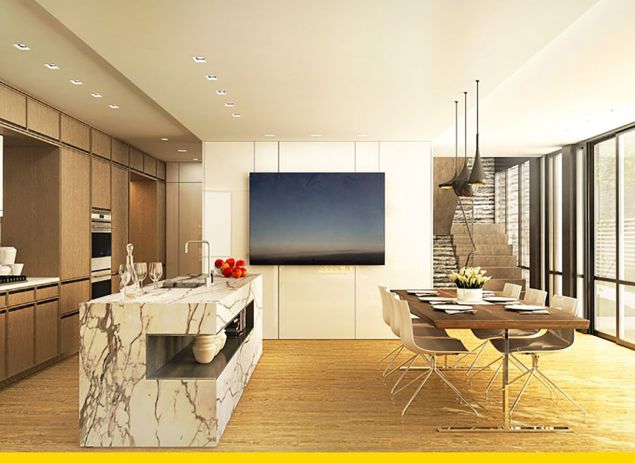 Citi Habitats broker Caroline Bass can't recall any of her townhouse buyers ever expressing interest in a modern facsimile. Most of them are actually looking to get out of bigger buildings for greater privacy and freedom and as almost all new construction townhouses in Manhattan are part of condo projects, buying one would be anathema.
"My clients who are looking for new construction want amenities. People in a townhouse are O.K. with giving it up," Ms. Bass said. "I've found that people want their privacy."
Indeed, while most of Brooklyn's new development projects, including State + Bond, the townhouses on Strong Place in Cobble Hill and the Dumbo Townhouses, are independent entities, buying a new construction townhouse in Manhattan usually means going condo. But not everyone dreads making small talk with the doorman: for buyers who like multi-floor living and a private entrance, but don't want to worry about shoveling the sidewalk or the roof springing a leak, the set-up can seem near-ideal.
"I always say to people who buy houses, 'Congratulations! You're your own super,' " remarked Compass broker Debra Kameros. "In a townhouse you have so much more vulnerability. Townhouse condos are very appealing to people who don't want the headache of owning something where you're completely on your own."
Access to a suite of building amenities is also nice, though as with keeping a doorman and concierge at your beck and call, it does mean considerably higher monthly carrying charges, noted Rick Pretsfelder, a broker at Leslie Garfield.
"You're being assessed common charges on a  per-square-foot basis, so it can be very costly," he warned. "And there are also all sorts of fire code regulations, which are more prevalent in new construction, which can make for restrictive design."
Of course, he added, the appeal for developer, if not the buyer, is obvious. "More and more, you see them trying to capitalize on these lower units by making them into townhouses. They're trying to maximize the value of the lower floors. Instead of those being the least desirable, lowest-rent spaces, they're trying to turn them into these highly coveted, desirable, ultra-luxury, multi-floor units with outdoor space."
Ms. Bass added that such spaces can be a hard sell for clients already accustomed to townhouse living. "There's the stigma of a ground-floor apartment," she said. "You can market it like a townhouse, but…"
Still, new-construction townhouses have proven popular, fetching high prices at developments like Superior Ink, One Madison, Carlton House and the Printing House development in the West Village.
But it's just not true that townhouses don't have amenities, argued Ms. Brokaw. "They don't usually come with golf simulators or children's playrooms, but you can have anything you want," she pointed out. "A swimming pool in the basement, a basketball court or a bowling alley, private terraces, a gym. And now there are concierge services where you can have a resident manager. It's not like you're going through the lobby when you want tickets to a show, but if something's wrong with the water heater they can make sure someone is there tomorrow."
"What I have found interesting is people who moved out of larger buildings into townhouses, initially they were trepidatious about it, but once they're committed it becomes a way of life."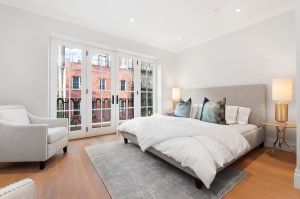 She described a recent deal involving a couple that owned a prewar Upper East Side co-op. They told her they wanted a larger apartment, but agreed to look at a townhouse in Carnegie Hill after they became frustrated with the options for four-plus bedrooms with charm and outdoor space.
"It was like love at first sight. It happened very, very quickly," she recalled. "Upon walking into something with six wood-burning fireplaces and outstanding views, a backyard and a very lovely roof deck, it became a have-to-have-it moment. It had everything they wanted, they just hadn't known they wanted a townhouse."
It was also, she added, under $10 million—half of what the comparably sized penthouses they'd looked at cost, and needed no more than a cosmetic renovation.
Indeed, while historic townhouses can and do sell for top dollar—to wit, former Coach executive creative director Reed Krakoff's townhouse at 157 East 61st Street, which had snakeskin wallpaper in the bathroom, fetched $51 million when it sold last year—townhouses are, on a square-foot basis, a comparatively good deal. New construction, on the other hand, tends to ask, and get, prices per square foot in line with condos.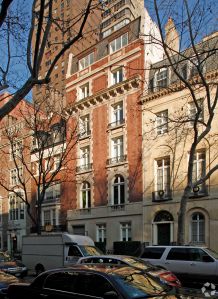 Of course, the houses with lower price points usually come with a catch: renovation is not included.
"The big difference is not so much old vs. new as renovated vs. unrenovated," said Paula Del Nunzio, the Brown Harris Stevens broker who had the listing for Mr. Krakoff's manse. "Houses take a lot of time to renovate—one to three years depending on how efficient you are. That's a little setback there, in an age of instant gratification and perfection, you will wait."
But post-renovation, pristine is pristine, whether it's in a mansion from 1915 or a brand new build.
And historic townhouses have a distinct advantage over most new construction, she added: they're on the best blocks of the city, which is often not the case with new condos.
"All the new stuff going up, it's not on Park and Fifth," Ms. Del Nunzio said. "It's in places where people weren't dying to live before, like hanging over the West Side Highway."
Moreover, many townhouse buyers like that they can get the house they really want, even if it takes a few years and a million dollars. Ms. Bass said that her clients regularly come to showings with their contractors in tow, utterly undaunted by the prospect of a major overhaul.
"Even if it's new, if it's not their taste, they're going to want to change it when they're spending that much money." And, she added, "it's not to be discounted that a lot of townhouses have air rights available. In new construction, you can't add on. You get what you get."
Another thing you don't get? Anything even remotely approaching the level of interior detail—not that it hasn't been ripped out of a lot of old houses.
"Townhouses will never be built the same way again. No matter how [many] funds you use, the craftsmanship will never come back," said Aleksandra Scepanovic, who founded the Ideal Properties Group. She added that she herself was "completely addicted to townhouses. Completely. I cannot imagine living in a co-op or condo anymore."
"I'm originally from Eastern Europe and my own visual preferences are kind of [a] cement communist [style] that surrounds you, dehumanized—design that doesn't really take into account that humans live in those spaces and inhabit them," she went on. "But when I moved to Brooklyn, I found this style incredibly charming. I could have my bland communist interior, simple and to the point, combined with this really ornate, historic space."
***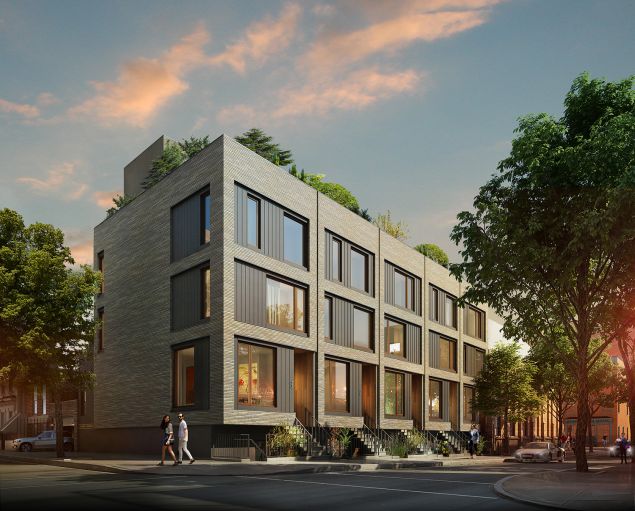 But what of that townhouse buyer who feels guilty slathering the woodwork in Benjamin Moore? Or even worse: ripping out those lovely paneled walls to get the master bedroom suite or open-flow feel they've always wanted? Surely, they might benefit from an interior that leaves them feeling less tortured?
Indeed, even the more extreme old house devotees usually prefer a somewhat updated aesthetic, brokers report, to say nothing of the masses who like their charm and period detail watered down.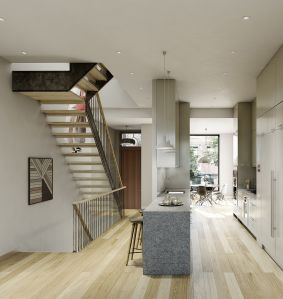 "I think that's in the minority," said Mr. Pretsfelder, of those who request a lot of old detail. "People like what I would call the 15 CPW model. Which is sort of grander proportions of the old world construction, old world touches, molding, things like that. Not overdone, not so dark. Much of the molding and woodwork you do see is lighter woods or painted white."
There are people—"certainly not the majority"—who do want old world, dark wood detail throughout the house, he conceded. And they're often not who you'd expect. For example, he was recently showing some properties to a young tech titan who'd made his money in Silicon Valley, the type of person who you'd think would be into the "quintessential more modern aesthetic," but "[was] very excited about details."
Still, he maintained, "three-fourths of the buyers are looking for old world proportion with a modern touch."
Very modern also has a rather niche appeal. He cited a "super-funky staircase of Lucite" or "atriums, where you lose some of the living room square footage to create a double-height ceiling," as features that have turned off buyers.
If contemporary interiors with just a smattering of period details are really what a lot of people want, why not just buy new? Are the new development offerings really so charmless?
"I don't feel that it's modern in the sense that it's cold," said Mr. Sachs, of the charge that his company's State + Bond townhouses were somewhat lacking in charm. "It's cozy, I think. It generates warmth." There are even fireplaces in the houses, which start at $4.49 million, though they're gas, not wood. "Wood-burning is great, but you have to buy the wood. It's about practicality. People come home from work and they want to light it up quickly," he explained.
"We all have friends who live in the old townhouses. Yeah, they're charming, but you have to deal with a 150- or 200-year-old house," he continued. "There is a huge variety of townhouses. If someone is attracted to the old New England charm, they have the option. This is more of a hybrid."
There is, Ms. McMaster noted, a strong market for both, even if it's not the same. "While they are making townhouses, they make so many fewer townhouses than condos that overall there is a comparative shortage," she said.
Ms. Scepanovic agreed. "When it comes to townhouse shopping in Brooklyn, it's like looking for a spot at a private school in Manhattan," she said. "It doesn't matter so much what you want, it matters what is available." 
—With additional reporting by Adam Bonislawski