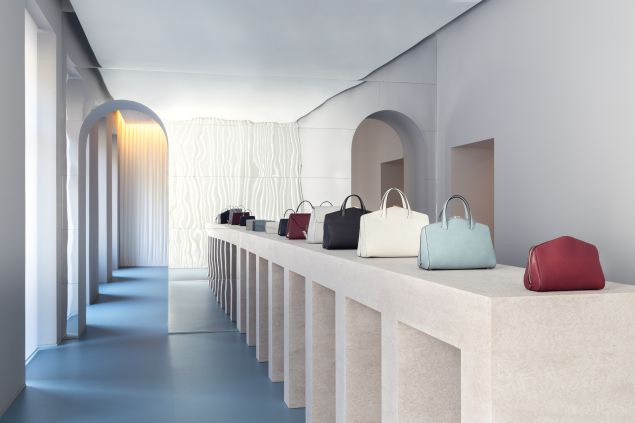 The success of the Valextra leather goods brand is undoubtedly their mastery of streamlined designs, ones that allow their dedication to luxurious quality to stand on its own. Their silhouettes of handbags and briefcases are simple, the hardware is minimal and it's been that way since the brand was founded in 1937 by Giovanni Fontana.
For some brands, this simplicity would render them boring or irrelevant, but not Valextra. They are not only aware of their DNA, but they are sure of it. They've even established a healthy celebrity following, despite their quiet aesthetic. Taylor Swift and Diane Kruger have donned the style, stylist Giovanna Battaglia is a fan of the brand, as is French blogger Garance Doré. And it turns out that graphic designer and art director Peter Saville is also an avid fan of the Italian leather label. Although, his relationship with Valextra has already been elevated to a higher level.
This past April while in Milan for the Salone del Mobile, the well-known designer of album art for Joy Division and New Order wandered into the Valextra store, as he does whenever he's in town. There Mr. Saville was recognized by Susanna Cucco, the art director of Valextra. Their chance introduction turned into a lengthy chat, which evolved into a relationship between Mr. Saville and Valextra. He is now an ambassador of sorts for the brand.
"There's a certain cache to Valextra that's kind of like driving a Ferrari." – Peter Saville
Mr. Saville's first project for Valextra was to design a pedestal for the Spring 2016 handbags to sit on, during their Milan Fashion Week presentation. To start, he began thinking critically about the brand, as he usually does when a company brings him on board for a project. Through analyzing what the company means to him and what the brand stands for, he came to the conclusion that Valextra bags are much more than just a carryall.
"There's a certain cache to Valextra that's kind of like driving a Ferrari. If you were driving a Ferrari you're not just driving a car. You're driving Italian history," Mr. Saville explained to Observer. Through this examination of Italian culture, he settled on the word via, which led him directly to his final concept of a viaduct. He fabricated two pedestals, one with the classic curved arches and one with square arches, both his modern take on the bridge-like structure. The creations will continue on for the Spring season, appearing in forthcoming pop-up shops and window displays.
Mr. Saville is no stranger to the fashion realm, having previously been commissioned to work with Christian Dior, Yohji Yamamoto, Stella McCartney and more. He even gave Raf Simons access to his archives to incorporate in the Fall 2003 collection of his namesake range. But he won't partake in just any collaboration he's asked to do.
"Most [collaborations] are really quite expedient. Party A and party B are getting together because it's a great PR exercise. I can't be bothered doing that," he said. "My feeling is that if there's a outcome that can come from a relationship, then that's great. That's what I would hope anything I do with Valextra would be."
Mr. Saville pointed out that while his relationship with the brand is still developing, he has a few ideas of what he'd like to help out with next. "There are certain things of the company that I use and I wouldn't mind customizing a little bit. Saying, 'This would be better in X,' or 'What if we did this in this color?'"
If you're wondering, his go-to Valextra piece is the My Logo bag, his ideal work carryall, which he found after five years of searching. This style, which he describes as a hybrid between a shoulder bag and a briefcase allows him to look polished in business meetings, and keeps his hands free while zipping through airports across the globe. And he describes the design perfectly: "This particular bag is a brilliant solution."